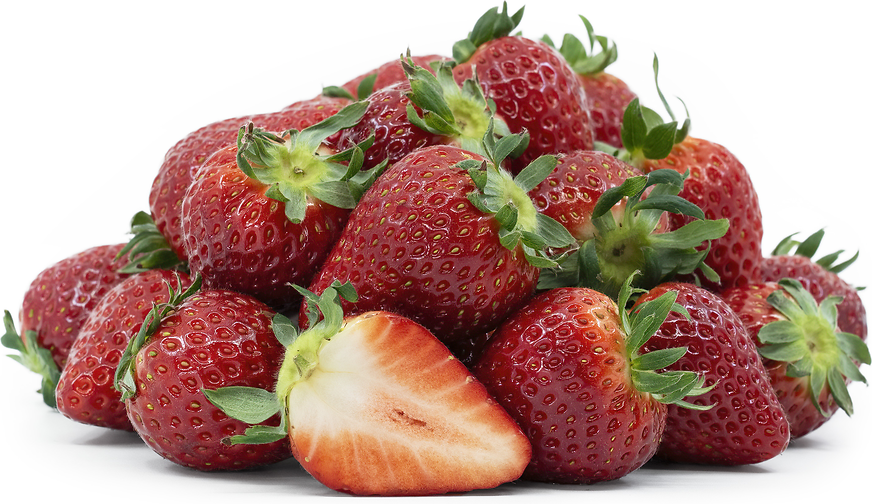 Migaki-Ichigo Strawberries
Inventory, lb : 15.50
This item was last sold on : 02/01/23
Description/Taste
Migaki strawberries vary in size, shape, and coloring, depending on the specific variety, and have a curved, conical appearance with broad shoulders tapering to a pointed or blunt tip. The fruit's skin is characteristically bright red, and the darker the red, the sweeter the fruit is thought to be. Migaki strawberries have glossy, smooth, thin, and delicate skin, being easily punctured, bruised, or misshapen. The strawberries are also capped with lanceolate-shaped leaves that grow in a circular formation falling over the shoulders of the fruit, and the surface is covered in tiny brown to yellow seeds. Underneath the skin, the bright to pale red flesh is aqueous, dense, and firm but tender with a melting, succulent consistency. The fruit's core can be solid or slightly hollow, depending on the variety, and when sliced, the strawberries release an aromatic, fruity, and sweet, berry-like scent. Migaki strawberries have a consistent, concentrated, sweet taste mixed with subtle acidity and mild fruitiness. The fruits are also considered refreshing, rich, and balanced, with a flavor that floods the mouth, leaving a lingering honeyed sweetness.
Seasons/Availability
Migaki strawberries are available from the mid-winter through spring.
Current Facts
Migaki strawberries, botanically classified as Fragaria ananassa, are a brand name for several Japanese strawberry varieties belonging to the Rosaceae family. The strawberry brand was created in 2011 in the wake of the Great East Japan Earthquake and was designed as a luxury strawberry label for department stores and high-end retailers. Migaki strawberries are also known as Migaki-Ichigo and are not a specific variety. Three Japanese cultivars are produced under the Migaki name, including Hanamigaki, Tochiotome, and Yotsuboshi strawberries. To be labeled as a Migaki strawberry, the fruits must meet strict quality requirements surrounding size, shape, weight, sugar content, ripeness, and an unblemished appearance. Only about half of the strawberries grown meet the criteria for Migaki strawberries, and the selected fruits are further divided into four classes: platinum, gold, silver, and regular. It has been reported that only 1 in 50 Migaki strawberries are rated at the platinum level, and one platinum strawberry can cost around 1000 yen. Migaki strawberries are developed using traditional growing techniques mixed with technologically advanced greenhouses that monitor soil composition, temperature, airflow, humidity, and carbon dioxide levels. This controlled system allows growers to cultivate the fruits in optimal conditions, producing rich, sweet, and subtly tart fruits with a tender, juicy nature. Migaki strawberries are carefully packaged in foam and decorative boxes to increase their aesthetic appeal and image as premium fruits when released to commercial markets. The strawberries are also a popular celebratory gift given to friends, family, and coworkers and are primarily eaten fresh to savor their curated taste.
Nutritional Value
Migaki strawberries are a source of potassium to balance fluid levels within the body, vitamin A to maintain healthy organ functioning, vitamin C to strengthen the immune system, and fiber to regulate the digestive tract. The strawberries also provide vitamin E to reduce inflammation, vitamin K to assist in faster wound healing, calcium to build strong bones and teeth, and other nutrients, including magnesium, iron, zinc, copper, phosphorus, and manganese. In addition to their vitamins and minerals, Migaki strawberries are incorporated into an organic skincare line known as White Strawberry. The skincare line has several products rich in antioxidants to protect the cells in the skin against the damage and oxidative stress caused by free radicals.
Applications
Migaki strawberries have a sweet, tangy, and fruity taste suited for fresh preparations. The strawberries are commonly sold at high prices for their strict cultivation requirements, leading consumers to eat the variety out of hand to savor their flavor. Migaki strawberries are delicate and highly perishable. Consumers often choose to eat the fruits on the same day as purchase and favor the fruits as a succulent snack. Migaki strawberries can also be used as decoration on cakes and tarts, sliced and served over ice cream, or placed as a topping over toast, parfaits, granola, and salads. In Japan, Migaki strawberries are sometimes halved and stuffed in sandwiches filled with whipped cream as a sweet and light treat. GRA Co., the company that grows Migaki strawberries, uses fruits that have not made the cut as Migaki in various products to sell worldwide. Migaki strawberries are infused into sparkling wine, sake, and tea, added to vinegar, sauces, and dressings, or simmered into jams and jellies. Migaki strawberries pair well with herbs such as mint, basil, and rosemary, fruits including grapes, melons, and pineapple, chocolate, vanilla, and honey. Whole, unwashed Migaki strawberries should be immediately consumed after purchase for the best quality and flavor. The strawberries are highly perishable and can begin to lessen in quality as soon as one day after purchase.
Ethnic/Cultural Info
Migaki was selected as GRA Co.'s strawberry brand name to honor the company's quest for perfection. Migaki roughly translates from Japanese to mean "polish" or a "polished finish" and was given in reference to using technology and experience to create refined strawberries. Like polishing a rough diamond into a glistening precious stone, Migaki strawberries are monitored by innovative technology to create rare, quality strawberries. Consumers often equate eating Migaki strawberries to eating jewels, resulting in GRA Co. using a strawberry shaped like a diamond as their logo.
Geography/History
Migaki strawberries are native to Japan, and the brand was created in Yamamoto in the Miyagi Prefecture. Yamamoto is a small town that was devastated by the Great East Japan Earthquake in 2011. Before the disaster, Yamamoto had over 129 strawberry farms that produced fruits accounting for over half of the prefecture's agricultural output. After the earthquake, a tsunami devastated approximately 40% of the town, over 4,000 strawberry greenhouses were destroyed, and 600 residents perished. The excess saltwater also left fields too salty to grow crops, and the 129 strawberry farmers were reduced to just 4 after the quake. Amidst the devastation, businessman and Yamamoto resident Daiki Iwasa sought to support the town and help it recover. During a town meeting in May 2011, Iwasa spoke to Yamamoto residents and quickly realized that strawberries were the most desired agricultural item in the region. Just four months after the earthquake, Iwasa established a new strawberry farm in June 2011 under the company name GRA Co. The farm combined the experience, knowledge, and wisdom of strawberry growers with the precision and control of agritech. Iwasa uses technology to monitor temperature, light, carbon dioxide, humidity, nutrients in the soil, and airflow in high-tech greenhouses to cultivate premium strawberries. In 2012, Iwasa developed Migaki strawberries, a brand that produces Yotsuboshi, Hanamigaki, and Tochiotome strawberries and only selects the top fruits to sell under the luxury label. The brand quickly gained notoriety across Japan for its innovation and quality, and by 2017, GRA Co. contributed to an increase in strawberry production in Yamamoto, helping the prefecture sell more fruits than it was before the earthquake in 2011. In the modern day, GRA Co. partners with strawberry growers across Japan, and Migaki strawberries are exclusively sold in high-end department stores and retailers. The company's main greenhouses are also a popular tourist attraction known as Ichigo World, drawing in over 10,000 visitors each year. During their visit, guests can tour the greenhouses, pick their own Migaki strawberries, or purchase Migaki-infused products as souvenirs. Today Migaki strawberries are sold throughout Japan in high-end gift shops, department stores, and retailers. The strawberries are also exported to other countries, such as Singapore.
Featured Restaurants
Restaurants currently purchasing this product as an ingredient for their menu.
| | | |
| --- | --- | --- |
| Ridgeview Health Center | San Diego CA | 858-293-3950 |