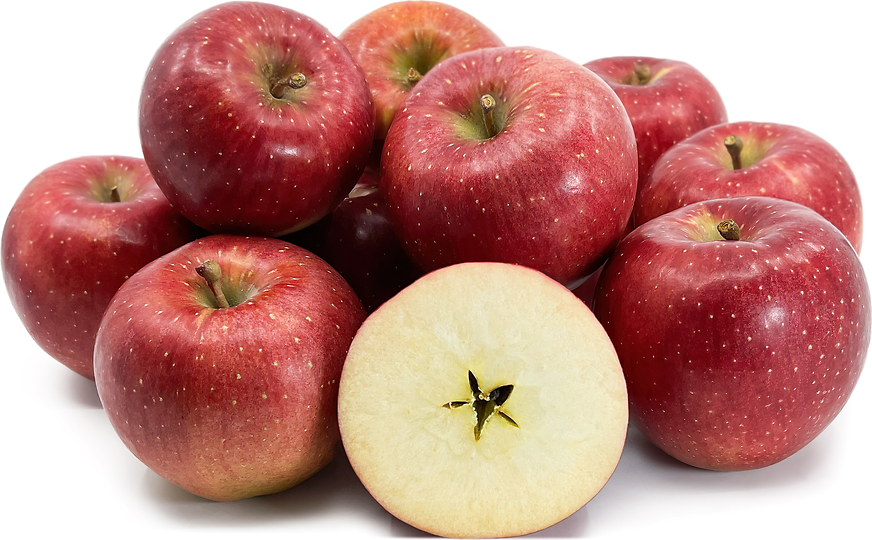 Senshu Apples
Inventory, lb : 0
Description/Taste

Senshu apples are a small to medium-sized varietal, averaging 250 to 300 grams in weight, and have a round, conical, to oblate shape with flat, broad shoulders, a curved center, and a narrow base. The stems are dark brown, thick, fibrous, and woody, connecting into the fruit through a narrow and shallow cavity. The skin is thin, smooth, and taut with a faint sheen, developing a layer of wax with ripening. The skin also showcases a yellow-green hue, covered in red-brown blush and striping. Depending on sun exposure, the blush is mostly solid and opaque, and prominent white lenticels are scattered across the surface. Underneath the skin, the cream-colored to ivory flesh is coarse, dense, hard, firm, and aqueous, with a crisp, crunchy, and succulent consistency. The flesh also encases a central fibrous core filled with tiny black-brown seeds that are inedible and should be discarded. Senshu apples should feel heavy for their size when ripe and release a subtly sweet fragrance. The variety can be eaten raw and has balanced sugar and acidity levels, creating a mild, sweet, and tart taste with faint cider-like undertones.


Seasons/Availability

Senshu apples are available in the fall through early winter.


Current Facts

Senshu apples, botanically classified as Malus domestica, are a Japanese variety belonging to the Rosaceae family. The mid-season apples were developed in the late 20th century in the Akita Prefecture and were traditionally bred at a fruit experiment station as a new commercial cultivar. Growers favor Senshu apple trees for their disease-resistance, moderately spreading nature, and dark red, sweet-tart fruits. Senshu apples are a somewhat rare variety that is only available in limited quantities for a short season. The cultivar's name can be written as Senshu, Senchu, and Sensyu, and in commercial markets, the variety is sold as a multi-purpose apple, primarily promoted for fresh preparations.


Nutritional Value

Senshu apples are an excellent source of vitamin C to boost the immune system, fiber to regulate the digestive tract, calcium to build strong bones and teeth, and iron to develop the protein hemoglobin for oxygen transport through the bloodstream. The variety also provides vitamin A to maintain healthy organs, potassium to balance fluid levels within the body, magnesium to control nerve functions, vitamin E to reduce inflammation, and other nutrients, including folate, vitamin K, zinc, copper, phosphorus, and manganese. The vibrant red hues within the skin indicate the presence of anthocyanins, pigmented compounds with antioxidant-like properties to protect the cells against the damage and oxidative stress caused by free radicals.


Applications

Senshu apples have a balanced, sweet, and sour flavor suited for fresh and cooked preparations. The variety is primarily consumed straight out of hand and is valued for its refreshing, juicy, and crisp nature. Senshu apples can be eaten with their skin intact, as it is thin and unnoticeable, or they can be peeled, depending on preference. Try chopping Senshu apples into salads, shredding them into coleslaws, or slicing and serving on charcuterie boards. The apples can also be dipped whole in melted sugar or caramel as a sweet treat, thinly sliced and layered on toast, or sprinkled in cinnamon and eaten as a healthy snack. In Japan, Senshu apples are popularly blended into smoothies, shakes, and juices. In addition to fresh preparations, Senshu apples have dense, firm flesh, allowing them to be hollowed, stuffed, and baked whole in puff pastry. The apples can also be incorporated into soup, roasted with root vegetables, or baked into pies, crisps, bread, turnovers, and tarts. Throughout the fall season, Senshu apples are a specialty variety sometimes used in jams, sauces, and compotes as they have a balanced flavor, or they are used as fillings for mochi, sweet buns, and other Japanese desserts. Senshu apples pair well with meats such as poultry, turkey, goose, and duck, celeriac, carrots, potatoes, fruits such as melons, berries, citrus, and grapes, nuts including almonds, pine, and walnuts, dried fruits, and spices such as cinnamon, cardamom, nutmeg, cloves, and ginger. Whole, unwashed Senshu apples will keep up to one month when stored in a cool, dry, and dark place at room temperature or for 1 to 3 months when stored in the refrigerator's crisper drawer. It is recommended to wrap the apples in newspaper and place them in a plastic bag to prevent the fruits from drying out due to their thin skin.


Ethnic/Cultural Info

Senshu apples were said to have been named by the governor of Akita City in the late 20th century. The variety was named after Senshu Park, a popular destination within the city that once was home to Kubota Castle. The castle was built by Satake Yoshinobu in 1603, the first lord of the Akita Domain, and was comprised of a low building using natural elevations surrounded by moats and gardens. The Satake Clan ruled over the area for 12 generations until 1869, when land was returned to the emperor. Later in the Meiji Era, from 1868 through 1912, the castle grounds were transformed into Senshu Park, designed by Nagaoka Yasuhei. The park was named Senshu, originally called Senshuen, by Yoshichi Kano, a Chinese scholar from the Akita Prefecture. In the modern day, Sensu Park is famous for its cherry blossoms, and the park changes foliage colors throughout the seasons, providing new attractions for visitors year-round.


Geography/History

Senshu apples are native to Japan and were developed through the Akita Fruit Tree Experiment Station in the Akita Prefecture. The variety was bred in 1966 from a cross between Toko and Fuji apples and was named Senshu in 1978. Senshu apples were officially released in 1980 to commercial markets and were promoted as a fresh-eating cultivar. Since their release, Senshu apples have never become widespread, but they have been used as a parent variety in Kanki, Shinano Gold, Akiei, and Kio apples. Today, Senshu apples are produced in Japan's Aomori, Yamagata, Nagano, and Akita Prefectures. They were also introduced to the United States as a specialty apple planted in select commercial orchards and home gardens.