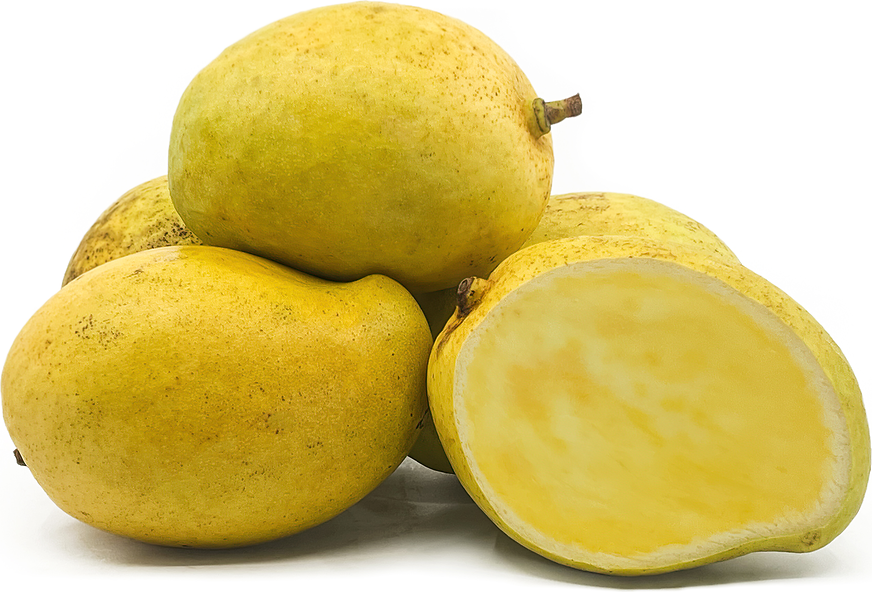 TJC Mangoes
Inventory, lb : 0
Description/Taste

TJC mangoes are a medium to large varietal, averaging 11 to 12.5 centimeters in length and 8 to 9 centimeters in diameter, and have an oblong to oval shape with one bulbous, curved end tapering to a smaller, pointed neck, also known as the beak. The variety is typically harvested 500 to 600 grams in weight but can sometimes grow over 1 kilogram. The mango's skin is thin, semi-glossy, smooth, and taut, ripening from light green, golden yellow, to bright yellow-orange. The skin may also showcase small brown markings or a faint red blush, depending on the growing region and exposure to direct sun. Underneath the surface, the golden flesh is firm, dense, aqueous, and low in fiber, creating a succulent and tender consistency. The flesh also encases a small, central, flat seed. TJC mangoes release a robust floral aroma when ripe and should feel heavy for their size. The variety can be consumed raw and has a honeyed, sweet, and tropical taste with mild, tangy undertones.


Seasons/Availability

TJC mangoes are available from June to January in Sri Lanka. The variety has one of the longest seasons of the Sri Lankan mango cultivars, lasting 7 to 8 months.


Current Facts

TJC mangoes, botanically classified as Mangifera indica, is a modern Sri Lankan variety belonging to the Anacardiaceae family. The cultivar was developed as an improved variety from multiple crosses of various Indian mangoes and was released in 2003 for commercial production. TJC mangoes grow on trees reaching 3 to 4 meters in height, and the trees can live for over 20 years. The variety begins bearing fruit three years after planting, and growers favor the cultivar for its reliability, productivity, drought tolerance, and resistance to pests and diseases. TJC mango trees also bear fruits for a more extended season than other native Sri Lankan cultivars, increasing profitability, and the variety is one of the largest mangos sold in Sri Lankan markets. In the present day, TJC mangoes, also known as TEJC, Tom Jaycee, and TomEJC in markets, have become one of the most commercially produced mangoes in Sri Lanka and are hand-picked at peak ripeness for sale in fresh markets. The variety is also being grown and marketed as a mango for international export, receiving positive feedback in global markets for the fruit's appearance, balanced taste, and versatility in fresh and cooked preparations.


Nutritional Value

TJC mangoes are a source of potassium to balance fluid levels within the body, fiber to regulate the digestive tract, and vitamin A to maintain healthy organ functioning. The mangoes also provide magnesium to control optimal nerve functioning, vitamin C to strengthen the immune system, vitamin E to protect the cells against free radical damage, and other nutrients, including B vitamins, iron, calcium, vitamin K, and folate. Beyond vitamins and minerals, TJC mangoes contain myrcene, a natural type of terpenoid that helps give the variety its strong, pleasant fragrance.


Applications

TJC mangoes have a balanced, sweet, and tangy taste suited for fresh and cooked preparations. The variety is popularly consumed straight out of hand, discarding the skin and seed. TJC mangoes are also sliced and consumed as a refreshing snack or dessert, diced as an edible garnish over seafood or rice, or tossed with herbs and spiced vegetables as a side dish. Try serving TJC mango slices with fresh cheese or layering the pieces into parfaits. The mango's sweet taste also complements fruit bowls and blends into cocktails, smoothies, fruit juices, and shakes. During the summer, TJC mangos are commonly blended and frozen into sorbets, popsicles, and ice cream. In addition to fresh preparations, TJC mangoes can be simmered into chutney and jams or used green in curries, side dishes, and soups. In Sri Lanka, TJC mangoes are added to dessert preparations, including puddings, custards, and a mousse-like dish known as mango fluff. TJC mangoes pair well with herbs such as mint, cilantro, and basil, aromatics including garlic, red onion, and ginger, fruits such as coconut, bananas, and passion fruits, condensed milk, chocolate syrup, and whipped cream. Whole, unopened TJC mangoes should be ripened at room temperature, and once mature, they should be immediately consumed for the best quality and flavor.


Ethnic/Cultural Info

TJC mangoes were named after the two agricultural scientists who created the variety in Sri Lanka. Tom Ellawala and Dr. Juan Carlos spent over a decade collaborating to develop the new mango variety, and after the cultivar was successfully brought to life, the two scientists used a combination of their initials to name the fruit. When they initially named the variety, it was called TOM EJC, with Tom being the founder's first name, E for Ellawala, his last name and company name, and JC for Dr. Juan Carlos. TOM EJC was immediately successful after its release, receiving the backing of the Sri Lankan Government, but over time, it was discovered that the name was considered too long for commercial markets. Most growers began shortening the variety name to TJC, and this name stuck among the public, forever changing the famous variety's moniker.


Geography/History

TJC mangoes are native to Sri Lanka and were developed in the late 1990s. Nurseryman and agricultural scientist Tom Ellawala owned a mango orchard with a collection of many local mango varieties. It has been said that Ellawala was losing money on these traditional varieties, so he decided to create a new variety that would grow more efficiently in drier climates. At the same time, Filipino consultant Dr. Juan Carlos was working with the Asian Development Bank or ADB in Anuradhapura. Dr. Carlos heard about Ellawala's mango project and eventually partnered with Ellawala to breed the new cultivar. TJC mangoes were created from several crosses of local mango cultivars, and it took over ten years to finalize the variety. Ellawala finally selected a seedling from the orchard in the late 1990s and submitted it to the Department of Agriculture in Sri Lanka for classification and variety approval. The Department of Agriculture approved the new mango and assisted Ellawala and Dr. Carlos in preparing the variety for commercial release. TJC mangoes were released to commercial markets in 2003 and were recommended by the Sri Lankan government as a successful cultivar for the Dry and Intermediate Zones on the island. After their release, the Sri Lankan government helped farms plant over 50,000 trees across the island to boost commercial production and were promoted for cultivation in the North Central Province. Today, TJC mangoes are grown in the Kurunegala, Ampara, Polonnaruwa, Kataragama, Anuradhapura, Puttalam, Vavuniya, Jaffna, Mullaitivu, Hambantota, Monaragala, and Matale districts. When in season, TJC mangoes are available directly through growers and fresh markets throughout Sri Lanka. The variety is also exported to India and other countries worldwide. Tom Ellawala's company, Ellawala Horticulture, is in the process of creating seedlings to expand the variety to international production.