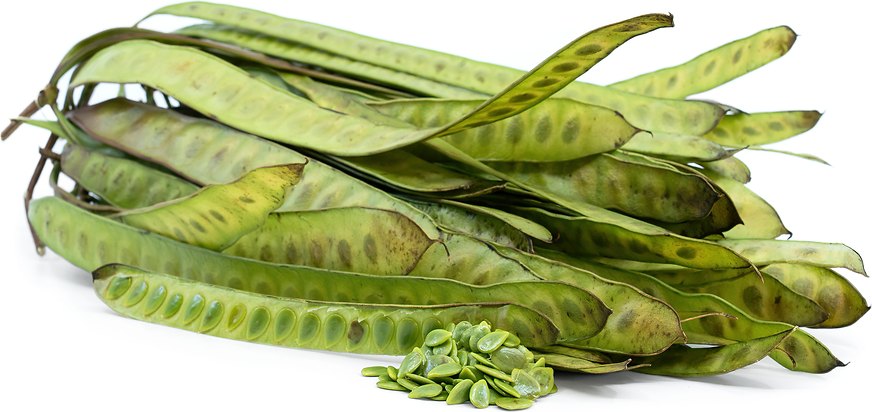 Guaje
Inventory, lb : 24.88
This item was last sold on : 12/07/23
Description/Taste
Guaje pods are long and slender, averaging 10 to 30 centimeters in length and 2 to 3 centimeters in diameter, and are generally flat, thin, and straight with slightly tapered ends. The pods ripen from green, yellow-green to a muted red, sometimes purple-red hue, and depending on the variety, some pods are translucent through the center, showcasing the encapsulated seeds. The pods may also exhibit pigmented speckling on the surface created from sun exposure during cultivation. Each pod contains about twenty seeds, and the seeds are small, flat, glossy, and green to brown, with a teardrop shape. The seeds are less than one centimeter in diameter and are similar in shape and size to pumpkin seeds. Guaje seeds are edible raw or cooked, and only the younger seeds are considered fit for consumption. Raw Guaje seeds have a bittersweet, grassy, earthy, and garlicky taste with green, nutty, and mineral-forward nuances.
Seasons/Availability
Guaje is available year-round, with varying peak seasons, depending on the climate and species.
Current Facts
Guaje, botanically a part of the Leucaena genus, is a general descriptor for several species of plants that produce edible seedpods belonging to the Fabaceae family. Leucaena is a large genus, and the two most prevalent species labeled as Guaje are Leucaena esculenta and Leucaena leucocephala. The seedpods grow on trees reaching 7 to 19 meters in height and hang from the branches, eventually drying and splitting open to expel the seeds. The pods are produced from self-pollinating flowers, maturing approximately 10 to 15 weeks after pollination, and the trees experience extended growing seasons, simultaneously showcasing flowers and pods. Guaje is native to the Americas and is known by many regional names, including Huajes, Huazim, Uaxin, Huaje, River Tamarind, White Leadtree, Wild Tamarind, and Guashe. It was also introduced to Southeast Asia in the 16th century, labeled Phakatin in Thailand, Ipil Ipil in the Philippines, Narendhar in India, and Yin He Huan in China. Each species of Guaje ripens at various times throughout the year, making the seeds available almost year-round. In the 1970s and 1980s, Guaje was nicknamed the "miracle tree" as it was favored for its use as animal fodder and as a tree to reduce erosion and improve soil conditions. The trees are also fast-growing, producing a large number of pods, and these pods are gathered for medicinal and culinary use.
Nutritional Value
Guaje seeds are a source of fiber to regulate the digestive tract, magnesium to control blood pressure, and calcium to build strong bones and teeth. The seeds also provide vitamin C to strengthen the immune system, iron to develop the protein hemoglobin for oxygen transport through the bloodstream, and other nutrients, including B vitamins, phosphorus, and antioxidants to reduce inflammation and protect the cells against the damage caused by free radicals. It is important to note that the leaves and seeds contain an amino acid known as mimosine that can be toxic in large quantities. Guaje seeds should be consumed in moderation, and cooking the seeds helps to lessen the amino acid's potency. In natural medicines throughout the Yucatan Peninsula, Guaje has been used to soothe indigestion and stomach aches and reduce respiratory irritations and ailments.
Applications
Guaje seeds have a bittersweet, vegetal, and garlic-forward flavor suited for fresh and cooked preparations. The seeds can be consumed raw when they are young and green and can be eaten directly from the pod or shelled and mixed into salads and grain bowls. Guaje seeds can also be chopped into salsa and guacamole or tossed with fresh herbs or seasonings as a snack. In addition to fresh preparations, Guaje seeds are popularly dried and roasted in Mexico and Central America as a street snack known as calcalas. The seeds can also be popped like popcorn, covered in sauces, spices, or lemon juice, or cooked into omelets and scrambles. In Guerro, Mexico, Guaje seeds are ground and sun-dried into a bread-like cake, served as a filling accompaniment to soups and stews. The dried seeds can also be roasted to puff the seed up and then lightly crushed as a crust for fish or root vegetables. In Southeast Asia, the young leaves, seeds, pods, and flowers are incorporated into fresh and cooked dishes, especially salads. The seeds are added to curries, stir-fries, and rice dishes, or battered and fried for a sweeter taste. Guaje seeds are also dried, ground into a powder, and used as sauce thickeners or fermented in an ingredient similar to tempe. In Java, the seeds are incorporated into botok, a dish of fresh coconut meat, meat, chile peppers, and vegetables combined and steamed in a banana leaf. Guaje seeds pair well with aromatics such as garlic, onions, and chile peppers, spices including mustard seed, allspice, cumin, and cinnamon, and herbs such as cilantro, thyme, and oregano. Fresh Guaje seeds will keep for a few days when stored in the refrigerator in a sealed container. Whole pods can be wrapped in plastic and stored in the fridge for one week.
Ethnic/Cultural Info
Guaje was the inspiration behind the name of the Mexican state of Oaxaca. When Spanish explorers arrived in Mexico in the 16th century, they had trouble pronouncing various names of places. The region of Oaxaca was initially known as Huaxyacac, a name derived from Nahuatl, an ancient language spoken throughout central and western Mexico since at least the 7th century. Huaxyacac roughly translates to mean "the place of Guaje" or "the place where Guaje grows." The Spanish could not pronounce Huaxyacac, so they changed the region's name to Oaxaca in the 16th century. Since this change, Oaxaca has remained the name of the area and has become the fifth-largest state in Mexico. It is also known as one of the most ethnically diverse states. Guaje still grows wild throughout the state and is a treasured culinary ingredient utilized raw, cooked, or dried. One of the most popular preparations within the state is guaxmole, or mole de guaje, a rich, stew-like sauce made from tomatoes, garlic, onions, chile peppers, cilantro, and meat. This sauce is traditionally poured over enchiladas or mixed with additional ingredients to create main dishes.
Geography/History
Guaje is native to the Americas, specifically to regions of central and southern Mexico, the Yucatan Peninsula, and the West Indies. Leucaena species have been growing wild since ancient times and quickly spread throughout Central America into northern areas of South America in the Early Ages. The trees were foraged for their young edible leaves and seeds, and over time, the various species were eventually selected for cultivation and were planted near villages and in home gardens. Leucaena species were believed to have been utilized by the Mayan Empire, and in the 16th century, Spanish Explorers sent a few species to the Philippines as a plant to feed livestock. After its introduction into the Philippines, Leucaena species spread to other parts of Southeast Asia and Africa, naturalizing in areas of Thailand, Malaysia, and Indonesia. Leucaena species were planted in Hawaii in 1864 and were trialed in Florida and Texas. The plants were initially favored for Floridian gardens as a method for erosion control, but once introduced, they became a category II invasive species and were later ruled illegal to plant in the state. Today Leucaena species are found throughout South and Central America, the Caribbean, southern regions of North America, Southeast Asia, Asia, Africa, and Australia. The plants have naturalized throughout tropical and subtropical climates worldwide and are often used as shade and support trees for vanilla, passion fruit, black pepper, coffee, and cocoa plants. The seed pods are harvested from wild and cultivated trees and are sold through fresh markets in their growing regions. The seeds are also dried or ground into a powder and offered through online retailers.
Featured Restaurants
Restaurants currently purchasing this product as an ingredient for their menu.
Recipe Ideas
Recipes that include Guaje. One

is easiest, three is harder.