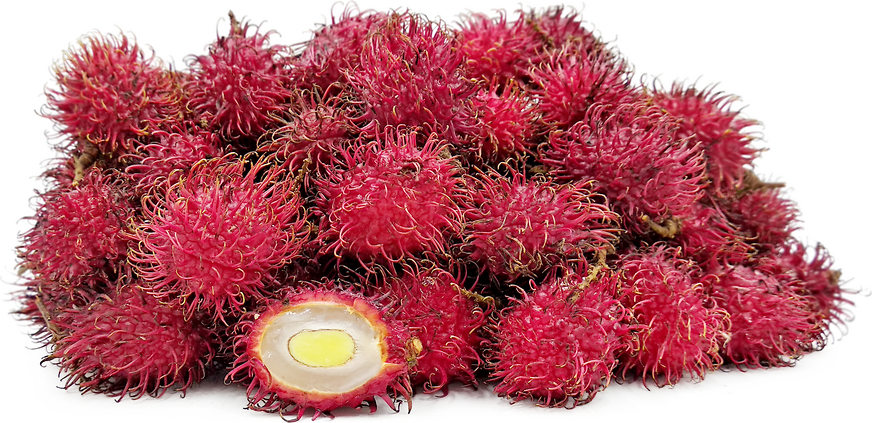 Nona Rambutan
Inventory, lb : 0
Description/Taste

Nona rambutans are small to medium in size, averaging 2-3 centimeters in diameter, and are round, oval, to ovate in shape. The fruit grows in loose clusters on long branches, and the rind is bright red, leathery, semi-thick, and firm. Covering the rind, there are red, hair-like spines known as spinterns that vary in length and are flexible and soft. The fibrous rind is easily peeled revealing translucent-white flesh that is smooth and crisp, and encased in the center of the flesh is an oblong, flat seed that is edible once cooked. Nona rambutans are chewy and tender with a sweet, mildly tart, and fruity flavor reminiscent of grapes.


Seasons/Availability

Nona rambutans are available year-round in tropical climates, with a peak season in the winter.


Current Facts

Nona rambutans, botanically classified as Nephelium lappaceum, are unique, hairy fruits that grow on evergreen trees that can reach up to twenty-five meters in height and belong to the Sapindaceae or soapberry family. Nona rambutans grow wild in the tropical forests of Southeast Asia, and their name is derived from the word 'rambut,' which is Malay for hair, referencing the fruit's "hairy" appearance. In addition to growing wild, Nona rambutans are also cultivated on a small scale and are registered as a commercially produced variety grown for global markets, favored for their sweet flavor.


Nutritional Value

Nona rambutans contain B vitamins, vitamin C, iron, manganese, and magnesium.


Applications

Nona rambutans are best suited for raw applications as their sweet flavor is showcased when consumed fresh, out-of-hand. When raw, the rind can be torn apart by hand, or it can be sliced open with a knife, and the seed is edible but must be cooked prior to consumption. The fruit can also be sliced in half and served on an appetizer tray with half of the rind removed for an unusual display. The flesh is commonly mixed into fruit salads, stuffed with herbs and sauces, or used to top sorbet and ice cream. The fruit can also be cooked and made into jams and jellies, muddled into drinks, or preserved in simple syrups and served over pastries and cakes. Nona rambutans pair well with oranges, pineapple, coconut, garlic, coriander, peanuts, soy sauce, mint, and ginger. The fruits will keep up to three days when stored at room temperature and up to six days when stored in a sealed container in the refrigerator.


Ethnic/Cultural Info

In Southeast Asia, rambutan is plentiful when in season and is sold in large, brightly colored piles to catch the attention of consumers at many fresh markets and along roadside stands. Many locals use this affordable fruit as a food, but the bark, rind, and seeds are also used as an ingredient in natural medicine. The bark of the rambutan tree can be boiled and is believed to help reduce the severity of canker sores while the rind can be used in a decoction to help reduce symptoms associated with fevers. The seeds are also edible once cooked and are ground into a powder and mixed with water as a drink to help keep the body healthy.


Geography/History

Nona rambutans are believed to be native to the Malay Archipelago, but the exact origin is unknown as the fruit has been cultivated since ancient times. Today the fruit is mainly found in Southeast Asia growing wild and is also cultivated on a small scale for domestic use and exporting. There are many different varieties of rambutan that have been spread across the world via seed exchange, and rambutan may also be found in tropical regions of Asia, Central and South America, Africa, and Australia.