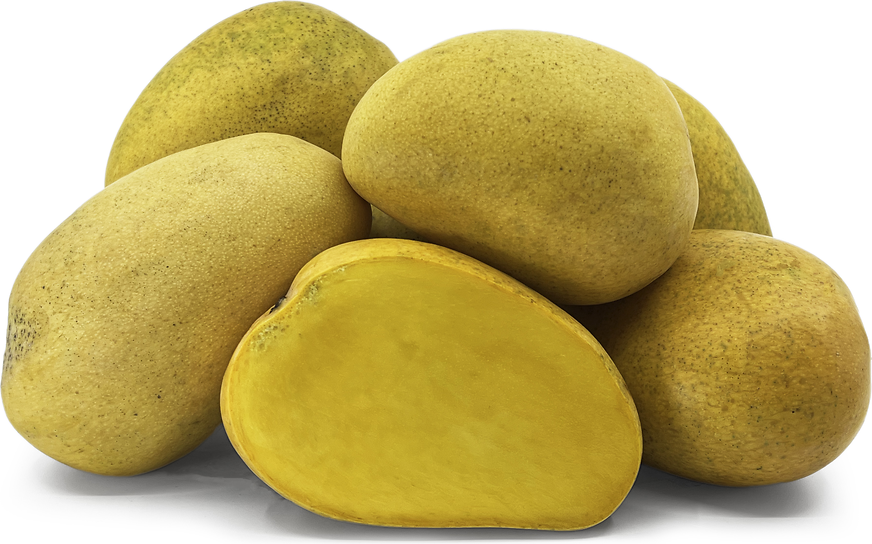 Champagne® Mangoes
Inventory, lb : 0
Description/Taste

Champagne® mangoes are a small varietal, averaging 170 to 280 grams in weight, and have an oval, oblong, to kidney-shape with a plump, curved, and tapered nature. The variety is typically smaller than other commercial varieties and has thin, smooth, taut, and delicate skin. Champagne® mangoes ripen from light green to a dark golden yellow-orange, and as they ripen, their flavor transitions from bitter when green to sweet when yellow-orange. The skin may also feature a few brown specks or scars, but these markings are only surface-level and will not affect the flesh. Underneath the surface, the golden yellow-orange flesh is fibreless, smooth, soft, and aqueous with a velvety, creamy, tender, and succulent consistency. There is also a thin seed in the center of the flesh, but overall, the mango has a high flesh-to-seed ratio. Select Champagne® mangoes that emit a sweet and fruity scent on the stem end and feel heavy for their size. As the fruit ripens, the skin will also develop a few wrinkles and soften under slight pressure. Ripe Champagne® mangoes have a sweet, candy-like taste with light fruity and floral nuances.


Seasons/Availability

Champagne® mangoes are available in the late winter through the summer, with a peak season from February through July.


Current Facts

Champagne® mangoes, botanically classified as Mangifera indica, are a branded variety belonging to the Anacardiaceae family. The name Champagne® was coined by the produce company Ciruli™ Brothers and is a proprietary marketing name for Ataulfo mangoes. Champagne® mangoes are grown in Mexico and imported into the United States as a fibreless, fresh-eating variety. The branded fruits are only available for a limited time each year and are picked multiple times per season to hand-select the mangoes ready for harvest. This allows quality to remain high, and the fruits are also bathed in a temperature-controlled bath and hydro-cooled before being exported to the United States. Champagne® mangoes were given their sparkling beverage moniker in honor of the mango's smooth, refreshing, and velvety flesh. The polyembryonic variety is a seasonal delicacy, and consumers favor the smaller mangoes for their tender, juicy flesh, and sweet, sugary taste. Champagne® mangoes are consumed fresh and cooked and can be added to sweet and savory culinary preparations.


Nutritional Value

Champagne® mangoes are a source of fiber to regulate the digestive tract, calcium to build strong bones and teeth, and potassium to balance fluid levels within the bloodstream. The variety also provides vitamin C to strengthen the immune system, vitamin K to assist in faster wound healing, magnesium to control optimal nerve functioning, and other nutrients, including iron, vitamin E, folate, and B vitamins.


Applications

Champagne® mangoes have a sweet taste suited for fresh and cooked preparations. The variety is primarily consumed straight out of hand and is enjoyed for its tender, fibreless flesh. It is important to note that only the flesh is eaten, and the skin and seed should be discarded. Champagne® mangoes are also sliced into salsa, mixed into fruit salads, and layered into parfaits. The variety's sweet taste complements spicy and salty toppings over tacos, fresh spring rolls, and ceviche, or the fruits can be chopped with aromatics and herbs to create edible garnishes over meats. Try blending and freezing Champagne® mangoes into popsicles, ice cream, sorbet, and granita or incorporating the fruit into a base for corn chowder. In addition to fresh dishes, Champagne® mangoes can be cooked in various sweet and savory preparations. The mangoes are popularly used as flavoring in flan, cobbler, churros, and cakes or simmered into jams, preserves, sauces, and chutney. Champagne® mangoes can also be used as a garnish over sushi, mixed into pasta side salads, or pureed as a sweet filling in baked goods. Beyond culinary preparations, Champagne® mangoes are combined into smoothies, shakes, and cocktails such as margaritas. Chilled slices are also dropped into champagne as a festive beverage. Champagne® mangoes pair well with corn, bell peppers, tomatoes, aromatics such as red onions, chile peppers, garlic, and ginger, and fruits including papaya, coconut, and raspberries. Champagne® mangoes should be left at room temperature to ripen. Once mature and ready to eat, the mangoes can be stored in the refrigerator for 4 to 5 days. Champagne® mango flesh can also be frozen in sealed containers for extended use.


Ethnic/Cultural Info

Champagne® mangoes are a proprietary brand of Ataulfo mangoes grown in Mexico. Ataulfo mangoes were named after their discoverer, Ataulfo Morales Gordillo, in the mid-20th century. It is said that Gordillo, an agricultural engineer, purchased property in Tapachula, Mexico, in 1958 with another engineer, Hector Cano Flores. The two engineers began experimenting with mango trees on their property and eventually selected a new variety in 1963, naming it Ataulfo. After its commercial release, Ataulfo mangoes became one of Mexico's most popular mango varieties and was eventually given a Denomination of Origin. Mexico's Institute of Industrial Property awarded This label to the mango variety in 2003 and was given to protect the Ataulfo mangoes grown in the Soconuso region of Chiapas. Within Soconuso, Ataulfo mangoes are grown in volcanic soil and are said to develop a distinct flavor due to their unique terroir.


Geography/History

Champagne® mangoes are native to Mexico and are a proprietary, branded type of Ataulfo mango. The marketing name of Champagne® was coined by the Ciruli™ Brothers, a multigenerational company headquartered in Rio Rico, Arizona. The Ciruli™ Brothers have been selling mangoes since the 1980s and selected Champagne® mangoes as a brand to distinguish their line from the other mangos being shipped from Mexico into the United States. Champagne® mangoes are Ataulfo mangoes, a variety created from the cross-pollination of several mango trees in the Soconusco region of Chiapas, Mexico. Ataulfo mangoes are thought to be descendants of a Philippine mango that was introduced into Mexico sometime before 1779 during the Manila-Acapulco galleon trade. Once established in Mexico, the Philippine mango was cross-pollinated with unknown species to create Ataulfo mangoes. Today, Champagne® mangoes are cultivated in the state of Chiapas in Mexico and are exported from Mexico to the United States. When in season, Champagne® mangoes are sold through select grocers, retailers, and distributors.