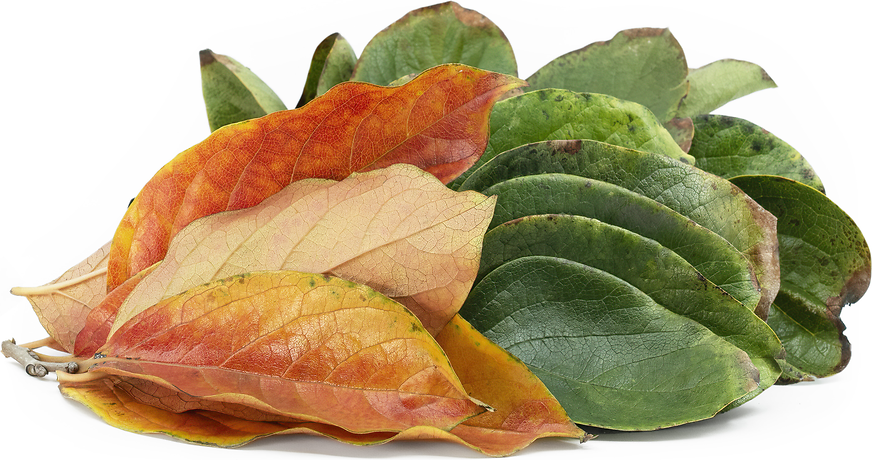 Persimmon Leaves
Inventory, ea : 0
Description/Taste
Persimmon leaves are small to medium in size, averaging 5 to 10 centimeters in diameter and 7 to 15 centimeters in length, and have an elliptic shape, appearing broadest in the center, tapering to a pointed, short tip. The leaves are leathery, stiff, and fibrous, exhibiting prominent veining with a central midrib, connecting into a thick petiole, also known as a stalk. The top of the leaf showcases a glossy, dark green hue, while the underside is generally paler in color with a smooth to fuzzy feel. Persimmon leaves are yellow-green to dark green throughout the spring and summer, and in the fall, they transition to vibrant hues of red, yellow, or orange. When the leaves change color, the veins will also darken, and the surface may develop brown spots and markings. Persimmon leaves are not consumed raw and are utilized in cooked preparations and infused into beverages. When heated, the leaves impart a mild, vegetal, green, and slightly bitter taste with subtle floral and fruity nuances.
Seasons/Availability
Persimmon leaves are available in the spring through fall.
Current Facts
Persimmon leaves, botanically classified as Diospyros kaki, are the foliage of a deciduous tree belonging to the Ebenaceae family. Persimmon trees are native to Asia and reach 9 to 18 meters in height, depending on the variety and growing environment. Worldwide, persimmon trees are famous for their orange-red fruits, but Persimmon leaves are a secondary crop foraged from the trees as a medicinal and culinary ingredient. Persimmon leaves are primarily utilized throughout Asia, specifically in China, Korea, and Japan, and there are multiple species of persimmon trees, varying in appearance, leaf shape, flavor, and texture. Persimmon leaves are also the first usable crop of the persimmon tree as they can be harvested within the first year of planting, while the fruits won't appear for 2 to 3 years. The leaves are traditionally harvested in the early spring when they are young and full of nutrients and are either cooked, used as a wrap for raw meats, or infused into hot water as tea. In the modern day, Persimmon leaves are sold fresh and dried. It is important to note that when sourcing Persimmon leaves, it is essential that the leaves are pesticide-free.
Nutritional Value
Persimmon leaves have historically been used in natural medicines as a digestive cleanser, liver tonic, immunity booster, and blood sugar regulator. In Traditional Chinese Medicine, the leaves are steeped in hot water and are consumed as a tea. Persimmon leaves are a source of vitamin C to strengthen the immune system, potassium to balance fluid levels within the body, magnesium to regulate optimal nerve functioning, and other nutrients, including phosphorus, calcium, and amino acids. The leaves are also believed to purify the liver and remove excess waste through tannins, a process that cleanses toxins and eases digestion. When consumed as a tea, Persimmon leaves provide antioxidants such as carotenoids, flavonoids, and triterpenoids to protect the cells against the damage caused by free radicals, reducing inflammation throughout the body.
Applications
Persimmon leaves are not consumed raw and are typically incorporated into cooked preparations and beverages. Young Persimmon leaves can be fried into tempura as they have a more delicate nature and are served as a crisp snack, appetizer, or garnish to main dishes. Persimmon leaves are also used as a wrap for sushi, as the leaves are believed to contain elements that act as a preservative. The leaves are said to impart a subtle aroma to rice and fish and are valued for their mild nature. The most popular use for the leaves is to make a tisane or tea. Persimmon leaves can be steeped fresh or dried, and the decaffeinated beverage has a clean, mild, earthy, and slightly floral and fruity flavor. The tea is consumed hot as a medicinal remedy or a natural daily drink. Persimmon leaves should be immediately used when harvested fresh from the tree and will keep for 1 to 2 days when stored in a sealed bag in the refrigerator. If left to dry in the sun, the brittle leaves can be gently crushed and placed in an airtight container for up to one year.
Ethnic/Cultural Info
Persimmon leaves are most famously used in the Japanese dish Kakinoha Zushi, also written as Kaki No Ha Zushi, meaning "Persimmon leaf sushi." Persimmon leaves are used to wrap vinegared rice and raw, lightly salted fish, traditionally salmon or mackerel, and the folded leaves form bite-sized pieces. Persimmon leaf-wrapped fish is preserved for extended periods through antibacterial properties within the greens, and the leaves also impart a delicate sugary flavor. The dish was originally created during the Edo period in Nara, Japan, because geographically, Nara is far from the ocean, and travelers had to find a way to preserve fish for long journeys to the capital city. Legend has it that fisherman from the Wakayama prefecture prepared mackerel from the Kumano Sea by wrapping small pieces of the fish in Persimmon leaves. The fisherman would carry the preserved fish to the Yoshino River to sell to help pay for their taxes and would continue up a route throughout the Kii Peninsula known as Saba Kaido, or "Mackerel Road." The preserved fish also became a favored dish during summer festivals throughout Nara, as the fish could last for many hours during the hot summer days because of the green's preserving effect. Kakinoha Zushi is still prepared as a traditional dish in Japan and is one of the signature culinary dishes of the Nara Prefecture. The sushi is found throughout restaurants, kiosks in train stations, as an element in bento boxes, and through street vendors.
Geography/History
Persimmon trees are native to Asia and North America, with varying species in each region, and have been growing wild since ancient times. Asian persimmons, Diospyros kaki, are native to Asia, specifically China, and are descendants of wild fruits that were domesticated during the Qin and Han dynasties from 221 BCE to 220 CE. Some records believe that Persimmon leaves have been used in Traditional Chinese Medicine since 2700 BCE, and in the Han dynasty, the leaves were documented as a common homeopathic medicine. Later in the Tang and Song dynasties, persimmons were grown on a large scale and introduced to other countries throughout Asia, most notably Japan in the 7th century, and then Korea, Vietnam, Burma, India, Indonesia, and the Philippines. As the tree was planted throughout Asia, the leaf's use as a medicinal ingredient was also spread. Persimmon species native to Asia were introduced to North America in 1856 when American Commander M.C. Perry carried persimmons seeds back to the United States from Japan after a naval fleet visit, but the seeds did not survive after being planted. The first successful Asian persimmon introduction into the United States was in 1870 when the United States Department of Agriculture imported numerous Asian persimmon varieties and planted them throughout California and the southern United States. Asian persimmons were also produced in Queensland, Australia, in 1885. Today Persimmon leaves are a secondary crop harvested from trees as a medicinal ingredient and culinary enhancement. The leaves are primarily used in Asia and are considered somewhat rare in markets worldwide. When available, Persimmon leaves are gathered from wild trees, sold in local markets, or offered in dried form through online vendors.
Recipe Ideas
Recipes that include Persimmon Leaves. One

is easiest, three is harder.