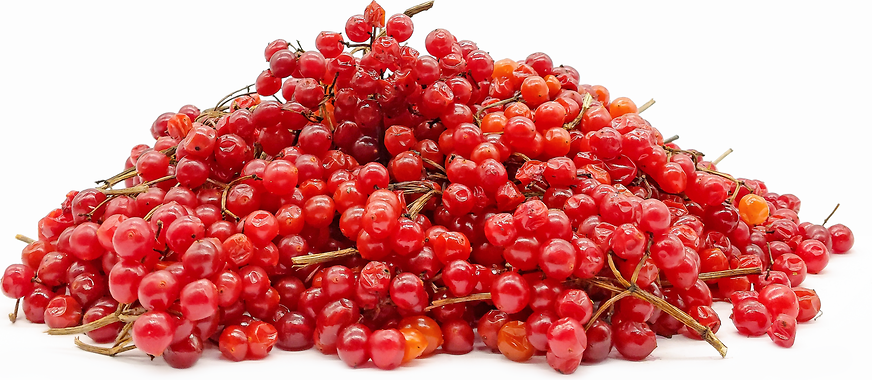 Rose Guelder Berries
Inventory, lb : 0
Description/Taste
Guelder Rose berries are small, globular to oval fruits that grow in drooping clusters on brown, woody branches. The berries are traditionally harvested in bunches and are not removed individually to keep the skin intact and preserve quality. The skin is shiny, taut, smooth, and bright red with a translucent quality. Underneath the delicate, thin skin, the flesh is pale red, juicy, and soft, encasing a single, broad, and flat, heart-shaped ivory seed. Guelder Rose berries have a pungent, musky, and sometimes offensive scent when crushed, and are rarely consumed raw due to their highly astringent, bitter taste. Cooking the berries lessens the bitterness, and sweet flavorings are commonly mixed with the berries to create a palatable flavor.
Seasons/Availability
Guelder Rose berries are available in the late summer through fall.
Current Facts
Guelder Rose berries, botanically classified as Viburnum opulus, grow in brightly colored clusters on a woody shrub that belongs to the Adoxaceae family. Native to regions throughout Europe, Asia, and Northern Africa, the ancient berries are known by many names, including Water Elder, European cranberry bush, Kalina, Snowball tree, and Cramp Bark. Guelder Rose berries are commonly found growing wild in deciduous forests, alongside streams and ponds, in meadows, and are planted in parks and home gardens as an ornamental variety. Beyond their visual beauty, the bright red berries are also deeply rooted in natural mysticism and folklore of Europe and Asia, and the bark, roots, berries, and leaves are used medicinally, in culinary applications, and in religious practices.
Nutritional Value
Guelder Rose berries are an excellent source of vitamins A, C, E, and K, and also contain phosphorus, potassium, iron, zinc, manganese, calcium, and magnesium. The berries are frequently used in traditional European and Asian folk medicine and have been a medicinal ingredient since the 16th century. Herbalists grind, juice, or steep Guelder Rose berries in boiling water to make teas, jams, and juices, and are mixed with a sweetener such as honey or sugar to help lessen the bitter flavor. It is believed that when ingested, the berries will provide relief from indigestion, sore throats, and coughing. When used topically, the berries can help lighten skin imperfections and reduce acne. The seeds can also be steeped in hot water and used as a drink to remove toxins from the body.
Applications
Guelder Rose berries are considered too bitter to be consumed raw and are best suited for cooked applications such as boiling to help reduce the astringent taste. The berries can be crushed, steeped in boiling water, and filtered to make a tea or crushed and mixed with honey or sugar to make a juice. They can also be cooked into marmalades, jams, and jellies, used as a spread over pancakes and crepes, or baked into pies. In Central Asia, Guelder Rose berries can be paired with other fruits and made into kissel, which is a chilled soup or beverage depending on how thick the mixture is made. The berries can also be used in morse, which is a seasonal berry drink commonly made in Russia. In addition to the flesh and juice of Guelder Rose berries, the seeds can be dried, browned, pulverized, and brewed similarly to coffee, served as a stimulate or medicinal drink. Guelder Rose berries pair well with strawberries, apples, cherries, blueberries, lemon juice, mountain rose ash, baked goods, pancakes, crepes, toast, and meats such as lamb and wild game. The fresh berries will keep 3-4 months when stored in a cool location. The berries can also be dried or frozen for extended use.
Ethnic/Cultural Info
Guelder Rose berries have been rooted in traditional Slavic folklore since ancient times and are also seen as a national symbol in both Russia and Ukraine. In Russia, the berries are often painted on khokhloma, which are wood paintings with highly ornamental pictures and details. In Ukraine, the berries are frequently seen as a symbol of a young girl's beauty and love and are adorned on tables and doorways at weddings, tied into wreaths during cultural gatherings, and used as decoration during the winter solstice festival known as koliada. Guelder Rose berries are more commonly known as Kalyna and Kalina in Central Asia, and the shrubs are deeply rooted in Slavic paganism, symbolizing roots, heritage, and family. In the modern-day, the berries are still toted as a natural remedy and are sold in local markets for holistic medicine. In addition to folklore, the bright red berries are used as symbolism in many movies, including The Red Snowball Tree, which is one of the highest-grossing films in Russia, and are also seen in poetry, songs, and embroidery.
Geography/History
Guelder Rose berries are native to temperate regions across Asia, Europe, and Northern Africa and have been growing wild since ancient times. Some experts believe the shrub may have first become popular out of Gelderland in the Netherlands, as the shrub's common name is derived from the Dutch province, and the berries were introduced to England from there. The berries have also been used as a medicinal ingredient since the 14th century and gained the most notoriety during the 16th century through practicing herbalists. Today Guelder Rose berries are still widely found growing wild in Asia and Europe and are grown in home gardens and through small farms for medicinal use. Some plants have also been introduced into regions of North America. The Guelder Rose berries featured in the photograph above were found at the Green Market in Almaty, Kazakhstan, and were collected locally from the Ile Alatau foothills.
Recipe Ideas
Recipes that include Rose Guelder Berries. One

is easiest, three is harder.