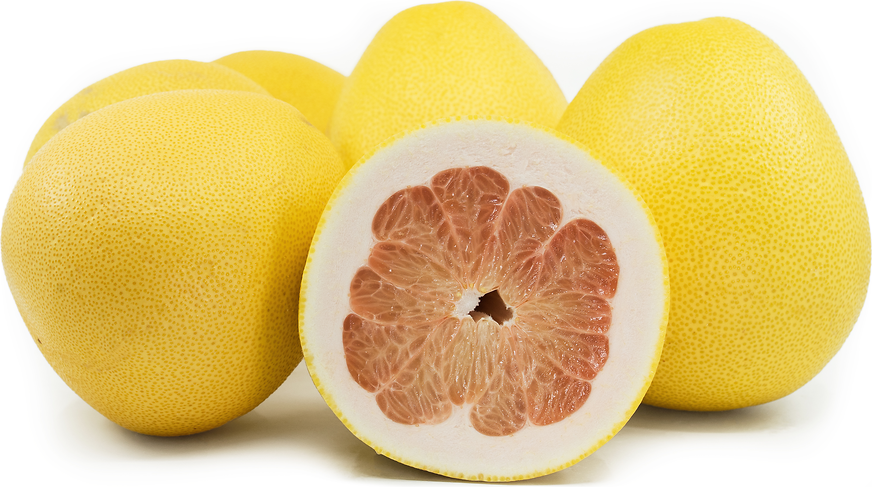 African Shaddock Pomelos
Inventory, lb : 0
This item was last sold on : 04/07/23
Podcast
| | |
| --- | --- |
| Food Buzz: History of Pomelo | Your browser does not support the audio element. |
Description/Taste
African Shaddock pomelos are medium to large in size, averaging 15 to 25 centimeters in diameter, and have a pyriform to oblate appearance, typically narrow at the top transitioning into a bulbous, curved base. The rind ranges in color from yellow-green, pale yellow, to golden yellow, depending on the growing environment, and has a smooth, taut, and springy consistency. The rind is also covered in prominent oil glands containing fragrant oils, creating a textured, finely pitted surface. Underneath the rind is a thick, dry, and spongy white pith adhered to the flesh. The pith has a cotton-like feel and is not typically consumed as it is bitter and mostly unpalatable. The pith is easily peeled, revealing 11 to 16 segments of flesh encased in membranes, which also carry a bitter flavor and should be discarded. Once the membranes are peeled, the flesh is comprised of large translucent sacs known as vesicles, giving the pomelo a distinct textured consistency. The vesicles are filled with juice and pulp, creating a dense, meaty, and chewy nature, and the flesh features variegated hues of pink and yellow. Depending on cultivation and pollination, the flesh may contain a few or have many inedible cream-colored seeds. Select ripe pomelos that feel heavy for their size and have a plump shape. African Shaddock pomelos are aromatic and release a floral, bright scent when peeled or sliced. The pomelos can be consumed raw and have a complex sweet-tart flavoring. African Shaddock pomelos are low in acidity, making the variety less bitter and tart than other pomelo cultivars. The flesh provides a generally mild, sweet, and tangy taste with floral and honeyed nuances.
Seasons/Availability
African Shaddock pomelos are available in the winter, with a peak season from December through January.
Current Facts
African Shaddock pomelos, botanically classified as Citrus maxima, are a rare variety belonging to the Rutaceae family. The large fruits are a non-hybrid cultivar and grow on compact, evergreen dwarf trees. African Shaddock pomelos are not commercially produced, but the variety is grown on a small scale through select specialty growers. The variety acquired its "Shaddock" moniker from a 17th-century sea captain. Legend has it that Captain Philip Shaddock from the East India Company was sailing back to England when he stopped in the West Indies. During his time there, Captain Shaddock supposedly planted pomelo-like citrus trees, introducing the large fruits to the New World for the first time. The trees were allowed to grow and bear fruit, and the fruits were named Shaddock after the captain. Historians debated the authenticity of this story for many years, but it was eventually discovered that there was a captain under a different spelling, known as Captain Philip Chaddock. When in season, African Shaddock pomelos are valued for their distinct shape, low acidity, and bright flavoring and are sold as premium citrus, utilized in fresh or cooked preparations.
Nutritional Value
African Shaddock pomelos are a source of fiber to regulate the digestive tract, vitamin C to strengthen the immune system while reducing inflammation, and antioxidants to protect the cells against the damage caused by free radicals and oxidative stress. The pomelos also provide copper to maintain a healthy nervous system, potassium to balance fluid levels within the body, phosphorus to repair tissues, calcium to build strong bones and teeth, and other nutrients, including zinc, riboflavin, and iron.
Applications
African Shaddock pomelos have a sweet-tart taste suited for fresh and cooked preparations. The rind, pith, and membranes should be peeled and discarded, and once prepped, the flesh is typically consumed straight out of hand as a snack or dessert. African Shaddock pomelos are also segmented and tossed into salads, mixed into fruit bowls, combined into fresh rolls, chopped into salsas, or infused into dressings and marinades. Try sprinkling the segments in salt, chile powder, or sugar for enhanced flavoring or blending the flesh and juice into smoothies, cocktails, and fruit punches. In addition to fresh preparations, African Shaddock pomelos can be cooked into sauces for savory main dishes, added to vegetable side dishes such as roasted Brussels sprouts for a fresh flavor, or used to flavor desserts and baked goods such as cakes, cookies, and muffins. The flesh can also be cooked into compotes, jams, and jellies. Beyond the flesh, the thick rind can be boiled in sugar and candied as a sweet treat. The candied rinds can be eaten on their own, chopped into desserts, added to trail mixes, or dipped in chocolate. African Shaddock pomelos pair well with herbs such as mint, cilantro, and thyme, spices including turmeric, cinnamon, ginger, and chile powder, vanilla, honey, crème fraiche, yogurt, seafood, and fruits such as persimmons, coconut, pomegranates, mangos, pineapples, and kiwis. Whole, unopened African Shaddock pomelos will keep for several weeks when stored in the refrigerator. Despite their extended storage capabilities, it is recommended to consume the fruits as soon as possible for the best quality and flavor.
Ethnic/Cultural Info
In a 250-acre hillside farm outside of Porterville, California, African Shaddock pomelos are brushed with horsehair to release fragrant essential oils into the rind. Brushing citrus with horsehair is not a recent innovation. Lisle and Mary Lou Babcock of Deer Creek Heights Ranch, also known as Buck Brand Citrus, have been using this traditional method to remove dirt and debris from the fruit's surface. Brushing also allows the fruit to breathe through its rind, concentrating flavor and strengthening aroma. Each African Shaddock pomelo is dry-packed using these brushes, preventing the farm from coating the fruit's surface in wax or cleaning it with a water and chlorine mixture. Buck Brand Citrus is a specialty citrus micro-brand operating within the portfolio of Homegrown Organic Farms. The niche brand sent its first shipments of citrus under the Buck Brand Citrus label in late November 2021, and the farm is situated in a region with a microclimate suited for citrus production. Along with African Shaddock pomelos, Buck Brand Citrus also grows Lou Lou navels, Cara Cara oranges, Finger limes, and several specialty mandarin varieties.
Geography/History
Pomelos are native to Southeast Asia and have been growing wild since ancient times. The large fruits grow in subtropical to tropical climates and were introduced to Southern China sometime around 100 BCE. Pomelos were also spread to Tahiti, Fiji, Southern Japan, India, Thailand, Taiwan, and New Guinea. In the 17th century, Pomelos were brought to the New World, allegedly planted by Captain Philip Shaddock, and were planted in Barbados and Jamaica. Pomelos were also planted in the United States in the early 20th century, but it took many years of failed cultivation attempts in regions across the country before the fruits were successfully grown in Florida and California. Most of the history of African Shaddock pomelos is unknown. Budwood from the variety was planted in the University of California Riverside's Citrus Variety Collection in the 1930s, and in their database, they have the parentage listed as unknown. Today African Shaddock pomelos are cultivated by a few growers in the San Joaquin Valley in Central California, most notably Murray Family Farms and Buck Brand Citrus, a specialty brand under Homegrown Organic Farms. The fruits are sold locally throughout California directly from the growers and in fresh markets, and they are also exported to distributors and grocers throughout the United States.