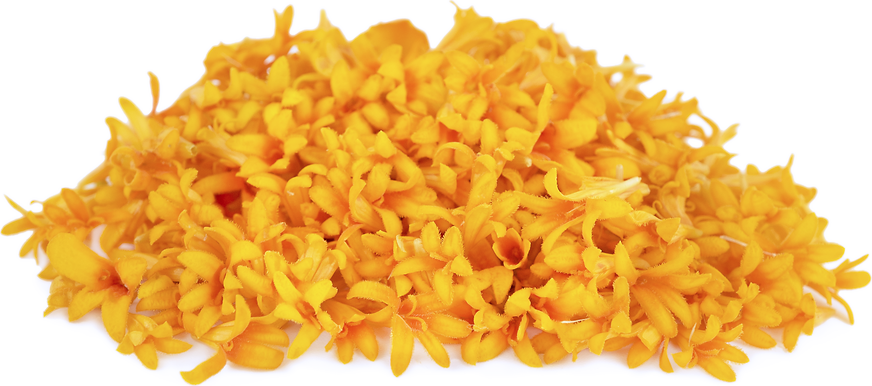 Marigold Florets MicroFlowers™
Inventory, 200 ct : 2.00
This item was last sold on : 12/05/23
Description/Taste
Micro Marigold Florets™ are very small in size, approximately one centimeter in length, and are comprised of five bright orange petals with a narrow, lanceolate shape that opens into a bell from the center. The leaves have a delicate, smooth-matte texture with a sweet aroma. Micro Marigold Florets™ have a perfumed, sweet flavor, with bright notes of citrus and a slightly bitter finish.
Seasons/Availability
Micro Marigold Florets™ are available year-round.
Current Facts
Micro Marigold Florets™ are small, edible flowers that are a part of a trademarked line of specialty MicroFlowers™ grown by Fresh Origins Farm in San Diego, California. MicroFlowers™ are generally smaller than a quarter and offer a variety of flavors, vivacious colors, shapes, and textures that elevate culinary and mixology experiences. MicroFlowers™ are one of Fresh Origin Farm's most popular innovations and were designed to complement their extensive line of microgreens. There are approximately fifty species of marigold flowers botanically classified under the Tagetes genus. Marigolds are composite flowers, meaning they are comprised of many tiny flowers arranged to resemble one flower. Micro Marigold Florets™ are these smaller flowers, each separated from the other, creating small, bright orange flowers with an intense citrus flavor that can be used to add dimension to entrees, desserts, and cocktails.
Nutritional Value
Micro Marigold Florets™ are rich in carotene, iodine, and manganese, a trace mineral that promotes cell regeneration and hormone production. The flowers also contain lutein, a type of carotenoid that is important for maintaining eye health, and glycoproteins and nucleoproteins, two compounds that support skin healing. Marigold florets contain antifungal, antibacterial, and anti-inflammatory properties that have been shown to be effective at treating sore throat and mouth sores, especially when added to tea and gargled.
Applications
Micro Marigold Florets™ are best suited as an edible accent, added at the end of preparation to maintain the flower's delicate shape and texture. The entire floret is edible and can be used whole, or the petals can be separated and spread throughout the dish. Vinegar can affect the color of the florets, so take care when using vinegar-based dressings. Micro Marigold Florets™ can be sprinkled over salads, floated over soups and curries, placed into fruit bowls, or used as a garnish for sushi and sashimi. The flowers can also be used to decorate seafood dishes such as calamari, ceviche, and shrimp cocktail, or strategically placed on pasta, seafood, sandwiches, appetizers, and other main plates for added aesthetic. In addition to using the flowers in their natural form, the blooms can be frozen into ice cubes to add color and flavor to a beverage, mixed into butter sweetened with honey to create vibrant compound butter, or pressed into cookies and soft cheeses for an elevated appearance. Micro Marigold Florets™ can also be used to accent desserts such as cakes, scones, sorbets, crème brulee, cookies, puddings, and tarts, or they can be used as a garnish in craft cocktails. Micro Marigold Florets™ pair well with chocolate, fruits such as coconut, strawberries, lemons, passionfruit, mango, and cherries, herbs including lavender, parsley, and mint, cheeses such as goat, brie, and blue, leafy greens, and springtime vegetables, including asparagus, peas, green garlic, and fava beans. Whole MicroFlowers™ should be used immediately for the best quality and flower and will keep 2 to 4 days when stored in a sealed container in the refrigerator.
Ethnic/Cultural Info
Golden Mexican marigolds are one of the six objects prominently displayed on alters during Día De Los Muertos, translating to Day of the Dead. Día de Los Muertos, a multi-day holiday celebrated throughout Mexico and parts of Latin America, is a time to honor loved ones who have passed. The traditions and beliefs of the holiday are rooted in Aztec culture and tied to the goddess Mictecacihuatl, known as the lady of the dead, but over time, the ancient tradition became intertwined with Catholic traditions and was shortened to a two-day holiday, celebrated on November 1st and 2nd. Marigolds were considered sacred in Aztec culture, where they were used to decorate altars, homes, and temples, and this tradition continued into the modern-day. Mexican marigolds are often referred to as "flowers of the dead" or "flor de Muerto," and it is believed that the vibrant color and bright, floral scent of the orange blooms will attract souls to the alter. Micro Marigold Florets™ can be used to add vibrant color, texture, and aroma to food and libations enjoyed during the celebration, like pan de muerto, a sweetbread commonly left as an offering to visiting souls, mole, floated atop Oaxacan hot chocolate and atole, a traditional corn-based drink, or used to garnish cocktails featuring pulque, the favored spirit of the holiday.
Geography/History
Marigolds are indigenous to Mexico and Guatemala and were used extensively by ancient cultures in these regions, like the Aztecs, who attributed religious and medicinal properties to the blooms. The Aztecs shared the flowers with Spanish explorers who brought the seeds back to Europe, where they quickly spread along trade routes into Africa, Asia, and throughout Europe. Marigolds made their way back to the Americas with settlers of the United States shortly after the revolutionary world. Today, Marigolds have naturalized across many temperate and sub-tropical climates worldwide, including throughout North and South America, Northern Africa, Asia, and Europe. Micro Marigold Florets™ were developed at Fresh Origins Farm in San Diego, California, the leading American producer of naturally grown microgreens and edible flowers since the mid-1990s. Fresh Origins grows over 60 varieties of edible flowers and uses the mild and sunny Southern California climate year-round to produce flavorful, attractive, safe, and quality blooms. Fresh Origins also has the highest level third-party audited food safety program and is a certified member of the California Leafy Greens Marketing Agreement, which follows science-based food safety practices to promote transparency and honesty in production. Micro Marigold Florets™ can be found through select distribution partners of Fresh Origins across the United States and Canada.
Featured Restaurants
Restaurants currently purchasing this product as an ingredient for their menu.