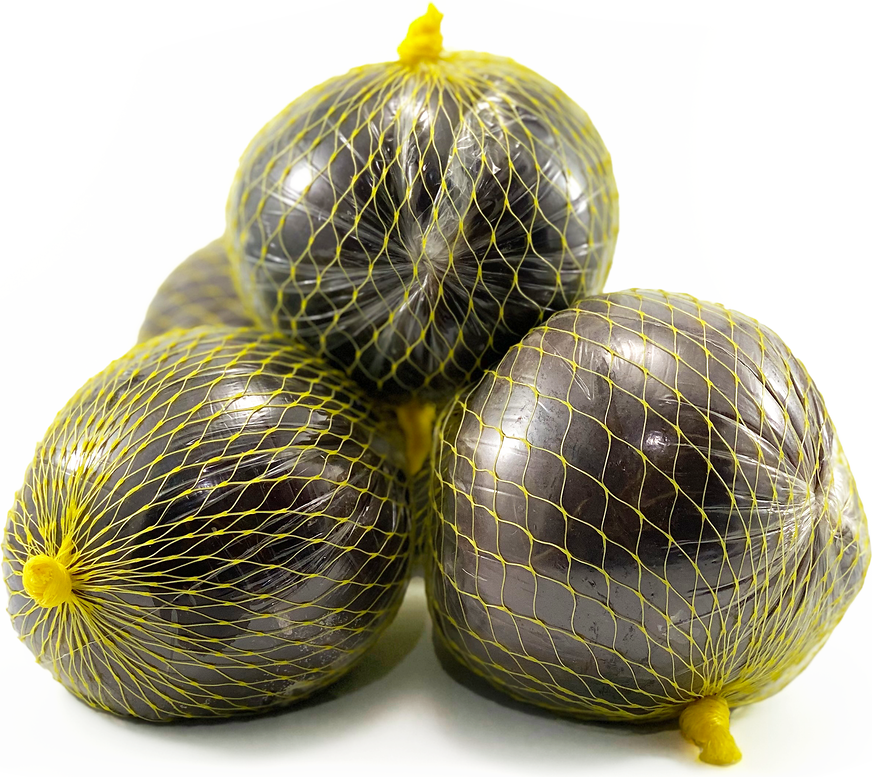 Borojo
Inventory, 1 Lb : 0
Description/Taste
Borojo is a small fruit, averaging 7 to 12 centimeters in diameter, and has a round to ovate shape, sometimes varying in appearance due to the fruit's soft nature. When unripe, the fruits are firm, green, and inedible, and as it matures, it transforms into a soft and malleable consistency with a red-brown to dark brown hue. Borojo is often found packaged in a plastic bag to maintain the ripe fruit's delicate texture and shape. The flesh is brown, sticky, dense, and creamy, encasing many small oval seeds, and the number of seeds is highly variable, ranging from 90 to over 600 seeds in one fruit. Borojo contains a high moisture content and adequate sugar and acidity levels, giving the fruits a complex, sweet-tart flavoring. The flesh is considered bitter when consumed by itself and bears sweet, tangy notes reminiscent of tamarind, vanilla, plums, and rose hips.
Seasons/Availability
Borojo is available year-round.
Current Facts
Borojo, botanically classified as Alibertia patinoi, is a tropical fruit that grows on a small evergreen tree reaching up to four meters in height belonging to the Rubiaceae family. The bittersweet fruits are native to the Amazon rainforest and have been growing wild since ancient times. Borojo has been used by native Amazonian peoples, especially the Embera, and the fruits are only gathered once they fall naturally from the tree, maintaining balance in the fragile rainforest ecosystem. The name Borojo was derived from Embera words "boro" or "head" and "ne-jo" meaning "fruit." There are five recognized species of Borojo growing wild, with Alibertia patinoi being the primary species commercially cultivated. In the modern-day, Borojo is one of the most profitable crops in Colombia, and the fruits are widely used for medicinal, culinary, and cosmetic purposes. Locally, the fruits are also considered a superfruit for their nutritional content and are frequently consumed as a revitalizing drink.
Nutritional Value
Borojo is an excellent source of water-soluble B vitamins, specifically niacin, a nutrient used to keep the digestive system and nervous system working properly. The fruits are also rich in phosphorus to strengthen bones and teeth, fiber to stimulate the digestive tract, calcium to promote bone growth, and contain lower amounts of vitamin C and iron. In traditional medicines of Colombia, Borojo is used medicinally to boost the immune system, curve hunger, and provide a natural energy source. The fruit's pulp is also used in facial masks as a skin treatment and has historically been used as an embalming agent for corpses.
Applications
Borojo is a delicate, creamy, and sticky fruit with a sweet-tart flavor showcased when used fresh. The fruits can be removed from their packaging and consumed raw, but many find the taste to be too bitter without added sugar. Borojo is most frequently combined into beverages, and the soft pulp is blended with sweeteners, spices, and water to create a thick, shake-like drink. The pulp can also be mixed, strained, and incorporated into cocktails, wine, and fruit juices. Beyond beverages, Borojo is utilized in sweet applications, including simmering into compotes and jelly, cooking into a sauce, blending and freezing into ice cream, or flavoring candies. It can also be cooked into a filling and layered into cakes, muffins, and other pastries. In addition to the fresh fruits, Borojo is dried into a powder or frozen into a puree and sold internationally as a superfood supplement. The powder can be combined into protein shakes and baked goods, and the puree can be used for beverages and baked goods. Borojo pairs well with sugar, milk, cream, vanilla, nutmeg, and cinnamon. Borojo should be immediately consumed once the bag is opened for the best quality and flavor.
Ethnic/Cultural Info
In the department of Choco in Colombia, Borojo is considered sacred among the indigenous Embera people, and many wild trees grow abundantly in the department's tropical, wet climate. The fruits have been used medicinally by the Embera for centuries, and among its uses, the fruit is most well-known for its energetic properties. The Embera believe that Borojo is a natural aphrodisiac, and the fruit's pulp is made into a famous drink known as jugo del amor or "juice of love." The juice is made from Borojo pulp combined with milk, sugar, eggs, vanilla, nutmeg, and water. There are many modern variations of the juice found across the Choco department, including some recipes with brandy or rum, but the Embera people refuse to use a blender and prepare the drink by hand, as they believe the fruit loses its magical effects if blended mechanically. Outside of the Embera, Borojo is frequently sold in markets in beverage form. Jugo del amor is also a popular drink sold at soccer games. Colombians are known for their vivacious sporting events, and after the game, men traditionally consume food cooked just outside of the stadium and drink jugo de amor on their way home to see their wife. February 14th, Valentine's Day, is also known as International Borojo Day, another event that signifies the fruit's loving reputation.
Geography/History
Borojo is native to some of the wettest regions of the Amazon rainforest and is primarily found growing wild in the Choco Department of Colombia, the Darien Province of Panama, and the Esmeraldas Province of Ecuador. The ancient fruits have been gathered from wild trees for thousands of years, but over time, plantations were established to cultivate the nutritional fruits commercially. Borojo was taxonomically recorded between 1948 and 1951 when Dr. Victor Manuel Patino brought the fruits from Choco to fellow scientists Dr. Jose Cuatrecasas at the University of Colombia. Multiple species of Borojo were identified by scientists, eventually giving the fruits their own genus. Today Colombia has the largest commercial production of Borojo and cultivates the fruits for both domestic use and international exports. While the fresh fruits are primarily consumed locally, the pulp is processed into frozen purees and powders shipped worldwide. When fresh, Borojo is mostly found in plastic bags at local markets throughout Colombia, Panama, and Ecuador. The fruits have also been spotted in Venezuela and Costa Rica.
Recipe Ideas
Recipes that include Borojo. One

is easiest, three is harder.