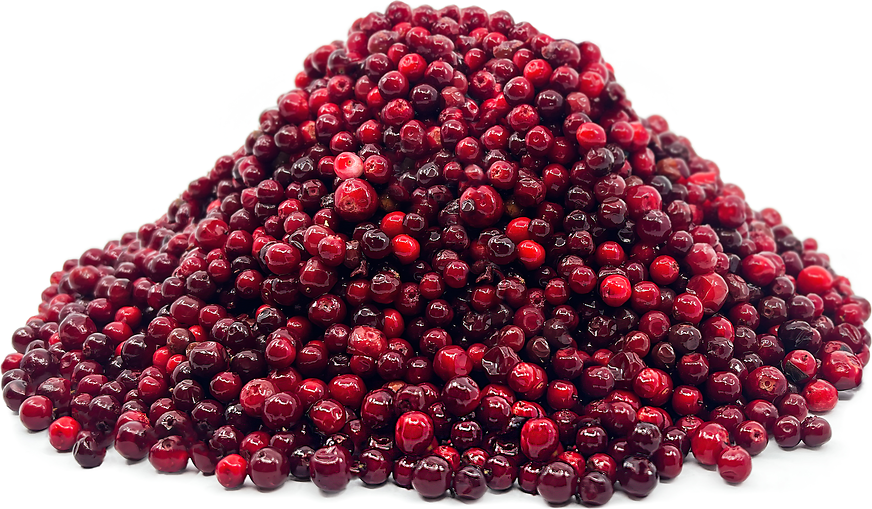 Lingonberries
Inventory, lb : 0
Description/Taste

Lingonberries are small in size, averaging 6 to 10 millimeters in diameter, and have a round to oval shape with blunt, curved ends. The berry's skin is smooth, taut, glossy, and firm, with a slight give when squeezed. Lingonberries are less delicate than other commercial berries, and the hard skin showcases bright red, burgundy, maroon, and dark red hues. Underneath the surface, the flesh is soft, aqueous, and succulent with a red, pigmented nature. The flesh also contains tiny seeds, and the older the berry, the more developed the seeds. Lingonberries release a mellow, fruity, and spicy scent. The berries can be consumed raw and have an acidic, bitter, tart, sour, and subtly sweet taste. Most consumers prefer to cook Lingonberries with sweeteners for a more palatable flavor. Lingonberries cooked with sugar have a balanced, pleasant, sweet, and tangy taste.


Seasons/Availability

Lingonberries are generally harvested in the late summer through fall, with a peak season from mid-August through September.


Current Facts

Lingonberries, botanically classified as Vaccinium vitis-idaea, are a Northern Hemisphere species belonging to the Ericaceae family. The berries grow on low-lying evergreen shrubs reaching 5 to 40 centimeters in height, and each plant begins producing fruit approximately 3 to 4 years after planting. Lingonberries are an ancient species that has been growing wild throughout Europe, Asia, and North America for centuries, and the edible berries are traditionally foraged for culinary and medicinal uses. There are two main subspecies of Lingonberries: the North American or Wild Lingonberry, Vaccinum vitis-idaea var. minus, and the Eurasian or Cultivated Lingonberry, Vaccinum vitis-idaea var. vitis-idaea. North American Lingonberries generally produce one crop per year, and the bushes are lower to the ground, while Eurasian Lingonberries produce two crops per year and are almost double in size. Historically, Lingonberries have been a wild, foraged crop gathered by civilizations using berry rakes and tools or by hand. The berries have acquired many regional names throughout the Northern Hemisphere, including Lingberry, Partridgeberry, Alpine Cranberry, Tytlebaer, Kokemomo, Mountain Cranberry, Cowberry, Foxberry, Qualiberry, Bearberry, Beaverberry, Red Whortleberry, Lowbush Cranberry, Cougarberry, Mountain Bilberry, Redberry, and Rock Cranberry. Nowadays, Lingonberries are commercially cultivated and grown in home gardens on a small scale. Popular cultivars include Koralle, European Red, Splendor, Regal, Scarlet, Linnea, Red Pearl, Linnae, Ida, Erntedank, Erntesegen, and Sanna. Lingonberries are favored for their complex, tart taste, and when combined with sweeteners, the berries are versatile and utilized in sweet and savory culinary preparations.


Nutritional Value

Lingonberries are a source of fiber to regulate the digestive tract, calcium to build strong bones and teeth, vitamin C to boost the immune system, and vitamin A to maintain healthy organs. The berries also provide phosphorus to build genetic material, magnesium to control nerve functions, vitamin E to reduce inflammation, and manganese to develop connective tissues. The dark red pigments in the berries indicate the presence of anthocyanins, natural compounds with antioxidant properties to protect the cells against the damage caused by free radicals. The berries also contain quercetin, a flavonoid with anti-inflammatory properties, and benzoic acid, a compound that allows the berries to last for extended periods without needing preservatives.


Applications

Lingonberries have a tart, bitter, and subtly sweet taste suited for cooked preparations. The berries can be consumed raw, but most consumers deem the taste too acidic and bitter without added sweeteners. Lingonberries are famous for making jams, compotes, and syrups. Lingonberry jam can be spread on toast, served with pancakes, or topped over potatoes, meatballs, and yogurt. The sweet and tangy jam can also be made into a sauce for roasted meats, and Lingonberry syrup can be drizzled over ice cream and cakes. In Canada, Lingonberries are often baked into pies, scones, muffins, cheesecakes, or cookies. The berries can also be incorporated into chocolate. In addition to sweet preparations, Lingonberries are versatile and complement savory dishes. The berries can be made into a relish for serving with meat, added to soups, or mixed into sauces. In Sweden, Lingonberries are pickled and served during holiday celebrations. The pickled berries, known as vattlingon, are served as a condiment to meats, potatoes, stuffed cabbage rolls, and other side dishes. It was also once used as a remedy for scurvy. Lingonberries are also boiled with pears in a dessert known as lingonpäron. In Norway, Lingonberries are cooked into sauces for wild game and used in a popular dessert called trollkrem or troll cream. Norwegian lore states that trolls inhabited the forests where Lingonberries were picked, and the dessert was named in honor of the berry's habitat. Beyond culinary preparations, Lingonberries are used to make liqueurs, tea, wine, and juices. The berries can be sold fresh, frozen, canned, or dried. Lingonberries pair well with spices such as allspice, cinnamon, cardamom, and ginger, herbs including thyme, juniper, and rosemary, meats including reindeer, pork, beef, and veal, fish, and cheeses such as gorgonzola, brie, camembert, and Roquefort. Fresh Lingonberries can be stored in the refrigerator for 3 to 5 weeks. The berries can also be frozen for extended use.


Ethnic/Cultural Info

In Russia and Northern Europe, there are several folk tales explaining how Lingonberries became an evergreen species with life-giving nutrients. Legend has it a swallow carried living water in its beak. The bird felt pride in being able to help others and planned on sprinkling the water on people to grant them immortality. When the swallow was flying one day, it was stung by a wasp. As a natural reaction to the sudden pain, the bird opened its beak, spilling the water over three plants- Lingonberries, Cedar, and Pine trees. The plants were blessed with immortality and revealed their gift by being evergreen and never losing their leaves. The three plants could also grow in poor soils where most plants could not survive, another nod to their blessing by the living water. This folktale has been passed down between generations, and despite its whimsicality, it encourages foragers to seek Lingonberries in the forest as the berries are high in vitamins and minerals, providing life-giving nutrients to the human body. Lingonberries are often consumed as a food to nourish, and it is customary for the berries to be valued for their antioxidant and anti-inflammatory properties.


Geography/History

Lingonberries are native to the Northern Hemisphere and are found wild throughout Europe, Asia, and North America. The low-growing shrubs are prevalent throughout Scandinavia, Germany, Finland, Russia, Greenland, Alaska, Canada, and the Pacific Northwest of the United States and thrive in cooler, wet climates. Lingonberry shrubs grow in acidic, moist, to peat-filled soil, and the species primarily resides in woodlands, boreal forests, bogs, rocky mountain cliffs, and moorlands. Throughout history, Lingonberries have been gathered as a medicinal and culinary ingredient, and the berries are collected from wild shrubs. Lingonberries were also a treasured food source during winter, as they could stay fresh for extended periods when food was scarce. Over time, some civilizations began commercially growing the species, but cultivation has remained limited, mainly to the Netherlands, Scandinavia, Germany, Finland, Austria, Switzerland, Russia, Wisconsin, and the Pacific Northwest of the United States. Today, Lingonberries are wild, commercially grown, and planted as a home garden crop throughout the Northern Hemisphere. When in season, the berries are foraged and sold as a specialty ingredient through select markets, distributors, and grocers.