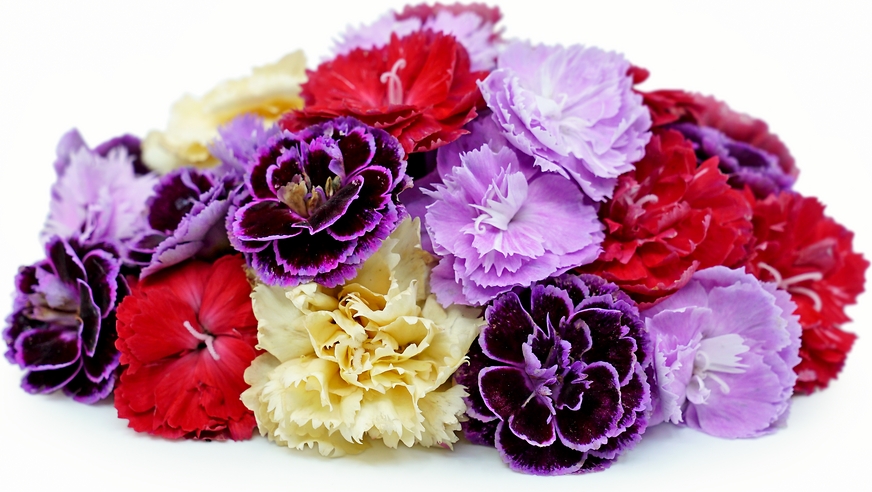 Carnations
Inventory, 50 ct : 3.00
This item was last sold on : 12/05/23
Description/Taste
Carnations are small to medium flowers, averaging 3 to 6 centimeters in diameter, and have a round, layered, and slightly ruffled appearance. The blooms are comprised of broad, flat, and oblong petals with serrated, frilled edges. Carnations can be found in an assortment of colors, from crimson, white, pink, lavender, to purple picotee with brilliant violet edges, and the petals have a soft, velvety, and delicate texture. Depending on the variety, the flowers may also emit a faint, clove-like aroma or bear no fragrance. Carnations have a tender, subtly crisp consistency with a mild, sweet, and peppery flavor.
Seasons/Availability
Carnations are available year-round.
Current Facts
Carnations, botanically classified as Dianthus caryophyllus, are familiar flowers with ancient origins, belonging to the Caryophyllaceae family. The ruffled blooms are considered one of the most commonly cultivated flowers, valued for their hardiness and year-round availability, and have been used for centuries for ornamental purposes. In the modern-day, there are over 300 different cultivars of Carnations that have been developed to showcase brilliant colors, textures, and shapes, and some varieties have also been organically grown for culinary use. Chefs use Carnations to add texture, color, and subtle flavors to dishes, and the blooms are often viewed as a symbol of artistic timelessness, tradition, and elegance. Carnations can be incorporated whole as an elevated garnish, or the petals can be removed and sprinkled as an edible accent over sweet and savory preparations.
Nutritional Value
Carnations have been traditionally used by European herbalists in tea to calm anxiety, stress, and nausea. The petals are also believed to contain anti-inflammatory properties to balance hormones and reduce inflammation. In Traditional Chinese Medicine, Carnations have been infused into treatments to cleanse the digestive tract from parasites and are processed into an essential oil as a topical treatment for rashes, acne, and other skin irritations.
Applications
Carnations have a mild, peppery flavor well suited for a wide variety of fresh and cooked preparations. The petals are the primary part of the flower eaten, as the stamen, pollen, and sepal often impart a bitter taste. Once the petals are separated, washed, and dried, they can be sprinkled raw over salads, soups, rice, and pasta dishes, or they can be used as an edible garnish over any dish. Carnation petals can also be candied or crystallized, coated in egg whites and sugar to create a sweet and crisp decoration. The candied petals can be used to elevate cakes, cupcakes, cheesecakes, crème brulee, and pies. In addition to candying, the petals can be infused into a simple syrup and added to cocktails, lemonade, sparkling beverages, and desserts such as a sundae. Carnations can also be lightly cooked into savory dishes to showcase the flower's peppery flavor. The petals are often mixed into sauces and butter, poured over roasted meats, eggs, and vegetables, or they can be lightly sauteed and mixed into grain bowls. Carnations can also be pickled with spices and vinegar to create a tangy mixture. Carnations pair well with cucumber, spinach, citrus, spices such as cinnamon, coriander, mint, and cloves, brown sugar, roasted meats, including poultry, turkey, and fish, and hard and creamy cheeses. The flowers should be used immediately for the best quality and flavor but will keep 5 to 7 days when stored in the refrigerator.
Ethnic/Cultural Info
Carnations are the official flower of Mother's Day in the United States. Mother's Day was established in 1914 by President Woodrow Wilson and was spearheaded by Anna Jarvis, an editor in Philadelphia. Jarvis created the holiday in honor of her mother, who had passed away, and wanted to commemorate all mothers, both living and deceased. In 1908, 3 years after her mother's death, Jarvis brought 500 white Carnations to her mother's home church and gave a flower to each mother in the service. Carnations, according to Jarvis, were her mother's favorite flower. The church annually continued the Carnation tradition and eventually labeled it as their Mother's Day service. Over the years, word spread, and many other churches began practicing the same tradition, encouraging Jarvis to lobby for the holiday to become a nationwide event. Mother's Day was officially recognized in 1914, and Carnations became the official flower in the mid-1940s. Even though Jarvis originally handed out white Carnations as a symbol of purity, white Carnations became associated with lost mothers and were placed at gravesites. Red Carnations were instead selected for living mothers, and the vibrant, crimson blooms were meant to symbolize love, life, and passion.
Geography/History
Carnations are one of the oldest cultivated flowers and are believed to be native to the Mediterranean region. The blooms have been cultivated since ancient times, and pale orange and pink Carnations were said to have been utilized by the Ancient Greeks and Romans. Over time, Carnations were spread around the world with migrating peoples and have become established as a favored commercially cultivated flower. Today Carnations are widely found through supermarkets, farmer's markets, specialty grocers worldwide. Carnations are also frequently grown in home gardens as a multi-purpose cultivar. It is important to note that edible Carnations are produced under strict standards and are grown differently from common Carnations sold as ornamental flowers. Care and research should be taken to ensure Carnations used for culinary purposes are purchased through reputable vendors.
Featured Restaurants
Restaurants currently purchasing this product as an ingredient for their menu.
| | | |
| --- | --- | --- |
| Lauberge Del Mar | Del Mar CA | 858-259-1515 |
| Sushi Nekosan | La Jolla CA | 858-999-0999 |
| The Kitchen at MCASD | La Jolla CA | 619-894-2051 |
| Continental Catering Inc | La Mesa CA | 907-738-9264 |
| Avant | San Diego CA | 858-675-8505 |
| Lafayette Hotel - Mississippi Kitchen | San Diego CA | 619-296-2101 |
| Forum Coffee | San Diego CA | 619-600-6510 |
| Marriott Courtyard Nolen | San Diego CA | 619-544-1004 |
| Taproom Collective | San Diego CA | 760-518-4242 |
| The Seabird Resort | Oceanside CA | 951-704-9703 |
| Revolution Roasters | Oceanside CA | 760-330-6827 |
| Salt & Whiskey | San Diego CA | 619-544-1886 |
| Salvatore's | San Diego CA | 619-544-1865 |
| Kettner Exchange Bar | San Diego CA | 909-915-9877 |
| Tap Room Beer Co. (Bar) | San Diego CA | 619-539-7738 |
| Waverly (Bar) | Cardiff CA | 619-244-0416 |
| 619 Spirits | San Diego CA | 509-701-9534 |
| GelatoLove | Carlsbad CA | 760-297-0554 |
| Park & Rec | San Diego CA | 619-717-3925 |
| Sugar Bear Enterprises | San Diego CA | 925-383-3623 |
the other 28...
| | | |
| --- | --- | --- |
| Raki Raki & Co. | San Diego CA | 858-573-2400 |
| Sushi Gaga | San Diego CA | 619-808-1556 |
| Noble Experiment | San Diego CA | 619-446-0002 |
| Gelato 101 (Solana) | Solana Beach CA | 858-404-0799 |
| Don Pietro | San Diego CA | 619-255-7205 |
| Venissimo Cheese Del Mar | Del Mar CA | 858-847-9616 |
| Reata Glen | Ladera Ranch CA | 949-545-2250 |
| Revolution Roasters (Carlsbad) | Carlsbad CA | 760-330-6827 |
| La Costa Resort & Spa Pastry | Carlsbad CA | 760-431-8455 |
| AC Hotel by Marriott SD - Techo Beso | San Diego CA | 248-703-3310 |
| Neighborhood Burger | San Diego CA | 619-446-0002 |
| Lovesong | San Diego CA | 602-502-3460 |
| Harvest Kitchen | Vista CA | 619-709-0938 |
| Fairmont Grand Del Mar | San Diego CA | 858-314-1975 |
| Pendry SD (Provisional Bar) | San Diego CA | 619-738-7000 |
| Wolfies Carousel | San Diego CA | 909-477-1291 |
| The Pearl Hotel Bar | San Diego CA | 877-732-7573 |
| Moxy San Diego Gaslamp | San Diego CA | 619-376-1850 |
| Polite Provisions | San Diego CA | 619-677-3784 |
| Captains Quarters | San Diego CA | 858-412-5237 |
| Inn at Rancho Santa Fe | Rancho Santa Fe CA | 858-381-8289 |
| French Chef at Home | San Diego CA | 619-432-8051 |
| insideOUT (Bar) | San Diego CA | 619-793-9221 |
| Artifact at Mingei | San Diego CA | 619-846-2164 |
| Elixir De La Lune | La Jolla CA | 619-985-8979 |
| Bottega Italiana-UTC | San Diego CA | 858-404-0799 |
| The Corner Drafthouse | San Diego CA | 619-255-2631 |
| Camino Riviera Bar | San Diego CA | 619-685-3881 |