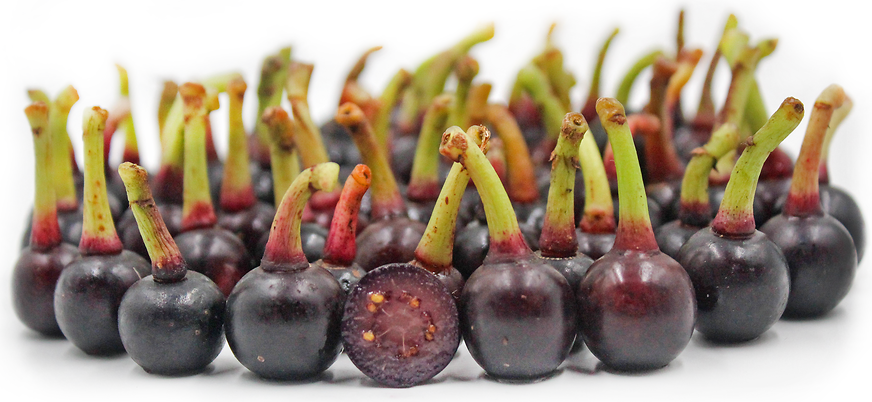 Uva Camarona Fruit
Inventory, 1 Lb : 0
Description/Taste

Uva Camarona is a small fruit averaging 1 to 2 centimeters in diameter and has a round to ovate shape, attached to thick and fibrous green stems. The fruits grow upright, pointing in all directions in clusters on the shrub, and are known for having semi-thin, smooth, firm, and glossy skin. Uva Camarona transitions through several color changes as the fruits are ripening. When young, the fruits are green, changing to a pale green-white, purple, to a dark purple-red, almost black hue with maturity. Underneath the surface, the flesh is aqueous, red-purple, soft, and tender, encasing up to 96 tiny orange-yellow seeds. Uva Camarona softens in texture when ripe and has a sweet, mildly acidic flavor.


Seasons/Availability

Uva Camarona is available year-round, with peak seasons generally occurring between April and June and October to December.


Current Facts

Uva Camarona, botanically classified as Macleania rupestris, is an undomesticated fruit growing wild throughout Central and South America, belonging to the Ericaceae family. The small, grape-like fruits are found on evergreen shrubs that reach up to two meters in height, and the shrubs sometimes display climbing habits, expanding onto trees, rocks, and other plants. The name Uva Camarona roughly translates to mean "shrimp grape," a descriptor given for the fruit's small size. Uva Camarona is also known by several names, including Camarona grape, Cacaguito, Uvita, Paramo grape, Chaquilulo, Joyapa, Lucho, and Gualicón. Uva Camarona grows in clusters of up to 14 fruits and is favored for its sweet, juicy nature. The fruits have been mainly foraged from wild shrubs, but during the fruiting season, Uva Camarona is sometimes gathered from home gardens for sale in local markets.


Nutritional Value

Uva Camarona is a good source of vitamin C to reduce inflammation, strengthen the immune system, and protect the cells against free radical damage. The fruits also provide calcium and phosphorus to strengthen bones and teeth, potassium to balance fluid levels within the body, and iron to build the protein hemoglobin for oxygen transport in the bloodstream. In South America, Uva Camarona is utilized in local medicines as a natural laxative and antioxidant.


Applications

Uva Camarona has a sweet, neutral flavor well suited for fresh use or as a flavoring in preserves. The fruits can be consumed straight, out of hand, or sliced and incorporated into fruit bowls and green salads. Uva Camarona can also be cooked with sugar into compotes, jams, and jellies, or they can be simmered into sauces for roasted meats and desserts. In addition to preserves and sweet sauces, Uva Camarona can be mixed with vinegar, honey, pepper, and salt, used as a topping over fresh, soft cheeses, or the fruits can be pickled with red cabbage as a tangy-sweet mixture. Uva Camarona can also be pressed into juice or fermented into liqueurs. Uva Camarona pairs well with herbs such as mint, basil, and rosemary, cream cheese, panela syrup, nuts including almonds, walnuts, and pecans, and yogurt. The fruits should be used immediately after harvest for the best quality and flavor.


Ethnic/Cultural Info

Uva Camarona is an important natural food source for the indigenous peoples of Colombia. The fruits grow on shrubs prevalent throughout the Andean cloud forests and in the páramo and subpáramo regions. Uva Camarona was a traditional fruit of the Tanimura-Retuama peoples, a small ethnic group only found in Colombia. This group has utilized the fruits as a source of nutrients, a sacred ceremonial ingredient, and medicinal aid for centuries. Uva Camarona also provides nectar for pollinators, including bees and hummingbirds, and the fruits are a food source for native Colombian animal species. In the modern day, Uva Camrona has remained a wild shrub in Colombia, prevalent in the departments of Norte de Santander, Antioquia, Huila, Magdalena, Meta, Nariño, Caldas, Risaralda, Santander, Putumayo, Sierra Nevada de Santa Marta, Cundinamarca, and Boyacá. In these departments, Uva Camarona is sold through fresh markets as an additional source of income for local families.


Geography/History

Uva Camarona has a wide native range, spanning across cloud forests, open plains, and regions of the Andes Mountains, found in Bolivia, Peru, Ecuador, Colombia, Venezuela, Panama, Costa Rica, and Nicaragua. The climbing shrub thrives in humid to dry climates, growing across other trees, bushes, and rocks, and can survive in sandy, rocky, or wet soils. The species has been growing wild since ancient times, used among Central and South American indigenous peoples as a food source and medicine, and has primarily remained localized to its native habitat. Uva Camarona is not commercially cultivated and is foraged from wild plants or grown on a small-scale in home gardens. The fruits are sometimes sold in local markets throughout Central and South America.