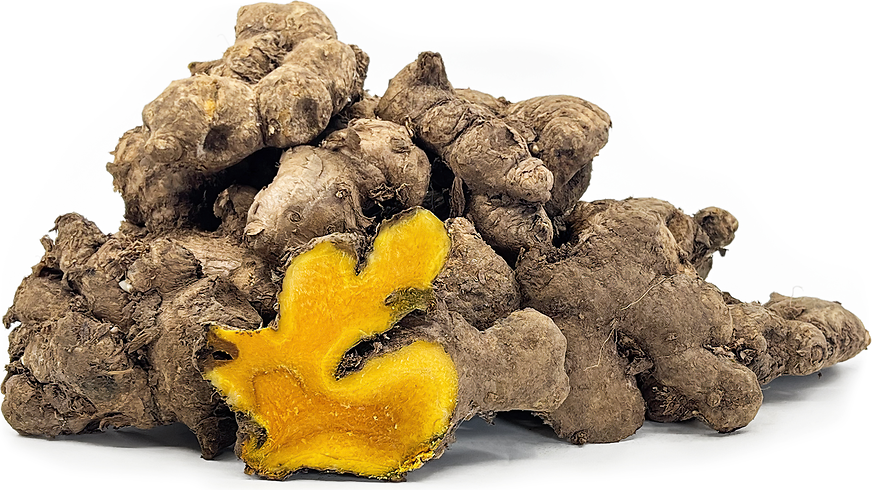 Cassumunar Ginger
Inventory, lb : 0
Description/Taste

Cassumunar ginger plants are comprised of a long, thin, and upright stem with lanceolate-shaped leaves growing in an opposite formation along the stem. Beneath the leafy plant, large horizontal rhizomes form underground, averaging 7 to 10 centimeters in diameter, and have a knobby, cylindrical, to irregular appearance. The rhizome's skin is tan to dark brown and has a rough, textured, and firm feel with a flaky consistency. The golden yellow flesh is dense, fibrous, and moist, bearing a chewy, fibrous, and crisp mouthfeel. Cassumunar ginger releases a sweet, aromatic scent reminiscent of the earthy and zesty nuances found in turmeric, ginger, and camphor. The rhizomes also impart a medicinal, earthy, subtly bitter, and peppery flavor in medicinal tonics and culinary dishes.


Seasons/Availability

Cassumunar ginger is available year-round.


Current Facts

Cassumunar ginger, botanically a part of the Zingiber genus, is an underground, branched rhizome belonging to the Zingiberaceae family. There are three different accepted classifications for the species listed under Zingiber purpureum, Zingiber montanum, and Zingiber cassumunar. The rhizomes are native to tropical Asia and grow in clumps, producing elongated leaves attached to a stem reaching up to two meters in height. Cassumunar ginger is known by several regional names, including Plai or Phlai in Thailand, Ponlei in Cambodia, Bangle, Banglai, Bungle, or Bolai in Indonesia, Bonglai, Boleh, Bolai, or Bangle in Malaysia, Bulei in China, Ardakan and Vanadraka in Sanskrit, and Vanarttirakam, Carpuspoo, Malabari Halad, and Tekhao Yaikhu in India. Cassumunar ginger is traditionally used in natural medicines and is foraged from wild plants or grown in home gardens. The rhizomes are also commercially cultivated on a small scale for extracting essential oils.


Nutritional Value

Cassumunar ginger is used in Asian natural medicines as an anti-inflammatory. The rhizomes are pressed into juice or steeped in tea to relieve stomach indigestion, bloating, and inflammation. The rhizomes are also favored for their antioxidant properties to protect the cells from free radical damage and are consumed to strengthen the immune system against colds, flu, pneumonia, and other sicknesses. In Malaysia and Indonesia, Cassumunar ginger is prepared as an analgesic medicine to reduce fevers, heal the body after childbirth, and relieve pain.


Applications

Cassumunar ginger is used as a flavoring in raw and cooked culinary preparations. The rhizomes are often used as a substitute for common ginger in savory recipes and contribute an earthy and subtly bittersweet taste, added according to individual preference. Cassumunar ginger can be peeled, grated, and incorporated as a spice in curries, soups, and meat dishes. The grated rhizomes can also be stirred into dips, sauces, and chile pastes, finely chopped into salads, stirred into rice and noodle dishes or layered into dumplings, rolls, and stuffed buns. The rhizomes can also be blended into smoothies, pressed into beverages, or steeped into a tea. Drinks with Cassumunar ginger are customarily served with honey or added sugar to create a sweeter flavor. Cassumunar ginger pairs well with spices such as nutmeg, allspice, cardamom, turmeric, and cloves, meats including beef, poultry, pork, and fish, lemongrass, onions, garlic, and fennel. Whole, unpeeled Cassumunar ginger will keep for a couple of weeks when stored in a sealed container in the refrigerator's crisper drawer. The ginger can also be dried, ground into a powder, and stored for extended use. When made into a powder, Cassumunar ginger can be sprinkled into medicinal drinks or stirred into culinary preparations as a spice.


Ethnic/Cultural Info

In Thailand, Cassumunar ginger is known as Plai and is a popular root extracted for its essential oils. The oils have a fragrant, aromatic scent with cool, subtly spicy, earthy, and medicinal nuances. Plai oil is believed to topically reduce inflammation and pain. The essential oil is mixed with lotions, coconut oil, and other creams and is used in home remedies on skin irritations, bruising, and aching muscles and joints. The oil is also used in massage therapy to relax and soothe the body.


Geography/History

Cassumunar ginger is native to Asia and grows wild in humid, tropical regions. The plants are typically found along forest edges, in sandy soils, near wetlands, and in disturbed areas, and over time, they were planted near urban communities as a medicinal and culinary ingredient. Today Cassumunar ginger grows wild and is cultivated in community and home gardens in India, Indonesia, Malaysia, Myanmar, Cambodia, Vietnam, Thailand, and Sri Lanka. The plants were also eventually spread to China, Borneo, and the Philippines and carried to the Caribbean and parts of Central and South America, where it has become an invasive species. Cassumunar ginger is mainly sold through local markets as a medicinal ingredient and is also offered in fried and dried forms for culinary and medicinal use. The Cassumunar ginger featured in the photograph above was sourced from Geylang Serai Market and Food Center in Singapore. The rhizomes were imported from growers in Malaysia.