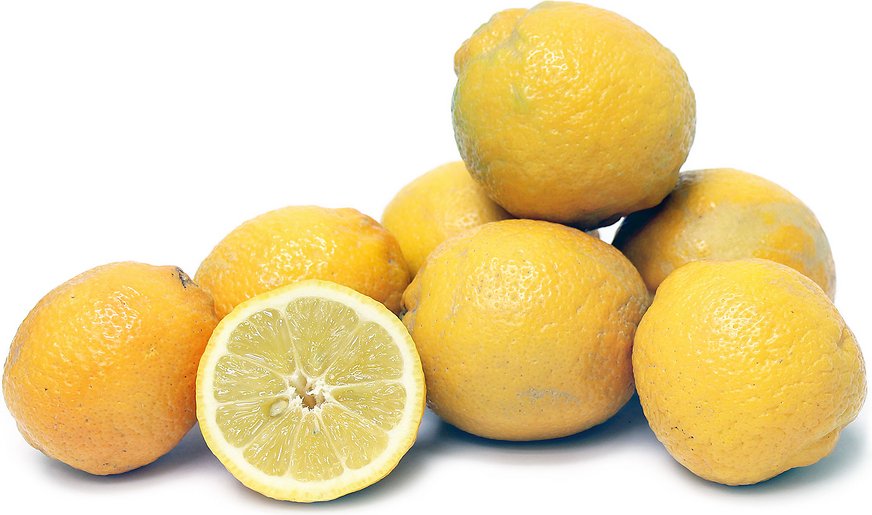 Perrine Lemons
Inventory, lb : 0
Description/Taste

Perrine lemons are a small varietal, averaging 5 to 7 centimeters in diameter and 5 to 8 centimeters in length, and have a round to oval, slightly lumpy shape. The lemons have a bulbous center, tapering to curved ends with the non-stem end displaying a small protrusion, also known as a nipple or mammilla. The lemon's peel is thin, smooth, glossy, and tough, ripening from green to golden yellow, sometimes retaining hints of green even when mature. The peel is also covered in prominent oil glands giving the surface a textured, pebbled feel. Underneath the surface, the pale yellow-green flesh is divided into 10 to 12 segments by thin white membranes and contains a few to many pointed cream-colored seeds. The flesh is aqueous, tender, and soft, comprised of tiny juice vesicles. Perrine lemons are aromatic and contain high acidity, creating a sweet-tart, lemon-lime flavor.


Seasons/Availability

Perrine lemons are available in the mid-fall through winter.


Current Facts

Perrine lemons, botanically classified as Citrus aurantifolia, are a hybrid variety belonging to the Rutaceae family. The lemons were developed in Florida in the early 20th century from a cross between the West Indian lime, also known as the key lime, and the Genoa lemon, an Italian cultivar. Even though Perrine lemons are a combination of a lemon and a lime, it has been botanically declared a hybrid lemon as it most closely resembles the characteristics of a lemon. Perrine lemons are an everbearing variety selected for their resistance to citrus scab and lime withertip, two diseases plaguing the Florida citrus industry in the 19th and 20th centuries. During this time, lemons were not commonly grown in Florida as the fruits either grew too large and became inedible by the time they were ripe, or they were harvested when green and cured to develop their yellow coloring, producing fruits with an acrid flavor. Lemons also suffered from many damaging citrus diseases in Florida, causing massive crop loss. The United States Department of Agriculture worked to breed new, hardier lemon cultivars and developed the Perrine lemon as a hybrid with a sweet and tangy flavor and disease resistance. Despite the variety's promising nature, it was susceptible to cold weather and proved to be too fragile for commercial cultivation. In the modern-day, Perrine lemons are a rare cultivar found in home gardens or through specialty growers in southern Florida.


Nutritional Value

Perrine lemons are an excellent source of fiber to stimulate the digestive tract and vitamin C to strengthen the immune system, boost collagen production within the skin, and reduce inflammation. The fruits are also a good source of potassium to balance fluid levels within the body, folate to develop red blood cells, calcium to protect bones and teeth, and contain other nutrients, including copper, iron, magnesium, and B vitamins. Beyond vitamins and minerals, lemons provide plant flavonoids and the phytonutrient limonene, which contribute antioxidant and anti-inflammatory properties.


Applications

Perrine lemons have a unique lemon-lime flavor with high acidity, suitable for fresh or cooked preparations. The lemons can be used in any recipe calling for standard lemons or limes, and the zest and juice are traditionally incorporated into sweet and savory dishes for added depth of flavor. Perrine lemon juice can be mixed into marinades for seafood and poultry or used as a method to "cook" fish in ceviche. Lemon juice can also be combined into cream-based sauces, salad dressings, and olive oils, or it can be sprinkled over rice or grain dishes for a touch of acidity. In addition to culinary dishes, Perrine lemon juice is used to flavor lemonade, smoothies, cocktails, and sparkling beverages, or it can be frozen into a fresh granita and sorbet. Try freezing Perrine lemon juice into ice cube trays and dropping them into drinks for a zesty addition. Perrine lemons are also used for their zest and can flavor desserts such as lemon-ricotta cannoli, parfaits, cheesecakes, or lemon bars. For additional flavor, the zest can be topped over pasta, soups, curries, and other main dishes. Perrine lemons pair well with fruits such as coconut, pineapple, passion fruit, berries, and apricots, nuts including almonds, pistachios, and pecans, herbs such as mint, basil, rosemary, and lavender, vanilla, poultry, and seafood including shrimp, crab, scallops, and whitefish. Whole, unwashed Perrine lemons will keep up to one week at room temperature and 1 to 4 weeks when stored in the refrigerator.


Ethnic/Cultural Info

Perrine lemons were named after botanist and physician Dr. Henry Perrine for his contribution to the citrus industry in Florida. In his early career, Perrine studied medicine and practiced for several years in Illinois, but in 1821, he was accidentally poisoned with arsenic. Perrine was taking a remedy consisting of Peruvian bark to ward off malaria when he unknowingly drank arsenic, previously left out by one of his students in a measuring glass. Perrine survived, but his body could no longer tolerate cold weather, spurring him to move south to Mississippi. Perrine transitioned into studying medicinal plants and eventually applied for a diplomatic position, being granted the United States Consul in Campeche, Mexico. While serving as Consul, Perrine documented and cataloged useful tropical plants and sent this information to the United States Government for possible introduction into the southern United States. Perrine spent a little over ten years in Mexico learning from the locals about the abundant medicinal plants of the region and was later granted land in Southern Florida to establish a plant introduction station. During his stay on Indian Key in the Florida Keys, Perrine introduced many beneficial tropical plants. His most significant contribution was the West Indian lime, also known as the Mexican or Key lime. Sadly, Perrine was killed in 1840 from an attack by the Seminole Indians and was unable to ultimately establish his plant introduction station. Dr. Henry Perrine's life was a story of adventure, and his introduction of the West Indian lime eventually went on to become the parent variety of Perrine lemons.


Geography/History

Perrine lemons were developed in Florida in 1909 by Walter T. Swingle, a revered botanist and horticulturalist who was responsible for many successful commercial plant varieties. Swingle was working with the United States Department of Agriculture in Florida to develop strategies to fight against diseases affecting citrus production. In the early 1900s, he crossbred the West Indian lime with the Genoa lemon with his coworkers to create a new hybrid variety. After several years of trials and testing, Perrine lemons were introduced in 1931 at the Florida State Horticultural Society meeting in Miami. For a time, Perrine lemons were extensively planted throughout southern Florida on rough lemon rootstock and were favored for their disease resistance. The variety remained in cultivation until a hard freeze destroyed all of the trees, resulting in growers replacing the trees in favor of more hardy, cold-tolerant cultivars such as the Persian lime. Today Perrine lemons are primarily used as rootstock for other citrus varieties, and this technique has been used in Florida, Australia, and France. The lemons are not commercially cultivated and are a rare variety sometimes spotted at local orchards or farmer's markets in Florida.