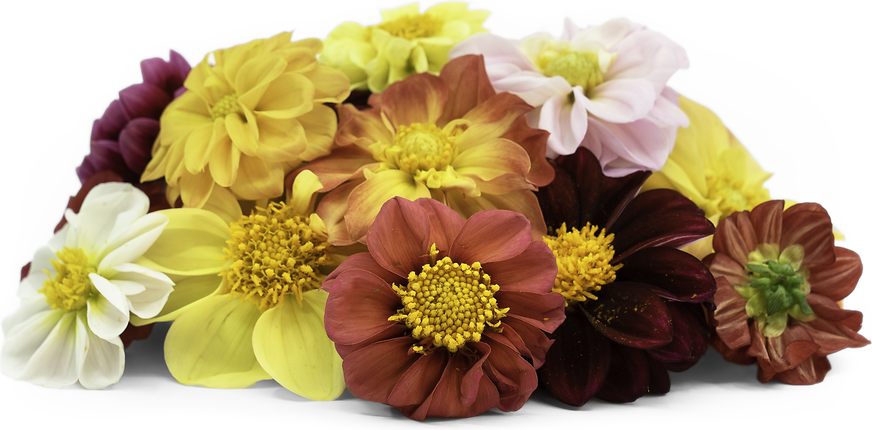 Fresh Flowers Dahlia
Inventory, 50 ct : 1.00
This item was last sold on : 12/04/23
Description/Taste
Dahlia flowers are medium to large blossoms ranging in size from 4 to 8 centimeters. Depending on the variety, the blooms can be simple, with one layer of ovate petals, complex with multiple layers of petals, or pom-pom shaped with a rounded appearance. The petals can be flat and ovate with a slight point, or they can curve upward to meet the next layer, forming a small cavity in each petal. The delicate petals surround a bright yellow center comprised of multiple pollen-covered stamens. Dahlias bloom in varying hues from white to bright yellow, deep orange, warm reds and maroons, and rich purples, with some petals having an ombre effect. The flowers emit little to no fragrance and have a velvety texture with a mildly sweet flavor and warm spiced undertones.
Seasons/Availability
Dahlia flowers bloom about eight weeks after planting and are available from midsummer to late autumn.
Current Facts
Dahlia is a generalized term for the showy blossoms of over 60,000 varieties of flowering plants in the Asteraceae family. This broad category of flowers includes eighteen official flower forms, including cactus, peony, anemone, stellar, collarette, and waterlily. Dahlia plants are native to Mexico and Central America and were initially known as Acocoxochitl, which translates to hollow stem flowers. The European name, Dahlia, was given in the late 19th century. The flowers were named after a Swedish botanist, Andreas Dahl. The hollow stems of the plant hold water, helping the flowers to survive in drier climates and making them a vital food and water source for indigenous peoples and animals in the area. The initial Dahlia species exported to Europe were Dahlia pinnata, Dahlia rosea, and Dahlia coccinea. European horticulturalists quickly discovered that the plants brought back to Spain were a natural hybrid and, when grown from seed, could present in a variety of colors and shapes. This led to the cultivation of thousands of varieties. Dahlia flowers are incredibly beautiful and can be used to elevate the appearance of many different dishes. The plant's tubers are also edible and have been used as a nutrient-rich and hydrating food source for thousands of years in parts of Mexico and Central America.
Nutritional Value
Dahlia flowers are comprised of 80% water, making them incredibly hydrating. The showy blossoms also contain high levels of carotenoids and anthocyanins, antioxidants that protect the body from free radicals and help support the immune system. Dahlias contain micronutrients such as potassium, nitrogen, phosphorus, calcium, and magnesium. These micronutrients support various bodily functions, including hydration, cell and bone production, and protein synthesis. Dahlias were used by ancient cultures to treat external eye, skin, and ear infections and as a treatment for epilepsy, although there is no scientific evidence to support Dahlias as a treatment for any conditions.
Applications
Dahlia flowers are best suited as an edible accent, added at the end of preparation to maintain the flower's delicate shape and texture. Dahlias are stunning flowers often used to garnish cakes for weddings, birthdays, and other celebrations. The entire flower is edible and can be used whole, or the petals can be separated and spread throughout the dish. Vinegar can affect the color of the florets, so take care when using vinegar-based dressings. Dahlias can be sprinkled over salads, floated over soups and curries, placed into fruit bowls, or used as a garnish for sushi and sashimi. The flowers can also be used to decorate seafood dishes such as calamari, ceviche, and shrimp cocktail or strategically placed on pasta, seafood, sandwiches, appetizers, and other main plates for added aesthetic. In addition to using the flowers in their natural form, the blooms can be frozen into ice cubes to add color and flavor to a beverage, mixed into butter sweetened with honey to create vibrant compound butter, or pressed into cookies and soft cheeses for an elevated appearance. Dahlias can also accent desserts such as scones, sorbets, crème brulee, cookies, puddings, and tarts, or they can be used as garnish in craft cocktails. Dahlias pair well with chocolate, fruits such as coconut, strawberries, lemons, passionfruit, mango, and cherries, herbs, including lavender, parsley, and mint, cheeses such as goat, brie, and blue, leafy greens, and springtime vegetables, including asparagus, peas, green garlic, and fava beans. Whole Dahlias should be used immediately for the best quality and will keep for 2 to 4 days when stored in a sealed container in the refrigerator.
Ethnic/Cultural Info
In 1963 Dahlias became the national flower of Mexico, signifying the importance of this blossom to the country. Ancient cultures called the simple, open-centered flowers Acocoxochitl, translating to hollow stem flowers. The plants were an important food source for groups throughout Mexico and Central America, including the Tarahumara in the North, the Nahuatl in central Mexico, and the Mixteco, Zapoteco, and Mayan groups in the South. Dahlia coccineas grow wild in the Mexico Valley and were well documented in petroglyphs by groups that inhabited the Lake of Texcoco. They were harvested for their tubers which were consumed similarly to a potato or carrot. The flowers were also used to treat skin infections. Another native Dahlia species, Dahlia imperialis, was used extensively by the Aztec nation. This variety can grow up to twenty feet tall and is known as the Tree Dahlia. This plant develops thick, hollow stems with a diameter of 5 to 7 centimeters. These stems were harvested for the water contained within them and, afterward, repurposed as a method for transporting water by Aztec hunters. Aztec Ticitl, or medicine persons, used the plant to treat infections and epilepsy. The Dahlia remains the national flower of Mexico and is the most popular flower in the region, representing elegance and beauty in the country.
Geography/History
Dahlia flowers are native to the high plains of Mexico and Central America. The flowers were likely introduced to South America and Costa Rica by the Toltec civilization in the 11th century, where they naturalized. The plants, known as Acocotli and Cocoxochitl, were a food and medicinal source for various civilizations in these regions before Spanish colonizers arrived on the continent. The flowers were brought to Spain in the late 18th century. Three varieties were planted in the Royal Gardens in Madrid. It was discovered that these flowers naturally hybridized, and the cultivation of hundreds of varieties quickly followed. Dahlias were spread throughout Europe during the 1800s. Breed selection and hybridization continued through the 19th and 20th centuries, creating thousands of varieties known today. Dahlias can be grown in many different temperate and subtropical areas worldwide. Dahlias used for culinary purposes should be sourced from vendors specializing in edible flowers, as ornamental arrangements can have high levels of pesticides and other chemicals not meant for human consumption.
Featured Restaurants
Restaurants currently purchasing this product as an ingredient for their menu.
| | | |
| --- | --- | --- |
| Noble Experiment | San Diego CA | 619-446-0002 |
| Kitchens For Good | San Diego CA | 619-450-4040 |
| Salvatore's | San Diego CA | 619-544-1865 |
| Harvest Kitchen | Vista CA | 619-709-0938 |
| Barrel & Board - Bar | San Diego CA | 619-379-2574 |
| Venissimo Cheese North Park | San Diego CA | 619-376-1834 |
| Jeune Et Jolie | Carlsbad CA | 858-231-0862 |
| Sushi Nekosan | La Jolla CA | 858-999-0999 |
| Polite Provisions | San Diego CA | 619-677-3784 |
| Temari-Zushi | San Diego CA | 858-345-0059 |
| Carruth Cellars Urban Winery | San Diego CA | 619-546-9300 |
| Sushi Gaga | San Diego CA | 619-808-1556 |
| Lafayette Hotel | San Diego CA | 619-296-2101 |
| Side Bar | San Diego CA | 619-348-6138 |
| Venissimo Cheese Hillcrest | San Diego CA | 619-491-0708 |
| Waverly (Bar) | Cardiff CA | 619-244-0416 |
| Camino Riviera Bar | San Diego CA | 619-685-3881 |
| California Culinary Arts Institute | San Diego CA | 858-868-1401 |
Recipe Ideas
Recipes that include Fresh Flowers Dahlia. One

is easiest, three is harder.