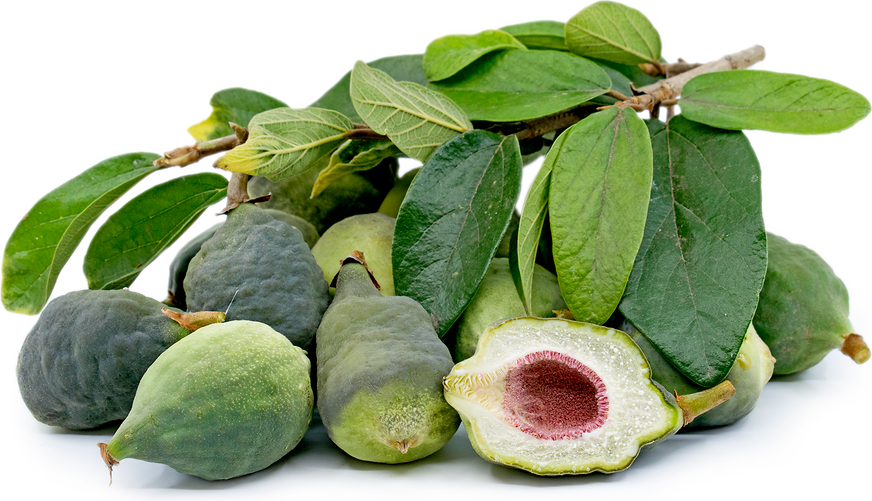 Taiwanese Jelly Figs
Inventory, lb : 0
Podcast
| | |
| --- | --- |
| Food Buzz: History of Figs | Your browser does not support the audio element. |
Description/Taste
Taiwanese Jelly figs are elongated and when immature have a bell shape, the end becoming more round as they mature. When ripe, they average 8 centimeters long and 6 centimeters wide. Jelly figs have a smooth skin that changes from light to dark green and then to purple as they ripen. Some variegated varieties will have light green to grey spots that develop from the bottom up. Beneath the skin is a thin layer of flesh that surrounds the seed cavity. If pollinated by its symbiotic wasp, the Jelly figs will ripen. Once ripe the figs may split, revealing light brown, fleshy seeds and reddish flower remnants.
Seasons/Availability
Taiwanese Jelly figs are available year-round with peak seasons in the fall and spring months.
Current Facts
The Taiwanese Jelly fig is also known as the Creeping fig and is botanically classified as Ficus pumila var. awkeotsang. Outside of its native region, the fruits are typically inedible as they require a special pollinator, the Wiebesia pumilae wasp, that doesn't exist outside of Southeast Asia.
Nutritional Value
Taiwanese Jelly figs contain high amounts of fiber and antioxidants, which help protect the body from cellular damage. They are a good source of vitamins A and C, as well as vitamins K and B6. Figs are also a source for the essential minerals iron, magnesium, manganese, copper, calcium and potassium. Figs are high in fructose, so they must be consumed in moderation.
Applications
Taiwanese Jelly figs can be eaten fresh, though the most popular use is for making aiyu. Aiyu is a jelly whose name translates to "love jade" in Chinese, and it has a texture like agar or gelatin. Mature Taiwanese Jelly figs are turned inside out, dried, and the seeds are scraped off the fruit and placed in a filter bag or cheesecloth. The bag is placed in cold water and is rubbed between the fingers to release the gelatinous compounds then squeezed to release any remaining liquid. The gelatin will thicken within 20 minutes. Other preparations call for the seeds to be blended in warm water and then strained into a container and chilled. Honey or lemon is added to flavor the aiyu and it is consumed as an iced beverage or dessert. Fresh use of the Taiwanese Jelly fig is not common.
Ethnic/Cultural Info
In 2013, aiyu jelly was voted the most popular summer snack in a food competition sponsored by the Taipei Tourism Bureau. Judges deemed the jelly to be representative of the whole nation of Taiwan for its indigenous roots and the fact that aiyu jelly can be purchased anywhere in the country. Throughout Southeast Asia and parts of Malaysia, aiyu jelly is sold in shops and by local street vendors. It is advertised as a refreshing summer drink, as it is said to have cooling, or yin, properties. It is often paired with longans, lychees, or calamansi juice. In Taiwan, boxed aiyu kits are available, which include the dried fig seeds, a filter bag and instructions.
Geography/History
Taiwanese Jelly figs are native to Taiwan and the southeastern Chinese provinces of Fujian and Zhejiang. They are also commonly found in Japan, Vietnam, and Malaysia. Creeping fig plants can be found in Southern California can also be seen growing in Australia. These do not produce edible figs, as the pollinating wasp is not native to these areas. Taiwanese Jelly figs can be spotted throughout Southeast Asia, though they are most common in Taiwan.