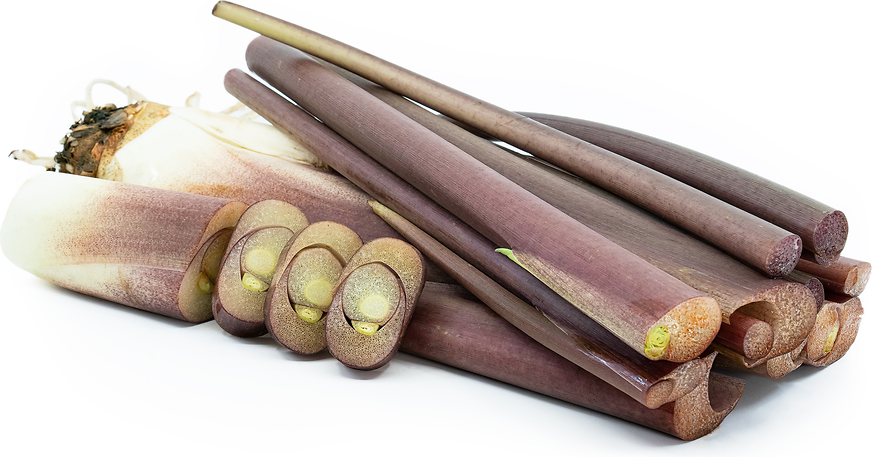 Zuiki Taro Stems
Inventory, lb : 0
Description/Taste

Zuiki is comprised of elongated petioles that vary in size and appearance in markets, depending on how the petioles are cut and bundled. The stalks are generally 74 to 102 centimeters in length and 4 to 7 centimeters in diameter and have a straight, cylindrical shape, tapering toward the top. Zuiki is customarily sold in bunches, and within the bundle, several petioles are connected to a single base with slender, ivory-to-cream-colored roots. The petioles have a slightly ridged, semi-smooth, and dry exterior, and several surface layers are typically peeled before culinary use. The skin is also thick, firm, and taut, showcasing muted, dark red-brown, pale red, red-purple, green, to yellow-green hues, depending on the variety. Underneath the surface, the flesh is light, spongy, and lightly fibrous. The dark red to green flesh uniquely absorbs accompanying flavors in cooked dishes and is appreciated for its crunchy, chewy, and crisp consistency. Zuiki must be cooked before consumption and has a bitter and acrid taste when raw. Once cooked, Zuiki's neutral, mild taste absorbs other flavors, and the stalk's texture retains a crunchy but tender consistency.


Seasons/Availability

Zuiki is available in the summer through early fall, with a peak season from June through September.


Current Facts

Zuiki, botanically a part of the Colocasia genus, is the name for a summer Japanese vegetable belonging to the Araceae family. The name Zuiki is a general term for several varieties of taro plants harvested for their long, spongy petioles. In Japan, Zuiki has been gathered from cultivated plants for centuries as a secondary crop to the edible corms, and there are three main types simply labeled as red, blue, and white. Red-stemmed petioles are known as Red Zuiki, Zuiki, and Aka-Zuiki and are primarily gathered from the Yatsugashira taro variety. Yatsugashira translates to mean "eight heads" and earned its name from its central corm that develops many small corms growing as offshoots, resembling multiple heads. Other types of Zuiki are grown from Akameimo and Kara No Imo taros. Zuiki is a rare, seasonal vegetable only found in limited quantities for a couple of months in the summer each year. The long and straight stems are utilized for their absorbent, crunchy nature, adding texture to cooked dishes. Zuiki is also expanding as a medicinal ingredient as research studies uncover the item's nutritional properties.


Nutritional Value

Zuiki is a source of fiber to regulate the digestive tract, potassium to balance fluid levels within the body, and iron to develop the protein hemoglobin for oxygen transport through the bloodstream. The petioles also provide calcium to build strong bones and teeth, vitamin C to boost the immune system, magnesium to control optimal nerve functioning, vitamin E to protect the cells against free radical damage, and other nutrients, including zinc, copper, vitamins A, B, and K, folate, and manganese. In Japan, Zuiki has been used in natural medicines as a blood cleanser. The petioles are consumed after childbirth, believed to help mothers recover faster, and are said to "wash old blood" for individuals who regularly consume Zuiki in their summer diets. It is important to note that Zuiki contains calcium oxalate, needle-like crystals that may irritate the skin and throat. Most of the calcium oxalate is removed in the cooking process, but sensitive individuals may experience an allergic reaction if handling raw Zuiki or consuming the petioles in large quantities.


Applications

Zuiki has a bitter, acrid taste and cannot be consumed raw. The petioles must be cooked and are typically soaked in a mixture of vinegar and water to remove astringency. Some varieties of Zuiki must be peeled to remove the hard exterior, and once soaked for about an hour, the petioles can be boiled, simmered in broths, or cooked into stir-fries. Zuiki absorbs accompanying flavors when cooked, and the petiole's spongy nature adds a subtle, juicy, crunch into dishes. Freshly prepared Zuiki is customarily added to soups. The petioles are also stir-fried with pork and cucumbers or soaked in a sesame-vinegar mixture. Zuiki complements various broths and is often added to deep-fried tofu dishes to help mellow out the richness. It can also be added to plum stews, roasted meats, or as a stand-alone side dish. In addition to fresh Zuiki, dried Zuiki, known as Raw Zuiki or Imogara, is torn into strips, dehydrated, and stored for extended periods as a dry good. Imogara can be reconstituted with water and is said to have a chewy texture. Zuiki pairs well with meats such as pork, poultry, and beef, aromatics including garlic, ginger, and onions, and flavorings such as soy, sesame, and dashi. Fresh, unwashed Zuiki should be immediately used for the best quality and flavor. The petioles have a short shelf life and can be wrapped in newspaper and stored in a cool, dry place. The petioles can also be prepped and pickled in vinegar or boiled and stored in the refrigerator for 2 to 3 days.


Ethnic/Cultural Info

In Kyoto, Zuiki is featured in an annual autumn festival in October. The Zuiki festival is held at the Kitano Tenmangu Shrine and dates back to the Herian period when local residents offered grains, vegetables, and fruits as offerings to the gods for a plentiful harvest. During the festival, portable shrines known as mikoshis are decorated with vegetables and dried goods. Zuiki is traditionally placed on the roof of the mikoshi, and once decorated, the mikoshis are carried through the festival as an act of honor. The decorated mikoshis are displayed for the duration of the celebration, and Zuiki and the other vegetables used as decorations symbolize the blessings of a full harvest.


Geography/History

Zuiki is native to Japan and is a descendant of taro varieties that arose from Southeast Asia. In ancient times, taro was carried into East Asia and was planted throughout China. Various species were thought to have been introduced to Japan sometime during the Jomon period, from 10,500 to 300 BCE. It is unknown when the petioles of the taro plant were harvested for medicinal and culinary use, but experts believe they were utilized before the Feudal Era, 1185 to 1603 CE. During the Sengoku Period, from 1467 to 1567 CE, Zuiki was dried and used as an emergency food during wars. Soldiers carried dried Zuiki strips on their journeys, and the strips were easy to rehydrate and consume as a source of energy. Women also sewed dried Zuiki into their kimonos as emergency food during wars and times of famine. In the Kumamoto Castle, Zuiki was woven into floor mats. Over time, Zuiki has remained a somewhat stable crop, but the petiole's presence in commercial markets is limited. Today, Zuiki is produced in the Ishikawa, Kaga, Chiba, Niigata, Osaka, Nara, Kochi Prefectures. In the Ishikawa Prefecture, Zuiki is notably grown in the Mima and Hanazono districts of Kanazawa City and is categorized as a traditional vegetable. When in season, Zuiki is sold through fresh markets, select grocers, and distributors across Japan.