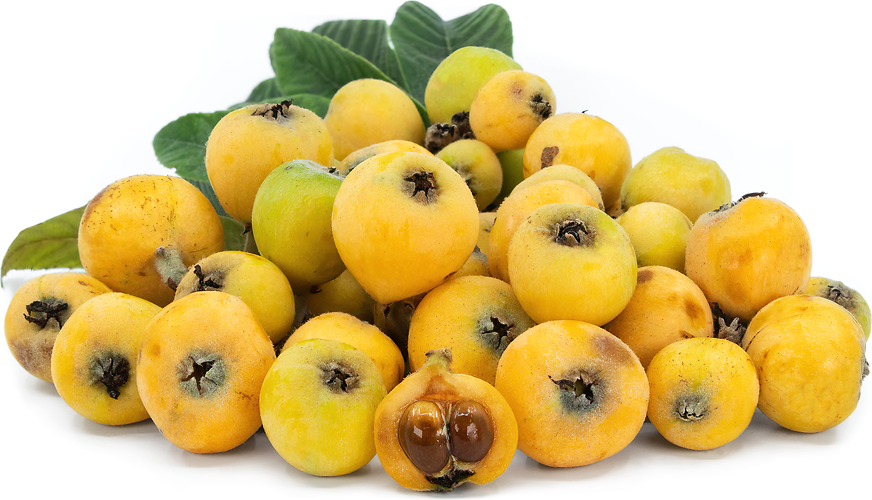 Loquats
Inventory, 4 lbs : 0
Description/Taste
Loquats are small fruits, averaging 3 to 5 centimeters in length, and have a round, oval, to pyriform shape with curved, blunt ends. Loquats grow in clusters of 4 to 30 fruits on the tree, and the skin is semi-thin with a somewhat tough nature. The skin also ranges from smooth, downy to slightly fuzzy, depending on the variety, and is taut, ripening to shades of yellow to orange hues, sometimes flecked with red markings. Underneath the surface, the flesh is firm but tender with an aqueous, crisp, and succulent consistency. The flesh varies in color from orange, white, to yellow, dependent on the cultivar, and encases 1 to 10 large, glossy, brown seeds. Most Loquats will have 1 to 5 seeds. Loquats emit a strong, fruity aroma, and their scent is a primary indicator of ripeness. Loquats that are fragrant, have a slight give around the stem, and are smooth and taut are considered ripe. Their coloring is not an indicator of maturity. Loquats have high sugar content, reaching 6.7 to 17 degrees Brix, creating a sweet, subtly tangy taste with floral notes of citrus mixed with peaches and apricots. The flavor of the fruit will vary with the variety. Some Loquats will be mild and sweet, while others may showcase a slightly tropical taste.
Seasons/Availability
Loquats are available in the early fall through the spring. The fruit's peak season will vary, depending on the region it is grown in.
Current Facts
Loquats, botanically classified as Eriobotrya japonica, are an ancient species belonging to the Rosaceae family. The small fruits grow on compact trees reaching 3 to 10 meters in height, depending on the variety, and thrive in tropical to subtropical climates. Loquats are native to China and have been used in East Asia as a medicinal and culinary ingredient for thousands of years. The species is known as Pipa in China and was named after the four-string mandolin-like musical instrument of the same name. It is also known as Biwa in Japan, Lukaat in India, Golabi Jangali in Iran, Japanese plum, and Chinese plum. Many varieties of Loquats are cultivated worldwide, with over 800 cultivars found in Asia alone. Loquats are favored for their delicate, subtle nature, and the fruits are commercially produced and planted in home gardens as a culinary, medicinal, and ornamental addition. Despite their favorable characteristics, Loquats are challenging to produce on a large scale as the fruits can be easily damaged during cultivation and packaging, often displaying marks and scratches on the surface. Loquat trees can produce 100 to 300 pounds of fruit per season, and the fruits are versatile, able to be consumed fresh or incorporated into cooked preparations.
Nutritional Value
Loquats are a source of calcium to build strong bones and teeth, fiber to regulate the digestive tract, potassium to balance fluid levels within the body, and vitamin A to maintain healthy organs. The fruits also provide vitamin C to strengthen the immune system, copper to produce genetic material such as RNA and DNA, magnesium to control optimal nerve functioning, and other nutrients, including phosphorus, vitamin B6, folate, and iron. In Traditional Chinese Medicine, Loquats are used to soothe indigestion and nausea, boost the immune system, and calm sore throats and coughs.
Applications
Loquats have a mild, sweet, to tangy taste suited for fresh and cooked preparations. Each variety of Loquat will have different flavors, and the fruits can be consumed straight out of hand as a snack. Some consumers choose to peel the tough skin from the flesh before eating, and the seeds should always be discarded and never eaten. Loquats can be peeled, sliced, and tossed into green salads, chopped into salsa and other dips, or stirred into fruit medleys. The fruits can be used in any recipe calling for stone fruits like peaches, apricots, or plums, and the flesh is popularly pickled for chutney. Loquats can also be simmered into jams, jellies, gelatins, and compotes or cooked into syrups for beverages and desserts. Try blending Loquats into smoothies, fruit juices, or mixing them with ice and milk for a creamy drink. Loquats complement sweet preparations and can be added to cakes, pies, tarts, pastries, pancakes, and ice cream, or they can be stewed with sugar as a simple side dish. The fruits can also be cooked into sauces for drizzling over roasted meats or baked with nuts and served over rice and other grain dishes. In Asia, Loquats are made into a fruit wine or canned in syrup as a preserved sweet. Loquats pair well with herbs such as mint, basil, and lavender, nuts including pecans, hazelnuts, and walnuts, spices such as cinnamon, nutmeg, cloves, and cardamom, and fruits including coconut, lychee, strawberry, pears, lemons, oranges, and bananas. Whole, unwashed Loquats can be kept at room temperature for a few days to a week in a cool and dark place. The fruits can also be stored for several weeks to a month in the refrigerator.
Ethnic/Cultural Info
Legend has it that Loquats nourished Koi fish on their journey to become dragons. The story recounts that a school of golden Koi was swimming upstream against the current in the Yellow River in China. The school eventually reached a waterfall at the end of the river, and looking up at the tall waterfall, many of the Koi gave up disheartened, and swam back down the river. One Koi remained at the waterfall's base and began jumping, attempting to reach the top. The fish ate Loquats found at the waterfall's base for sustained energy, and after being refueled by the fruits, the Koi made it up the waterfall, reaching the Dragon Gate. The Koi was transformed into a dragon as a reward for its perseverance, and after seeing the fish's transfiguration, Chinese royalty attributed the Koi's victory to its consumption of the fruits. Thus, Loquats were heavily guarded by nobility, and only members of the royal family were allowed to consume the fruits. In China, Loquats were also revered for their aromatic, alluring scent, often linked to courtesans. The phrase "the gate of the Loquats" was often used to refer to brothels in conversations, and when someone visited the brothel, they went to visit the gate and "smell the Loquat blossoms."
Geography/History
Loquats are native to China and have been growing wild since ancient times. The species is thought to have its wild center of origin in the Dadu River Valley of western Sichuan, a province in central, southeastern China, and the fruits have been cultivated for thousands of years. The first record of Loquats was written in a medicinal text in China as early as 914 CE, and the most famous record was in scientist Li Shizhen's text "Compendium of Materia Medica," a comprehensive medical book that took over 27 years to complete in the 16th century. Loquats were carried from China to Japan in the early ages and were extensively cultivated for medicinal and culinary use. In the late 17th and 18th centuries, European explorers arrived in Japan and returned back to Europe with Loquat seeds, where they were planted in the National Gardens in Paris, France, in 1784. Loquats were also planted in the Royal Botanical Garden in Kew, England, in 1787, and by the mid-19th century, the species was spread throughout Europe, North Africa, Australia, New Zealand, and the Americas. In 1851, Loquats were introduced to California through trade with Japan, and the species was planted in Los Angeles, eventually being planted along the coast from San Diego to Santa Barbara. Grower Charles P. Taft was responsible for developing Loquat varieties for California cultivation in the late 19th century, including Champagne loquats, and a vegetarian commune known as the Societas Fraterna in Placentia advocated for Loquats by growing them on their 24-acre property as a part of their unconventional, sometimes peculiar spiritual diet. The commune also created a popular Loquat variety that is still grown in the modern-day known as Gold Nugget. Today Loquats are grown in tropical to subtropical regions worldwide. China is the largest commercial producer, growing the fruits in Sichuan, Jiangsu, Guangdong, Fujian, Zhejiang, Hunan, Yunnan, Guangxi, Anhui, Guizhou, and Hubei provinces. When in season, Loquats are commercially produced and sold in fresh markets, through select distributors, and found at specialty retailers. The species is also planted in home gardens.
Recipe Ideas
Recipes that include Loquats. One

is easiest, three is harder.
the other 2...