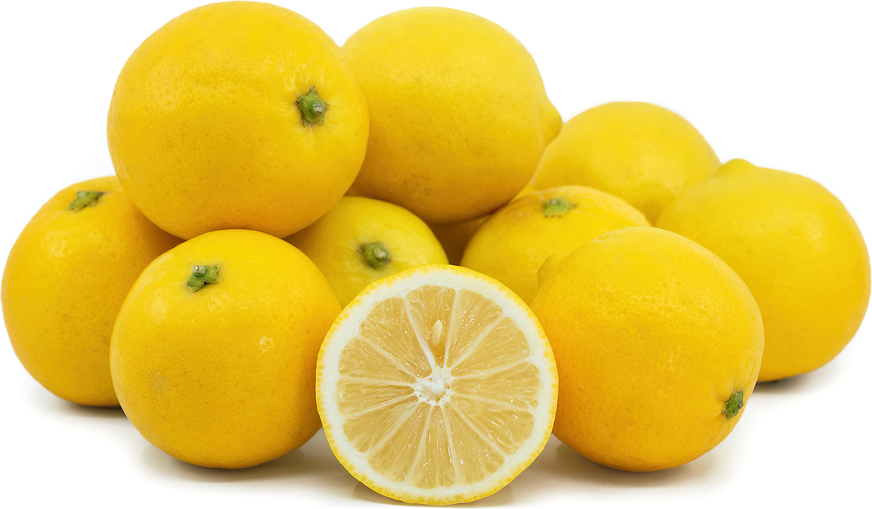 Persian Sweet Lemons
Inventory, lb : 0
Description/Taste
Persian Sweet lemons are a small to medium-sized varietal, averaging 5 to 6 centimeters in diameter, and have a round to oval appearance with a small point on one end. The lemon's peel is thin, smooth, and glossy, covered in sunken oil glands, giving the surface a slightly pitted texture. The peel also transitions in color from green, yellow-green, to a golden yellow with maturity. Underneath the surface, there is a thin layer of spongy white pith tightly clinging to pale, yellow-green flesh. The pulpy flesh is divided into 8 to 9 segments by thin membranes and is aqueous, soft, and tender, containing a few to many cream-colored seeds. Persian Sweet lemons are known for their aromatic, sweet, and floral scent. When rubbed or starched, the lemon's surface releases essential oils through the glands, emitting a flower-like aroma reminiscent of rose water. Persian Sweet lemons should feel heavy for their size and have low acidity, creating a sweet, bitter-less flavor.
Seasons/Availability
Persian Sweet lemons are available in the late summer through early spring.
Current Facts
Persian Sweet lemons, botanically classified as Citrus limetta, are an acid-less variety belonging to the Rutaceae family. The round lemons grow on evergreen trees that can reach up to eight meters in height, and the trees are characteristically thorny, bearing sharp points that can appear up to seven centimeters in length. Persian Sweet lemons are native to Asia and have been commercially grown for centuries for their sweet flavor, floral aroma, and high vitamin C content. The lemons were traditionally used in medicinal beverages for colds and flu, but the juice has also become a popular flavoring for refreshing drinks sold through local vendors. Persian Sweet lemons are known as Limu Shirin in Iran, translating from Persian to mean "Sweet Lemon," and as Limoo Shirin, Persian Sweet Limes, Sweet Limetta, and Sathukudi, Musami, or Mousami in India. In the modern-day, Persian Sweet lemons have become a widespread home garden variety selected for their easy-to-grow nature, high yields, everbearing quality, and ability to be purchased in dwarf, semi-dwarf, and standard sizes. Persian Sweet lemons are versatile, incorporated into a wide array of beverages, seasonings, oils, and culinary dishes.
Nutritional Value
Persian Sweet lemons are an excellent source of vitamin C to strengthen the immune system while reducing inflammation. The lemon juice is often used in natural medicines to prevent colds and flu and is believed to help reduce the severity of fevers by eliminating toxins from the body. The juice is also mixed with hot water and honey in Iran, consumed to soothe sore throats and fight infections. Persian Sweet lemon juice contains flavonoids, compounds that have antioxidant-like properties to protect the cells against the damages caused by free radicals. Beyond vitamin C and flavonoids, Persian Sweet lemons provide other amounts of vitamin A, calcium, niacin, folate, and thiamine.
Applications
Persian Sweet lemons have a sweet, honeyed flavor suited for fresh and cooked preparations. The lemons can be washed and sliced into wedges, consumed straight, out of hand similar to orange slices, or they can be cut and tossed into salads, fruit parfaits, or grain bowls. Persian Sweet lemons can also be used solely for their juice, mixed into salad dressings, marinades, soups, or broths. In Iran, Persian Sweet lemons are used as a natural sweetener for tea and are juiced and enjoyed fresh. The juice can be made into lemonade without the need for sugar or can be mixed with spices to create a savory-sweet beverage. It is important to note that Persian Sweet lemon juice is sweet when freshly squeezed, but the juice will oxidize quickly, developing a bitter flavor reminiscent of grapefruit juice. Persian Sweet lemons are also commonly used in faloodeh or Persian ice, one of the earliest known frozen desserts in the Middle East, made from rice noodles, rose water, sugar, and lemon juice. Try adding Persian Sweet lemon zest into seafood sauces or mix with salt to create an aromatic seasoning. The lemons can also be cooked into preserves and syrup, blended and frozen into popsicles or sorbet, or incorporated as flavoring into candies, cheesecakes, bars, and muffins. Persian Sweet lemons pair well with lemongrass, shallots, ginger, herbs such as mint and basil, and fruits including coconut, strawberry, blueberry, pineapple, mango, cranberry, and kiwi. Whole, unwashed Persian Sweet lemons will keep up to one week when stored at room temperature and 2 to 4 weeks when kept in the refrigerator. Fresh juice may also be frozen for up to six months, and fruit slices can be frozen in simple syrup.
Ethnic/Cultural Info
In Iran, Persian Sweet lemons are primarily consumed as a freshly squeezed juice, used as a refreshing reprieve to hot weather. The juice is popularly mixed with ice, herbs, or spices and is sold at roadside stands, fresh markets, and select grocers. Home chefs also prepare the juice from garden Persian Sweet lemons. In addition to the juice, home chefs use the entire lemon in various sharbat recipes. Sharbats are sweet fruit syrups made from boiled fruits, and these flavorful syrups have been consumed in Asia for thousands of years. The first written records of the syrups were recorded in Iranian historical texts from the 11th and 12th centuries. In modern Persian kitchens, sharbats are made from a wide variety of ingredients, including basil seeds, mango, pineapple, hibiscus, lemons, limes, and rose water. Persian Sweet lemon juice and rind can be combined with ginger or rose water to create a refreshing syrup. Once prepared, the peels and slices of ginger can be strained and coated in sugar as a candied snack, and the syrup can be served on its own or spooned over ice cream and other desserts. A Persian Sweet lemon sharbat beverage is traditionally served chilled and mixed with water and ice, immediately consumed for the best quality and flavor. It can also be stirred into sparkling water as a specialty beverage served to visiting house guests.
Geography/History
Persian Sweet lemons are native to Asia and have been cultivated in the southern regions of Iran since ancient times. Much of the history of Persian Sweet lemons is unknown, but experts believe the sweet lemons are descendants of the citron or Citrus medica, an Asian citrus with a fragrant, sweet, and acidic nature. Persian Sweet lemons thrive in tropical to sub-tropical climates and have been spread across Asia over time, planted in regions of the Middle East, Southeast Asia, and India. Today Persian Sweet lemons are mainly cultivated in Iran, Palestine, and India and are sold through local markets and grocers. The lemons are also produced on a small scale in areas of the Mediterranean basin and through specialty growers in Southern California, found at Persian grocers, distributors, and farmer's markets.
Recipe Ideas
Recipes that include Persian Sweet Lemons. One

is easiest, three is harder.