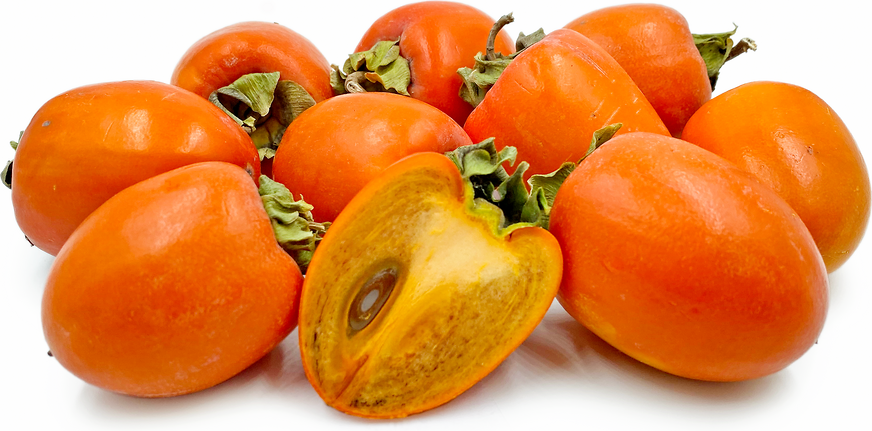 Candle Persimmons
Inventory, lb : 0
Description/Taste

Candle persimmons can widely vary in shape and size depending on the fruit's growing environment, and generally has an ovate, round, to elongated appearance, sometimes with a slightly tapered and narrowed non-stem end. The skin is waxy, firm, and shiny, showcasing a vibrant, dark orange-red hue, and on the top of the fruit, there are flat, papery green-brown leaves surrounding a thin and fibrous, dark brown stem. Underneath the skin, the flesh is soft, semi-mealy, aqueous, and pale yellow to orange-brown, encasing an oval brown seed. Candle persimmons, when ripe, have a very sweet flavor and a juicy, smooth texture.


Seasons/Availability

Candle persimmons are available in the fall through early spring in Central Asia.


Current Facts

Candle persimmons, botanically classified as Diospyros kaki, are sweet fruits belonging to the Ebenaceae family. Primarily grown in climate-controlled greenhouses in Uzbekistan, Candle persimmons are a small variety of kinglet persimmon that is valued for its juicy, soft flesh and sweet flavor. The cultivar is rumored to have been named after its narrow and tapered, candle-like shape, and the fruit lacks the astringency generally associated with persimmons. Candle persimmons are highly exported across Central Asia and into Russia and are primarily consumed fresh, out-of-hand, or are utilized as a sweet flavoring in both savory and sweet applications.


Nutritional Value

Candle persimmons are an excellent source of vitamins A and C, which are antioxidants that can protect against vision loss, increase collagen production, and boost the immune system. The fruits also contain magnesium, phosphorus, fiber, calcium, vitamin E, potassium, iodine, and manganese.


Applications

Candle persimmons are best suited for raw, cooked, and dried applications. When fresh, the fruit can be consumed straight out-of-hand, chopped into salsa, or it can be tossed into salads and fruit bowls. Candle persimmons can also be utilized in cooked applications and are popularly boiled with sugar into a sauce and poured over cooked meats, baked into bread, tarts, pies, and cakes, cubed and served in pasta, boiled into puddings, jams, and jellies, or mixed into casseroles. In addition to raw and cooked applications, Candle persimmons are popularly dried in Central Asia and are consumed as a sweet, sticky, snack during the winter season. Candle persimmons pair well with cinnamon, honey, vanilla, cheeses such as cottage, cheddar, goat, and parmesan, citrus juices, apples, cilantro, arugula, and cranberries. The fresh fruits will keep for a couple of weeks when stored in the refrigerator.


Ethnic/Cultural Info

In Kazakhstan and Uzbekistan, persimmons are valued for their iodine content. Within these countries, the majority of the population descends from nomadic tribes that largely have a meat-based diet, and a common condition associated with the landlocked region is an iodine deficiency, creating a hormonal imbalance. Persimmons such as the Candle variety offer a significant amount of iodine and other vitamins to help balance the thyroid. Providing a source of health-boosting ingredients, persimmons have a unique quality of retaining nutritional properties even when dried and are a favored snack during the cold winter months. The fruits are also popularly stewed in the winter. Outside of the winter, the fruits are baked with juices and spices, pureed, and spread over bread, blended into smoothies, or consumed fresh when in season.


Geography/History

Candle persimmons are descendants of original persimmon varieties that are native to mountainous regions of China and have been cultivated for over two thousand years. The fruits were then spread to neighboring countries such as Japan and Korea via trade routes, and over time, the fruits continued to spread across the continent of Asia where they arrived in Central Asia and into Russia approximately two hundred years ago. Since their introduction, the original persimmon varieties were highly cultivated, and new varieties were developed, such as Candle persimmons, to meet changing market demands. Today Candle persimmons are cultivated in greenhouses in Uzbekistan and are also grown in Azerbaijan and Turkmenistan for export into Kazakhstan, Russia, and other neighboring countries. The Candle persimmons featured in the photograph above were found at a local food fair in Almaty, Kazakhstan.