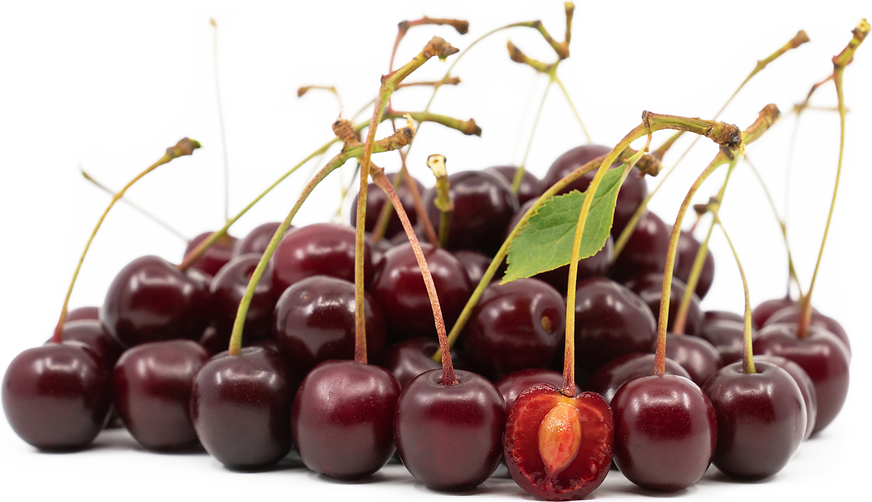 Griotte d'Ostheim Cherries
Inventory, lb : 0
Description/Taste

Griotte d'Ostheim cherries are a small-sized varietal, averaging 2 to 3 centimeters in diameter, and have a round to slightly oblate appearance with flat, curved shoulders. The cherries are connected to long and fibrous, green-brown stems, generally extending 5 to 6 centimeters in length. The fruit's skin is thin, taut, semi-glossy, and smooth, showcasing shades of crimson, maroon, to dark-red, almost black. The skin is easily separated from the flesh, and in the center, there is an oval, tapered light brown stone, also known as the pit. The dark red flesh encases pigmented juice and has a tender, succulent, and soft melting quality. Griotte d'Ostheim cherries will have a slight give when ripe and are tart, astringent, and sour with subtly sweet undertones.


Seasons/Availability

Griotte d'Ostheim cherries are available in the summer, typically ripening in mid-July.


Current Facts

Griotte d'Ostheim cherries, botanically classified as Prunus cerasus, are a sour cherry variety belonging to the Rosaceae family. Sour cherries are also known as Pie or Tart cherries and are a category of cherries with more acidic, tart, sweet, and sour flavors. Within the sour cherry category, there are morello-type cherries, fruits with red-flushed juice, and amarelle cherries with colorless juice. Griotte d'Ostheim cherries are a type of morello sour cherry, and the fruits grow at the ends of the branches on a compact, upright tree. It is important to note that the descriptor Griotte is used for many different varieties of sour cherries. Griotte is derived from the French word "aigre," meaning "sharp" or "sour." The other part of the variety's name, Ostheim, was given in reference to the cherry's widespread presence in the town of Ostheim along the France-Germany border. Griotte d'Ostheim cherries are also known as Ostheimer Weichsel, Ostheim cherries, Ostheimer, and Griotte Ostheim, and are a late-season variety favored for its pigmented coloring, flavor, and soft flesh. The cherries are versatile, used in sweet and savory culinary preparations, and incorporated into an array of beverages. Griotte d'Ostheim cherries are not commercially cultivated due to their delicate nature and limited availability. Still, the variety is grown by cherry enthusiasts for its hardiness, fast-growing nature, high yields, and rich flavoring.


Nutritional Value

Griotte d'Ostheim cherries, like other sour cherry varieties, are a source of fiber to regulate the digestive tract and vitamin C to strengthen the immune system while reducing inflammation. The cherries also provide potassium to balance fluid levels within the body, iron to develop the protein hemoglobin for oxygen transport through the bloodstream, vitamin A to maintain healthy organ functioning, calcium to build strong bones and teeth, and other nutrients, including folate, vitamin K, B vitamins, copper, manganese, and magnesium. The variety's pigmented flesh contains anthocyanins, natural compounds with antioxidant-like properties to protect the cells against the damage caused by free radicals.


Applications

Griotte d'Ostheim cherries are suited for cooked preparations. The cherries can be consumed raw but generally contain an acidic, tart, and sour-sweet flavor. Some consumers may enjoy their tanginess, but this cherry variety is typically combined with a sweetener to create a more balanced flavor profile. Griotte d'Ostheim cherries can be incorporated into salad dressings, cooked into sauces or glazes for roasted meats, or simmered into syrups as a fruity, sweet, and tangy topping for ice cream and beverages. Cherry syrups can be stirred into cocktails, or a muddled mixture of cherries, sweeteners, and herbs can be combined into refreshing lemonades, cordials, and fruit punches. In addition to sauces and syrups, Griotte d'Ostheim cherries are popularly baked into bread, cooked into savory rice dishes, or served in chilled soups. The cherries are also added to cakes, pies, scones, tarts, crumbles, charlottes, and other desserts, preserved and spooned over sweets or infused into sorbets and sherbets. In Europe, Griotte d'Ostheim cherries are favored for jam and jelly making as their pigmented flesh and sharp flavor creates a well-balanced, visually appealing spread. Griotte d'Ostheim cherries pair well with fruits such as oranges, plums, and blueberries, vanilla, chocolate, spices including cinnamon, cloves, ginger, or nutmeg, meats such as beef, pork, and duck, and nuts including almonds, pistachios, and pine nuts. Whole, unwashed Griotte d'Ostheim cherries are highly perishable and will only keep for 1 to 7 days in the refrigerator. It is recommended to store the fruits with their stems intact to slow the rate of spoilage. Sour cherries can also be frozen for extended use.


Ethnic/Cultural Info

Griotte d'Ostheim cherries are a traditional variety used to make kirsch, a distilled, colorless brandy. The brandy is also known as kirschwasser, meaning "cherry water," and is created from mashed sour cherries. The mashed fruits release their sweet-tart juices, and the fruit's pits emit some acids and oils, imparting a bitter almond-like flavor. Once this mixture is allowed to ferment, it is distilled, creating a clear liquor with a faint cherry fragrance and flavor. Legend has it that the first version of kirsch was made as the Romans traveled across Europe, primarily through Spain and France, where cherry trees were planted for culinary use and beverages. The Romans especially enjoyed flavoring wine with cherry juice and often made beverages infused with the fruits. Later in the 12th century, distilling fruit to create new types of alcohol was widely adopted across Europe. Sour cherries were utilized in France and Germany to create kirsch, and the clear liquor was primarily produced in the Rhine River region of Alsace, France, and in the Black Forest of Germany. German monks learned distilling techniques from the Romans, and the cherry liquor was created sometime before the mid-17th century. Kirsch became a popular drink among the poor, often labeled as a "spirit lifter," and has remained a traditional summertime beverage throughout Europe. In the Black Forest region of Germany, kirsch is famously used in Black Forest cake or Black Forest gateau, a chocolate sponge cake with sour cherries and whipped cream frosting. Kirsch was also well-known as one of Ernest Hemingway's favorite liquors.


Geography/History

Griotte d'Ostheim cherries are believed to be native to Spain and were discovered in the Sierra Morena mountains. The exact date of discovery is unknown, but the variety was carried from Spain and planted in Germany sometime after the War of The Succession in the early 18th century. When Griotte d'Ostheim cherries were introduced to Germany, they were easily propagated and were planted in large concentrations near the town of Ostheim. It is important to note at the time when the variety was planted, Ostheim was a part of Germany, but in the present day, it is considered a part of northeastern France in the Haut-Rhin department of Grand Est. Griotte d'Ostheim cherries were also spread to Russia and other parts of Europe in the 19th and mid-20th centuries. In the early 19th century, the variety was brought to the United States by William Robert Prince and was recognized by the American Pomological Society in 1899. Today Griotte d'Ostheim cherries are grown in orchards throughout Europe and are also cultivated on a smaller scale in regions of the Midwest and Pacific Northwest in the United States and Canada. When in season, the cherries are sold through local markets and orchards. Due to their delicate nature and short availability, they are not traditionally found in commercial markets. The Griotte d'Ostheim cherries featured in the photograph above were sourced from the orchards of Brogdale Farm in Faversham, England.