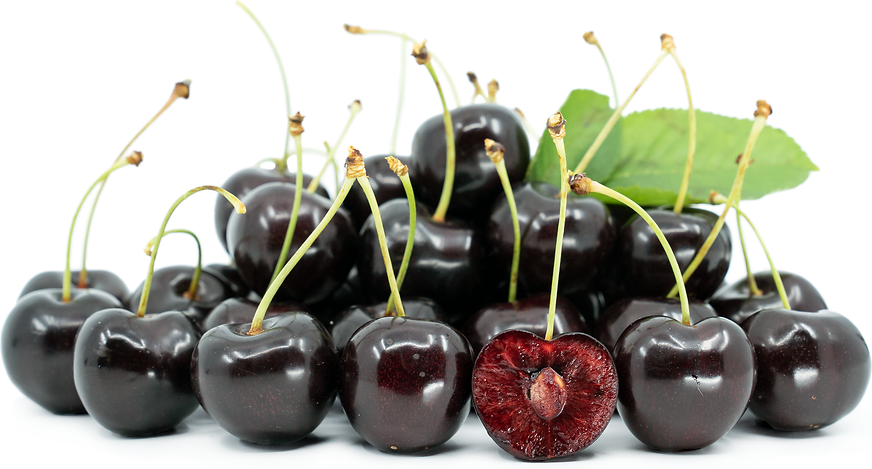 Sunburst Cherries
Inventory, lb : 0
Description/Taste

Sunburst cherries are a medium to large varietal, averaging 3 to 3.5 centimeters in diameter, and have an oval to cordate shape with small, flattened to curved shoulders tapering to a rounded base. The cherries are attached to slender, fibrous light green stems extending 3.5 to 4 centimeters in length, and the fruit's surface is smooth, taut, and glossy. The skin also showcases dark red-purple hues, almost appearing black, and has a soft give when gently squeezed. Underneath the surface, the dark red flesh is thick, aqueous, and tender with a succulent consistency. The flesh also encases a central light brown stone. Sunburst cherries have a bursting, juicy mouthfeel and a mild, delicate, sweet taste with a subtle tanginess.


Seasons/Availability

Sunburst cherries are available in the summer, typically ripening in mid to late July.


Current Facts

Sunburst cherries, botanically classified as Prunus avium, are a hybrid variety belonging to the Rosaceae family. The large cultivar was developed at the internationally acclaimed Summerland Research Station in the mid-20th century and was released as a new variety for its size, appearance, and flavor. Sunburst cherries are also a self-fertile variety, meaning it does not require an additional pollinator to produce fruits. This characteristic distinguishes Sunburst cherries from other commercial cultivars and makes it a popular choice for home gardens with limited space. Sunburst cherries grow on trees that can reach 9 to 10 meters in height, but the trees can also be pruned or grown in containers to keep the plant smaller for easier harvest. The cherries are a mid to late-season variety valued for their high yields, disease resistance, split resistance, large size, and sweet flavor. Despite their favorable qualities, Sunburst cherries are a softer cultivar, leading them to be grown more as a specialty variety than a mass commercial cherry.


Nutritional Value

Sunburst cherries are a source of fiber to regulate the digestive tract, vitamin C to strengthen the immune system, vitamin K to assist in faster wound healing, and potassium to balance fluid levels within the body. The cherries also provide magnesium to control optimal nerve functioning, copper to produce red blood cells, manganese to develop connective tissues, and other nutrients, including vitamin E, calcium, and zinc. The dark red, pigmented nature of the cherries signifies the presence of anthocyanins. These natural compounds give the fruits their coloring and provide antioxidant-like properties to reduce inflammation and protect the cells against free radical damage.


Applications

Sunburst cherries have a mild, sweet flavor suited for fresh and cooked preparations. The large, fleshy cherries are typically consumed fresh out of hand and are appreciated for their soft, tender, and succulent nature. It is important to note that the pigmented juice will stain fabric and clothing, and the central stone must be removed before consumption. The stones can be removed using a straw, chopstick, or cherry pitter, and once prepped, the cherries can be tossed into salads, sliced into rice or grain bowls, or used as a topping over yogurt and breakfast dishes. Sunburst cherries can also be blended into smoothies, juiced for cocktails and lemonades, or mixed and frozen into ice cream, popsicles, and granitas. In addition to fresh preparations, Sunburst cherries can be incorporated into baked goods such as crisps, cakes, cobblers, tarts, pies, and fritters, or they can be cooked into sweet fillings for other desserts. Beyond sweet dishes, Sunburst cherries can also be simmered into sauces for roasted meats, cooked into chutney, or used to flavor various jams, glazes, jellies, and preserves. Sunburst cherries pair well with caramel, dark chocolate, vanilla, fruits such as citrus, peaches, apricots, and berries, nuts including almonds, walnuts, and hazelnuts, and spices such as cardamom, allspice, ginger, and cinnamon. Whole, unwashed Sunburst cherries are perishable and should be immediately consumed for the best quality and flavor. The cherries can be stored in the coldest part of the refrigerator for a few days or frozen for six months. Sunburst cherries can also be canned in syrup, juice, or water for extended use.


Ethnic/Cultural Info

Cherry trees, especially sweet varieties, are a favorite meal for various bird species in England. Species including starlings, cuckoos, song thrush, and blackbirds feast on the dark red, sweet fruits and can decimate cherry orchards in only a few hours. Cherry growers have struggled with hungry pests for decades, and over the years, there have been several successful remedies to the feathered problem. Historically, farmers would hire young boys to wait in the orchards. When birds arrived, the boys sprinted down the orchard rows, spinning a noisemaker in the air to produce a piercing sound to scare the birds. The young boys would earn money for every hour they would stay in the field, benefiting both the farmer and the young entrepreneurs. Eventually, English growers shifted towards a solution that could be implemented 24 hours a day and began experimenting with netting, spraying repellants, kites, to reflective ribbons. These solutions were effective for a while, but some bird species can grow familiar with the scare tactic, becoming unbothered. In the modern day, one practical and memorable method of keeping birds out of English orchards is to use a cannon or specifically designed pyrotechnics to bang and produce screaming noises. Cherry cannons are similar in appearance to a cannon once used in battle, but the engineered machine only releases loud booms rather than deadly cannonballs, sending shockwaves through the orchards to frighten the birds and occasional cherry-picking visitors.


Geography/History

Sunburst cherries were developed at the Summerland Research Center in British Columbia, Canada. The variety was bred from a cross between Stella and Van cherries and was a sister seedling to Lapins cherries, another self-fertile variety produced from the same parental cross. Sunburst cherries were created in 1965 and were selected as a commercial cultivar in 1971. The variety was favored for its large size, productiveness, and self-fertile nature and is primarily grown as a specialty cultivar in the United Kingdom and Australia. Today Sunburst cherries are found in home gardens, select commercial orchards, and preservation orchards. The Sunburst cherries featured in the photograph above were sourced from the National Cherry Collection at Brogdale Farm in Faversham, Kent, England.