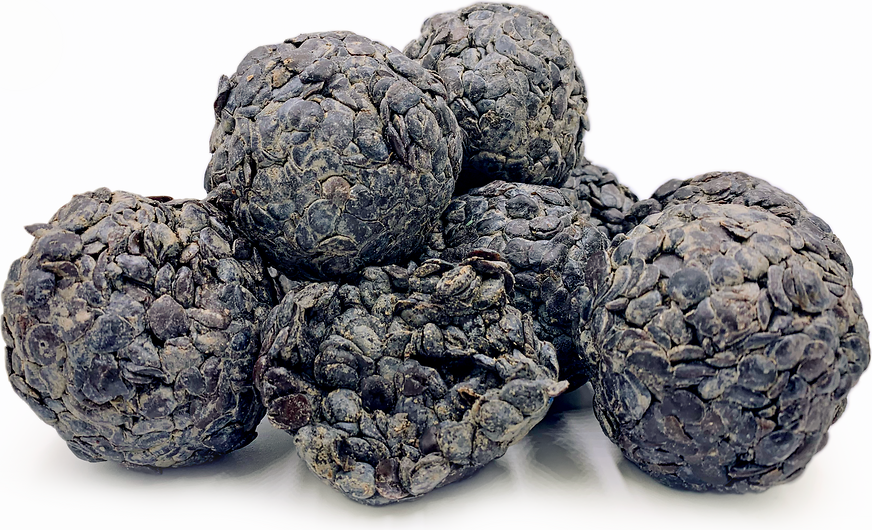 Dawadawa
Inventory, lb : 0
Description/Taste
Dawadawa is small to medium in size, about the size of a golf ball, and can be molded into varying shapes including flat patties or spheres. The lumpy, black paste-like spheres are made out of fermented locust beans and have a slightly sticky texture. Before the fermenting process, locust beans are harvested from inedible, dark brown pods averaging 30-40 centimeters in length, and these pods hold an edible, soft and sweet, yellow pulp. Within the pulp, there can be up to thirty seeds, and these seeds are processed to create the black flavoring. Once fermented, Dawadawa has a very pungent smell likened to stinky cheese and offers a musky, umami flavor with hints of cocoa.
Seasons/Availability
Dawadawa is available year-round.
Current Facts
Dawadawa is a flavoring made from the seeds of Parkia biglobosa, also known as the African locust bean tree, and this deciduous, wide spreading plant can reach up to twenty meters in height and is a member of the Fabaceae family. In Western Africa, the bark, leaves, pods, and seeds of the tree are all utilized for culinary and medicinal uses, with the seeds being one of the most important due to their nutritional content. To make Dawadawa, the seeds are removed from the pulp and are boiled, covered in ash and pounded, dried in the sun, and then sent through another cleansing process by hand where they are cooked again to produce a sticky fermented mixture. Dawadawa is widely used across Western Africa and is favored for its pungent, umami flavor, and for its ability to add depth to soups, stews, and rice dishes.
Nutritional Value
African locust bean tree seeds are a good source of calcium, fats, and protein, and also contain some vitamin C, phosphorus, and potassium.
Applications
Dawadawa is used as a seasoning to enhance the flavor of cooked dishes. The black cakes or spheres can easily be separated into pieces and tossed into soups or stews for added flavor. They can also be used to flavor rice dishes, noodle dishes, curries, or casseroles. In Western Africa, Dawadawa is traditionally used to flavor okra soup, palm nut soup, bitter-leaf soup, melon soup, and alefu soup. It is also used in fakoye, which is a braised chicken dish and jollof, which is a rice dish cooked with minced beef, tomatoes, bell pepper, garlic, and ginger. In addition to finding Dawadawa in patties and spheres, it can also be found in dried form and sprinkled onto dishes for umami flavor. Dawadawa pairs well with meats such as lamb, beef, and poultry, fried rice, cinnamon, rosemary, nutmeg, cloves, tomatoes, garlic, onions, and ginger. The spheres will keep for several months when stored in a cool and dry place.
Ethnic/Cultural Info
While not commonly found outside of Africa, Dawadawa is an integral part of local and regional trade within Africa as it is predominately prepared by women to provide a source of income for their families. Dawadawa is mostly used in northern Ghana, but as merchants traveled south and to the east to sell the flavoring, more families in other regions also began to produce the spheres, spreading the Dawadawa's popularity. The flavor is so valued that when transporting it to market, a red chile pepper and local herb known as nuha nua are placed on top of the Dawadawa to protect it from spirits. It is believed that spirits dislike spicy peppers, so the Dawadawa will remain undisturbed and fit for selling. Kashisago mo and ko yenkaa are other local herbs that are used for protection. In addition to Dawadawa, the entire African locust bean tree is valued in Ghana for its many medicinal uses. The bark of the tree is boiled and is believed to help heal wounds, reduce toothaches and earaches, and act as a mouthwash.
Geography/History
The African locust bean tree is native to Africa and can be found on the Atlantic coast of Senegal, through Ghana, Cote D'Ivoire, Benin, Nigeria, to select regions in Southern Sudan and Northern Uganda. The fermenting of the seeds to make Dawadawa has been traced back to the 14th century, and today Dawadawa is still prepared by individual families, found at local markets in sub-Saharan Africa.
Recipe Ideas
Recipes that include Dawadawa. One

is easiest, three is harder.