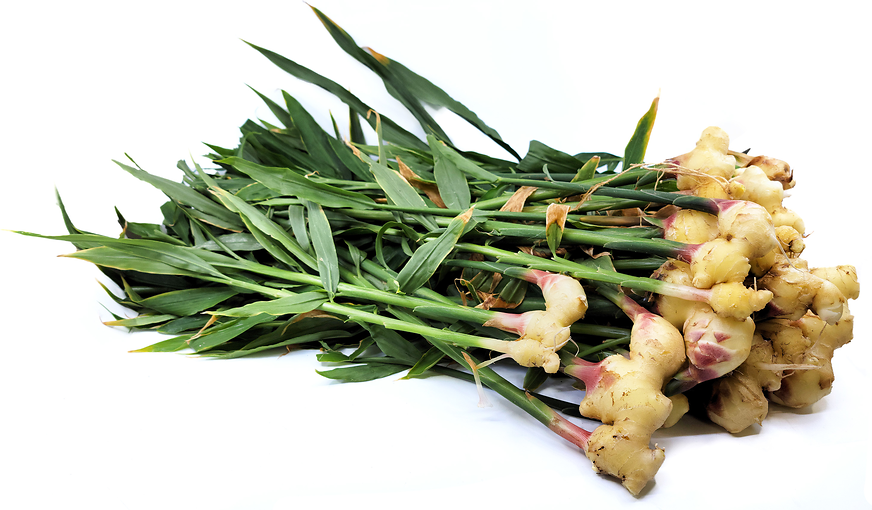 Young Ginger with Leaves
Inventory, lb : 0
Description/Taste

Young Ginger is comprised of a multi-branched rhizome attached to elongated stalks with narrow leaves. The rhizome varies in size, bearing several knobbed and bulbous sections, and grows in unique shapes, depending on soil and cultivation conditions. Young Ginger is unique from mature ginger as the rhizomes have yet to develop tough brown skin. The rhizome's skin is thin, smooth, and cream-colored, showcasing a few pink to purple scales that can be easily hand-peeled or gently scrubbed from the surface. There is also a darker pink hue around the base of the stalks. Underneath the delicate skin, the white to ivory flesh is crisp, aqueous, and tender with a chewy and slightly toothsome consistency. Young Ginger has a subtly sweet, aromatic, and peppery flavor that is milder than mature ginger and contains slightly nutty, floral, and fresh nuances. Attached to the rhizomes, the dark green stalks are dense, fibrous, and woody. The stalks are not consumed and are primarily utilized as a flavor enhancer in broths and teas. The leaves are dark green, ribbed, and have a long, slender appearance, tapering to a pointed tip. Ginger leaves are edible but contain a chewy texture, sometimes unpleasant in large pieces. The leaves are commonly sliced into very small pieces and have a mild, grassy, and vegetal peppery flavor similar to the fresh rhizome.


Seasons/Availability

Young Ginger with Leaves is available in the late summer through early winter.


Current Facts

Young Ginger with Leaves, botanically classified as Zingiber officinale, are early-harvested rhizomes with stalks belonging to the Zingiberaceae family. The rhizomes are gathered approximately six months after planting and are a seasonal delicacy favored by chefs for their multi-purpose culinary use. Young Ginger rhizomes, stalks, and leaves can be incorporated into sweet and savory preparations and provide a milder ginger flavor compared to mature, woody rhizomes commonly found in commercial markets. Young Ginger with Leaves is cultivated worldwide and is also known as Baby Ginger, Fresh Ginger, Young Ginger with Tops, and Ginger with Leaves. The tender ginger and stalks are primarily sold through local markets, as the delicate rhizomes cannot be shipped long distances. Among culinary professionals, the young plants are considered the freshest and purest ginger available.


Nutritional Value

Young Ginger rhizomes are a source of vitamin C to strengthen the immune system, fiber to regulate the digestive tract, potassium to balance fluid levels within the body, and iron to develop the protein hemoglobin for oxygen transport. The rhizomes also contain calcium to protect bones and teeth and provide antioxidants that guard the cells against free radical damage while reducing inflammation throughout the body. The leaves and stalks are traditionally steeped into medicinal teas to relieve nausea, indigestion, motion sickness, colds, and flu symptoms.


Applications

Young Ginger with Leaves is a versatile culinary ingredient as the rhizomes, stalks, and leaves are used for different purposes. The rhizomes will have the strongest flavor of the three and should be gently washed or scraped before use to clean dirt, impurities, and remove the pink-purple scales. Once prepped, the rhizomes can be sliced and used similarly to mature ginger, imparting a less pungent and delicate flavoring. The rhizomes can be blended into smoothies and juices, stir-fries, fried into tempura, tossed into soups and curries, or lightly cooked into rice and noodle dishes. They are also used to flavor syrups for cocktails and other drinks such as ginger ale, infused into salad dressings or candied as a sweet treat. Beyond the rhizome, the stalks are used as a flavor enhancer, commonly chopped into small pieces and simmered in soups, curries, and teas or used to flavor rice, quinoa, pasta, and other grains. The stalks can also be incorporated into beverages as a natural stir stick. Ginger leaves can be sliced into small pieces and utilized as an edible garnish, complementing savory meat dishes. The leaves can also be finely chopped and stirred into mixed green salads, couscous, and tabbouleh or added at the end of cooking soups, stews, and stir-fries. In addition to using the leaves as a garnish, they can be dried as a crisp topping or stepped into teas. Young Ginger with Leaves pairs well with meats such as poultry, beef, pork, and fish, corn, bell peppers, broccoli, Brussels sprouts, squash, kale, arugula, plums, and cranberries. The fresh rhizome can be separated from the stalks and stored in a sealed container in the refrigerator's crisper drawer for 1 to 2 weeks. It can also be frozen for 6 to 12 months. Once exposed to cold storage, it is important to keep the ginger chilled to prevent the rhizome from becoming mushy or limp. If the rhizome softens, it can be blended and stored as a puree in the refrigerator for up to three weeks. The stalks and leaves can also be kept in a sealed container in the fridge and used immediately for the best quality and flavor.


Ethnic/Cultural Info

In Japan, Young Ginger with Leaves is known as Ha-Shouga and is primarily cultivated in the Yanaka district. Ha-Shouga is a specialty item of the district, having been produced since the Edo period, and has become so interconnected with the district it is sometimes known as Yanaka-Shouga. Yanaka is considered to be one of the most traditional districts of Tokyo, and the young rhizomes are sold through local markets, popularly used as a fresh, delicate ingredient in everyday culinary preparations. Young Ginger is customarily sliced and fried into tempura as the tender rhizome develops a crisp texture and fresh flavor when served with the savory coating. The rhizomes are also pickled by soaking in a rice vinegar and sugar mixture, transforming the ivory ginger slices into a light pink hue. In Japanese, pickled ginger is known as gari and is used as a palate cleanser, often served with sushi, grilled main dishes, and vegetables. Gari is also consumed in between eating pieces of sashimi and nigiri to allow the consumer to taste the different flavors of the fish.


Geography/History

Ginger is native to Southeast Asia and has been cultivated since ancient times. The rhizomes were extensively grown in Southern China, first recorded in 2000 BCE, and were later mentioned by Faxian, a Chinese monk, in 406 CE. Faxian described that ginger plants were being grown in pots on Chinese ships to prevent scurvy. Over time, ginger was introduced to Western Asia, Africa, and later Europe around the 1st century through trade routes. In the Middle Ages, ginger became popular in the Mediterranean, and Spanish and Portuguese explorers introduced the rhizome to the New World in the 15th century. Young Ginger with Leaves has been cultivated as long as the mature rhizomes have been grown, and the fresh plants are a seasonal delicacy, highly valued throughout Asia and select markets in the United States. Young Ginger with Leaves is cultivated worldwide and can be found through fresh markets, farmer's markets, and specialty distributors.