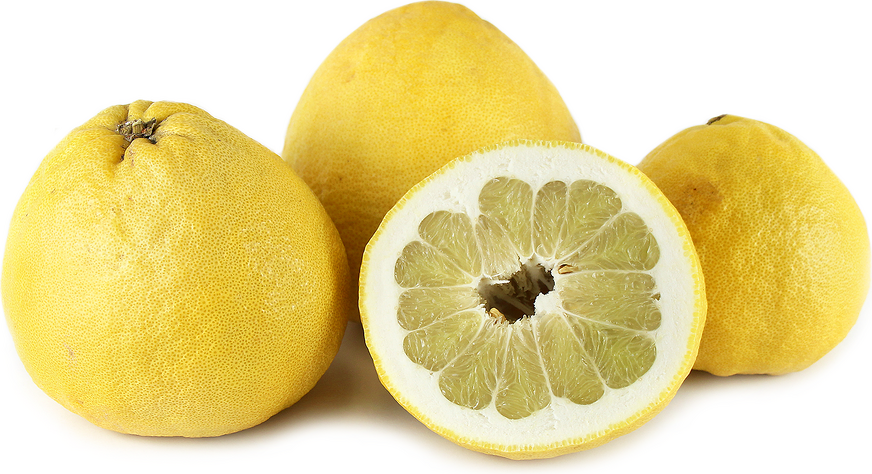 Reinking Pomelos
Inventory, lb : 0
Description/Taste
Reinkings are medium to large in size and somewhat pear shaped or bell shaped, with a flat bottom. The rind is yellow and rough rather than smooth. The flesh is light yellow in color and juicy, but is also described as ricey, a reference to the texture. Like many pomelos, Reinkings tend to be very seedy and the taste is sweet and pleasant with a mild tartness.
Seasons/Availability
The Reinking pomelo is available mid-winter through early spring.
Current Facts
The Reinking pomelo, or Citrus maxima 'Reinking," is a variety of pomelo, one of a number of a large, sweet citrus fruit that has been used in the parentage of other citrus such as grapefruit and tangelos. Less common names include pummelo, shaddock, and Chinese grapefruit. The Reinking pomelo's exact parentage is unknown, but it was once thought to be a hybrid of Kao Phuang pomelo and Shamouti sweet orange. Recent tests have determined that the variety probably resulted from a cross of Kao Phuang with unidentified pomelo pollen rather than a sweet orange.
Nutritional Value
Pomelos are extremely high in Vitamin C, and Reinkings are no exception. They also contain potassium, magnesium, Vitamin B6, and dietary fiber. Their dietary properties make them helpful in preventing colds and in digestion.
Applications
Pomelos are most commonly eaten fresh or made into juice. To eat a fresh pomelo, score and remove the rind, peel off the pith, and cut or divide into sections. Alternatively, cut it in half and scoop out with a spoon. Pomelos also have a surprising number of culinary applications. They are juiced, made into jam, cut up into tropical salads, and added to chicken or fish dishes. Pomelos should be added to dishes near the end of the cooking period, since they can taste bitter when heated. While the rind is thick and very bitter when raw, it doesn't have to go to waste. It can be made into marmalade or candied, or even used to flavor soups. Choose Reinking pomelos that feel heavy, which will have the most juice. Pomelos store well because of their thick flesh; place either in a cool, dry location or in the refrigerator.
Ethnic/Cultural Info
Pomelos are popular in Asian countries such as China, Vietnam, Thailand, and Indonesia, but are growing in popularity in the United States. In many Asian countries, pomelos are a sign of good luck at the Lunar New Year, and are part of some traditional medical practices.
Geography/History
Pomelos are native to southeast Asia and grown wild in countries such as Malaysia and Fiji. They were introduced to China around 100 B.C.E., and then were brought to the Caribbean by an English explorer in the seventeenth century. They did not take well to most parts of the Western Hemisphere, but have been used in the parentage of grapefruit. Commercially, they are grown in Asia, Israel, California, and Florida. Reinkings specifically are thought to have been developed in the 1940s, and budwood was first brought to the U.S. Date and Citrus Station in 1965.
Podcast