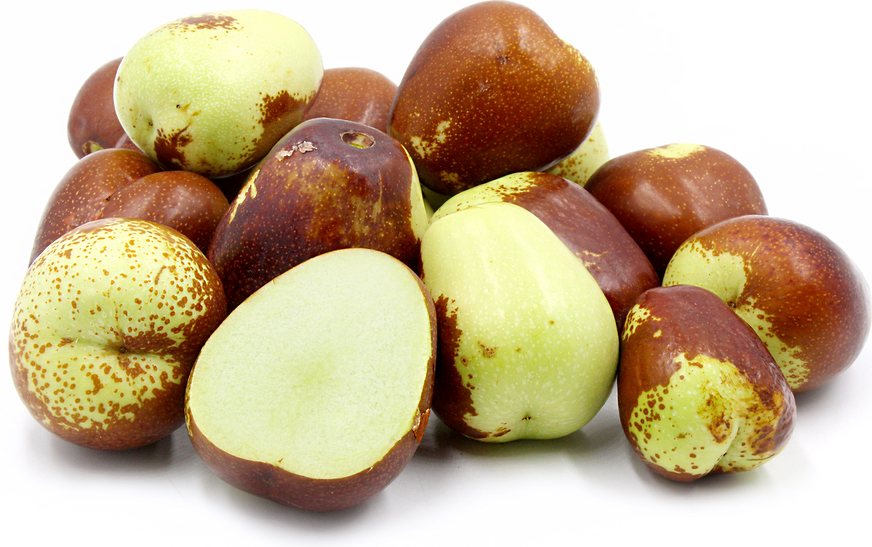 Lang Jujube
Inventory, lb : 0
Description/Taste
Lang jujubes are a larger jujube variety, averaging 3 to 5 centimeters in diameter, and have a pyriform shape with a bulbous base, tapering slightly towards the stem end. The skin is firm, smooth, and semi-thick, transitioning from green when immature to yellow-green, red-brown, to mahogany when ripe. Underneath the surface, the flesh is crisp, coarse, spongy, and slightly dry. There is also a small pit found in the center of the pale green to white flesh. Lang jujubes are considered edible in their yellow-green phase and have a sweet flavor reminiscent of green apples. As the fruits are left on the tree, the skin will begin to wrinkle, and the flesh becomes chewy, developing a date-like consistency. When dried, Lang jujubes have a high sugar content, contributing to the fruit's sweet flavor, and have a subtly earthy, caramel-like taste.
Seasons/Availability
Lang jujubes are available in the early fall through winter.
Current Facts
Lang jujubes, botanically classified as Ziziphus jujuba, are large, sweet fruits belonging to the Rhamnaceae family. The ancient variety is native to China, where the tree is favored as an ornamental cultivar, prized for its contorted branches and high fruit yields. Lang jujubes are also the most popular jujube variety for drying, developing a wrinkled appearance and consistency similar to a date. The variety is often referred to as the Chinese date and is incorporated in its dried state into a wide variety of culinary applications. Outside of China, Lang jujubes were one of the original jujube varieties introduced into the United States for commercial cultivation. Despite the cultivar's initial backing by the USDA, Lang jujubes had a rough introduction into American agriculture due to the lack of understanding around the variety. Many growers were unaware that the variety was explicitly developed in Asia for drying and attempted to grow the fruits for fresh eating, resulting in large crops of jujubes with dry, mealy flesh. Eventually, more information about jujube varieties was disseminated throughout the United States, and new cultivars were introduced from China specifically for fresh eating, helping growers distinguish between drying and fresh eating cultivars. Lang jujubes were also selectively bred over time to exhibit better fresh eating characteristics, transforming the variety into one of the top commercial cultivars in the United States in the modern-day.
Nutritional Value
Lang jujubes are an excellent source of vitamin C, an antioxidant that strengthens the immune system, and are a good source of fiber to regulate the digestive tract. The fruits also contain minerals, including potassium, to regulate fluid levels, zinc to fight off viruses, and phosphorus to help grow bones. In traditional Chinese medicine, Lang jujubes are used as a healing ingredient, primarily in teas and tonics, to soothe sore throats and reduce symptoms associated with stress. They are also believed to improve qi, or energy, in the body and cleanse the blood.
Applications
Lang jujubes are best suited for cooked applications as their large size, and chewy, date-like consistency are showcased as a sweetener. The variety can be eaten raw, but the flesh has a drier character, sometimes giving fresh fruits a mealy, spongy texture. Lang jujubes are considered the best variety for drying. The wrinkled fruits can be consumed as a sweet snack, sliced and tossed into salads, cut and layered over peanut butter toast, or used as a topping over granola, porridge, and oatmeal. Dried Lang jujubes can also be made into a paste for fillings in cakes, muffins, and cookies, mixed into stews, soups, and sauces, or cooked into honey, jams, butter, and syrups. In China, Lang jujubes are popularly candied as a sweet dessert or steeped in boiling water for tea. Lang jujubes pair well with aromatics such as garlic, ginger, and onion, goji berries, honey, brown sugar, chocolate, nuts such as walnuts, almonds, pistachios, and pecans, mushrooms, and meats such as poultry, beef, and pork. Fresh Lang jujubes can be stored in a sealed container in the refrigerator for 2 to 4 weeks. Dried Lang jujubes will keep 6 to 12 months when stored in a cool place away from direct sunlight.
Ethnic/Cultural Info
Lang jujubes are a symbolic food consumed at traditional weddings in China. The dried, red fruits represent prosperity and good fortune and are often served as snacks or desserts to guests during the wedding reception. Jujubes are also incorporated into a soup and given to the bride and groom to ensure the marriage is successful and happy. In addition to its symbolism, dried Lang jujubes are also red in color, which is a lucky hue within Chinese culture. To highlight this color during the wedding, dried Lang jujubes are paired with other auspicious foods such as longan, lotus seeds, and peanuts and are used to decorate the newlywed's bed as a fertility blessing.
Geography/History
Jujubes are native to China, where they have been growing for over 4,000 years. The small fruits were later transported along the silk road and introduced into the rest of Asia, the Middle East, and Europe sometime around 380 CE. Jujubes have been extensively cultivated in China, selected for improved growth characteristics and flavor, and it is believed that there are over 400 varieties of jujubes in existence. In 1908, agricultural explorer Frank Meyers, in partnership with the USDA, visited China and gathered 67 samples of jujube varieties, including Lang jujubes. All 67 varieties were first planted at the Plant Introduction Station in Chico, California, and were eventually distributed among other USDA stations, including Florida, New Mexico, Oklahoma, Texas, and Georgia. In 1926, after trialing the cultivars, the USDA recommended four varieties, including Lang jujubes, for cultivation in the United States. In the present day, Lang jujubes are one of the top commercially grown varieties within the United States. The variety can also be found in Asia, mainly in China, Europe, the Middle East, and Australia.
Recipe Ideas
Recipes that include Lang Jujube. One

is easiest, three is harder.