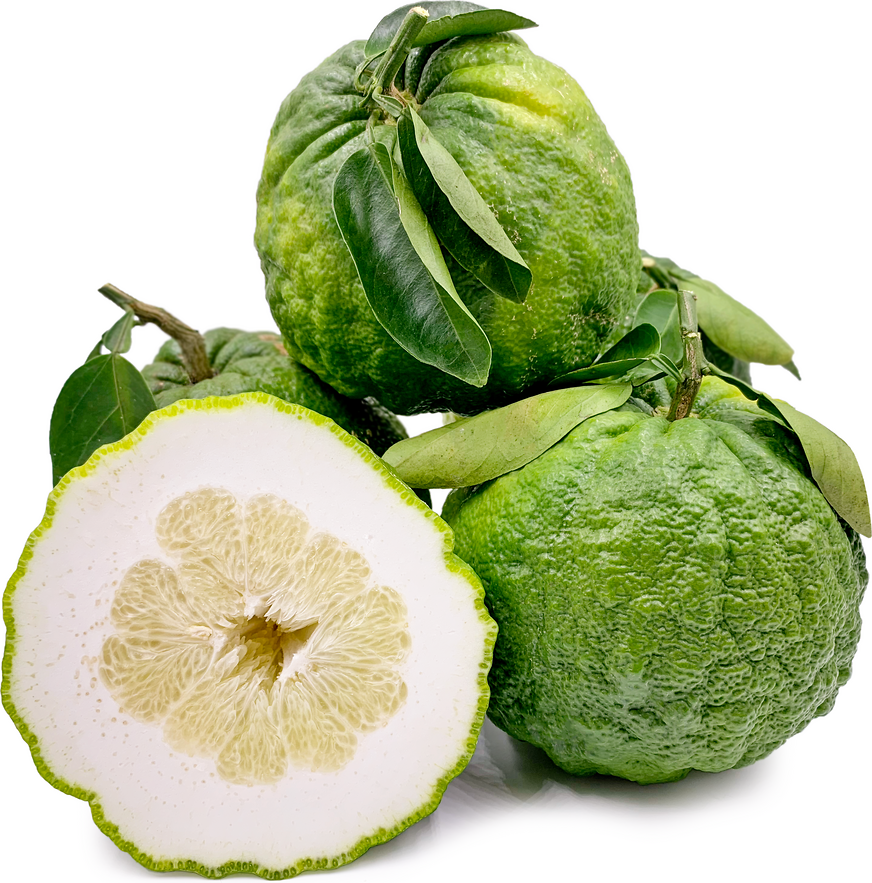 Shi Shi Yuzu Citrus
Inventory, lb : 0
Description/Taste
Shi Shi Yuzu is a medium to large citrus with the ability to grow up to 20 centimeters in diameter, sometimes rivaling the size of small melons. The fruit bears a rugged round, oval, to ovate shape, and the rind's surface is firm, semi-glossy, and heavily textured, covered in large oil glands, bumps, and knobs. The rind also displays variegated hues of yellow to dark green when young, transitioning into a bright yellow shade when ripe. Underneath the rind, there is a thick layer of dry, cotton-like pith that resembles the same type of pith found in pomelos. The flesh has a pulpy texture, comprised of many tiny juice sacs, and is dry to the touch. There are very few to no seeds embedded within the flesh, and generally, the flesh showcases a pale-yellow to ivory coloring. Shi Shi Yuzu does not have a robust fragrance, but it does emit a faint, citrus-like scent. Fresh Shi Shi Yuzu is acidic and sour with subtly sweet and fruity nuances, often considered unpleasant to consume raw. The fruits are generally combined with added sweeteners to enhance their flavor to create a more palatable taste.
Seasons/Availability
Shi Yuzu is available in the mid-fall through the winter.
Current Facts
Shi Shi Yuzu, botanically a part of the Citrus genus, is a rare hybrid variety belonging to the Rutaceae family. The large, bumpy fruits are believed to be the product of a citron fruit crossed with either a papeda or buntan fruit, and despite their "yuzu" moniker, Shi Shi Yuzu is not a true yuzu and are more closely related to the pomelo. The name "Shi Shi" roughly translates from Chinese to mean "lion," as the fruit resembles the mane and face of the large cat. Shi Shi Yuzu is also known as Oni Yuzu, Sisi Yuzu, Lion Yuzu, and Devil Yuzu. The variety is uncommon, rarely seen in commercial markets, and is mainly grown as ornamental citrus in home gardens and specialty orchards. Shi Shi Yuzu is favored by citrus enthusiasts for its large, gnarled appearance and is primarily incorporated into boiled preparations with sugar to create sweet confectionery fillings, syrups, jams, and candies.
Nutritional Value
Shi Shi Yuzu, though not commonly consumed, is a source of vitamin C to strengthen the immune system, potassium to balance fluid levels within the body, calcium and phosphorus to protect overall bone health, and iron to build the protein hemoglobin for oxygen transport through the bloodstream. The fruits also contain some magnesium to support healthy nerve functioning and folate to produce red blood cells.
Applications
Shi Shi Yuzu is rarely consumed raw as it contains a dry, sour, and acidic flavor. The citrus is most popularly cut into strips, combined with sugar, and cooked to create several different sweet creations. Shi Shi Yuzu can be simmered into jams and marmalades, cooked into syrups, or infused into dressings, vinaigrettes, and ponzu sauce. The citrus can also be infused into liquors and sparkling beverages, boiled in sugar and dried into a chewy candy, zested over roasted seafood, or used to flavor desserts and baked goods, including sweet bread. Beyond culinary preparations, Shi Shi Yuzu is sometimes used as unique bowls, hollowed, and filled with fruit salads, jellies, soups, or salads. During the Japanese New Year, the citrus bowls are sometimes used to served kohaku namasu, a shredded, pickled dish of daikon and carrots. Shi Shi Yuzu pairs well with ginger, green tea, seafood including shrimp, crab, scallops, and white fish, and herbs such as mint, basil, sage, and parsley. Whole, unwashed Papeda citrus will keep 1 to 2 weeks when stored lightly wrapped in the refrigerator's crisper drawer. The citrus can also be stored at room temperature for 1 to 2 days to enhance the fruit's natural flavoring.
Ethnic/Cultural Info
In Japan, Shi Shi Yuzu is placed outside of businesses and residential homes as a part of holiday decorations for the New Year. The large fruits are often referred to as "Oni," meaning "devil," and "Shi Shi," meaning "lion." Both lions and the devil represent mythical guardians that act as protectors against evil spirits. Placing Shi Shi, or Lion Yuzu, at the front of a house is believed to drive out evil spirits and prepare the home for receiving many blessings in the new year to come. The citrus is also used as a talisman inside of shops to protect the business. In addition to decorations, Shi Shi Yuzu is used as ornamental decorations in bathhouses, sliced and floated in the water. It is believed that bathing in yuzu during the winter solstice helps prevent sicknesses such as colds and flu. While Shi Shi Yuzu is not utilized for its fragrance, it is mixed with other aromatic yuzu varieties and is incorporated into the baths for its large, novel size.
Geography/History
Shi Shi Yuzu is native to China and was brought to Japan sometime during the Nara period, which lasted from 710 to 794 CE. Little history has been recorded on this rare citrus, but the fruits are mostly found in the Fukushima and western Kanto regions in Japan. Today Shi Shi Yuzu is challenging to find and is only commercially cultivated in limited quantities as an ornamental variety. The fruits are also grown in some home gardens throughout Japan. When in season, Shi Shi Yuzu can be found in fresh markets within Kanto and Fukushima and are sometimes sold in Tokyo. Outside of Japan, there are only a few growers in Europe who cultivate Shi Shi Yuzu, with one grower famous for producing exotic citrus in an orchard near Lake Geneva in Switzerland.
Recipe Ideas
Recipes that include Shi Shi Yuzu Citrus. One

is easiest, three is harder.