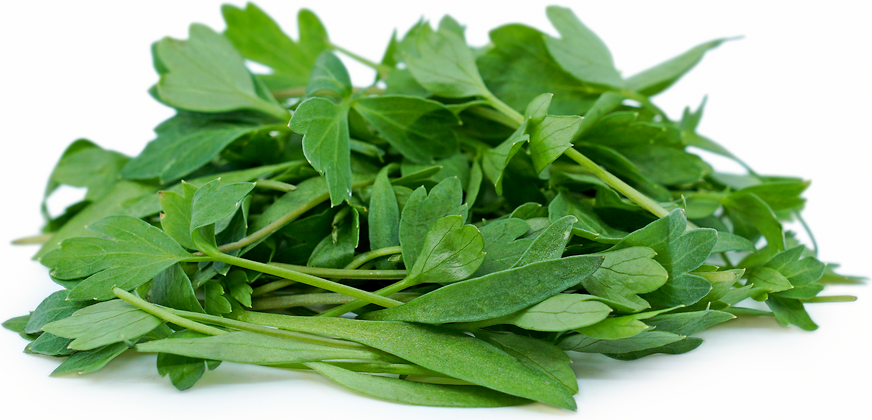 Micro Lovage
Inventory, 4 oz : 0
This item was last sold on : 01/27/23
Description/Taste

Micro Lovage is comprised of 1 to 2 small leaves attached to a slender stem, averaging 5 to 7 centimeters in length, and the leaves bear a flat, slightly lobed, and feathered appearance with pointed ends. The bright green leaves are smooth, sometimes exhibiting a glossy sheen, and showcase faint surface veining. The leaves are also attached to pale green stems, contributing to the microgreen's crisp, succulent, and tender consistency. Micro Lovage emits a subtle vegetal aroma and contains a fresh herbaceous flavor with celery, anise, and parsley nuances.


Seasons/Availability

Micro Lovage is available year-round.


Current Facts

Micro Lovage consists of young, edible seedlings that are a part of a line of specialty microgreens grown by Fresh Origins Farm in San Diego, California. The small, crisp leaves are a modern twist on mature lovage leaves and were selected by Fresh Origins for their bold, celery-like flavor. Lovage is botanically a part of Levisticum officinale, and the herb's robust minerality has sometimes earned it the nickname of "sea-parsley" or "false celery." Micro Lovage was created for chefs to reimagine the way lovage is traditionally used to delight and surprise consumers. Micro Lovage is generally harvested 1 to 2 weeks after sowing to ensure optimal freshness and flavor. Chefs utilize the leaves as an unexpected, edible garnish for culinary applications and mixology. When used as a culinary enhancement, Micro Lovage can be placed individually on small plates as a procured garnish, or a handful of the microgreens can be quickly sprinkled across larger preparations for increased flavor, visual appeal, and textural depth.


Nutritional Value

Micro Lovage is a source of vitamin C to strengthen the immune system, protect against free radical damage, and reduce inflammation. The microgreens also contain potassium to balance fluid levels within the body, magnesium to regulate optimal nerve functioning, B complex vitamins, and provide lower levels of quercetin, a flavonoid with anti-inflammatory properties. It is important to note that the vitamins and minerals are found primarily within the leaves and not in the stems of the microgreens. Growing conditions also significantly impact the nutritional content, and Fresh Origins cultivates their microgreens in a natural setting, an ideal climate for healthy, optimal greens.


Applications

Micro Lovage is best used fresh as an edible garnish to showcase the green's bold, herbal flavor, and the greens especially complement ingredients found in Mediterranean cuisine. The microgreens provide increased textural and visual appeal and are traditionally added at the end of cooking as a finishing element to prevent the leaves from wilting. Micro Lovage can be tossed into salads, layered into sandwiches and wraps, pressed into juices, chopped and folded into soft cheeses, dips, and spreads, or floated over soups and stews. The microgreens can also be stirred into casseroles, stuffing, and tomato-based sauces, blended into pesto or used as a fresh pizza topping. In addition to culinary use, Micro Lovage can be incorporated into cocktails, teas, and sparkling beverages. Micro Lovage pairs well with cucumber, asparagus, leeks, lentils, potatoes, herbs such as thyme, fenugreek, tarragon, basil, and oregano, citrus, poultry, and fish. The microgreens will generally keep 5 to 7 days when stored in the refrigerator in a sealed container.


Ethnic/Cultural Info

In Europe, Lovage was commonly planted in home and public gardens, known for its herbal aroma. The scent of the leaves had a reputation of wafting long distances, eventually encouraging Europeans to use it as an air freshener. Lovage leaves were placed around houses and were often worn around necks to mask odors. Europeans would also bath in the leaves, believing that the herb's scent would attract new love. In addition to the leaves, lovage was also favored for its edible seeds. Queen Victoria would carry candied lovage seeds in her pockets and savored the seeds as a snack. Legend has it that Queen Victoria purposely requested pockets sewn into her dresses to carry the seeds with her.


Geography/History

Lovage is native to Southern Europe, where it has been growing wild since ancient times. The mature herb was used medicinally by the Ancient Greeks and was even combined into medieval love potions. Over time, lovage spread throughout Europe and was eventually brought to the New World through British colonists, where it was planted in home gardens for culinary and medicinal use. The Micro Lovage featured in the photograph above was developed at Fresh Origins Farm in San Diego, California, the leading American producer of naturally grown microgreens since the mid-1990s. Fresh Origins has been using the mild, Southern California climate year-round to produce robust, healthy, and flavorful microgreens for over twenty years, and the farm closely partners with chefs to create innovative varieties with unique flavorings. Fresh Origins also has the highest level third-party-audited food safety program and is a certified member of the California Leafy Greens Marketing Agreement, which follows science-based food safety practices to promote transparency and honesty in production. Today Micro Lovage can be found through select distribution partners of Fresh Origins across the United States, including Specialty Produce, and are also found through partners in Canada.