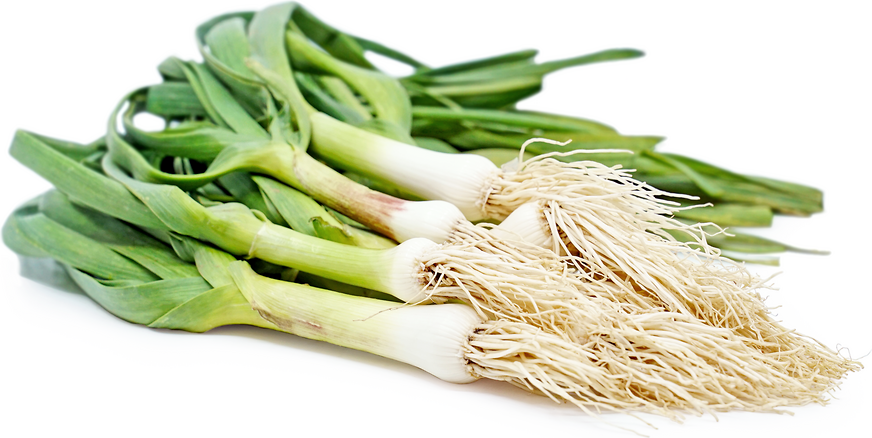 Green Garlic
Inventory, bunch : 0
Description/Taste
Green garlic widely varies in appearance depending on the time of harvest, averaging 25 to 38 centimeters in height, but the young plants generally consist of slender and straight, green stalks with multiple leaves and a developing bulb. The stalks are pale green, crisp, firm, and succulent, sometimes featuring a small white to pink, developing bulb at the root base. Underneath the bulb, thin, pale, and elongated roots extend from the base, and layers of flat, dark green leaves also surround the upper portion of the stalk. It is important to note that Green garlic is pulled at various stages of growth, and some plants will be cylindrical without a developing bulb, while others will contain a solid, fresh, round bulb. Green garlic has a prominent savory aroma and a sharp flavor similar to dried garlic, but the greens are milder in taste with fresh green notes.
Seasons/Availability
Green garlic is available in the late winter through the early summer.
Current Facts
Green garlic, botanically classified as Allium sativum, are young garlic plants that have been harvested before reaching maturity, belonging to the Amaryllidaceae family. Since ancient times, thinning garlic has been used by farmers to create space within fields to allow the remaining plants to grow larger. Traditionally, the early-harvested garlic plants, also known as Green, Spring, New, and Young garlic, were consumed by farmers to reduce waste, but some growers also sold the milder greens through farmer's markets as a seasonal crop. Green garlic has been used for centuries in Europe and Asia, especially in India, but the fresh, undried plants became a favored late winter and early springtime ingredient in the United States in the 20th century. With the crop's increased demand at American farmer's markets, some farmers began to grow garlic for the sole purpose of harvesting the plants at an early stage. In the modern-day, Green garlic is valued for its subtle garlic flavor mixed with fresh, vegetal undertones, and the entire plant can be utilized in culinary applications, including the leaves, stalks, and developing bulbs.
Nutritional Value
Green garlic contains many of the same vitamins and minerals found in mature garlic bulbs, including vitamin C, an antioxidant that strengthens the immune system, boosts collagen production, and reduces inflammation. The young plants also contain manganese to maintain a healthy metabolism, vitamin B6 to help convert food into energy within the body, and lower amounts of iron, phosphorus, and calcium.
Applications
Green garlic has a fresh, mild garlic flavor that is well-suited for both raw and cooked applications, including braising, sautéing, grilling, and roasting. The entire plant can be consumed, and to prepare, the small roots at the base should be removed along with any wilted leaves. Green garlic can be sliced and used to flavor stocks and soups, tossed into pasta, or infused into steamed rice. The young greens can also be blended into pesto, combined into salad dressings, butter, and sauces, rubbed over roasted meats, or finely chopped and added to salads. Beyond fresh preparations, Green garlic can be mixed into stir-fries, cooked into egg-based dishes, roasted and mashed on toast, or roasted and stirred into curries and humus. Green garlic can also be pickled as a tangy condiment or dried, ground into a powder, and used as a spice. Green garlic pairs well with seafood, meats such as poultry, turkey, and lamb, herbs such as mint, parsley, basil, and sage, lentils, chickpeas, rice, and spring vegetables, including asparagus, fiddlehead ferns, peas, morels, and leeks. Whole Green garlic will keep 5 to 7 days wrapped in a damp paper towel and stored in a plastic bag in the refrigerator. Portions of the plant can also be sliced and frozen in an airtight container for 6 to 8 months.
Ethnic/Cultural Info
In Gujarat, India, Green garlic is used in traditional recipes during Uttarayan, also known as the Kite Festival. The word Uttarayan is a combination of the words "uttar" meaning "north" and "ayan" meaning "journey," a descriptor highlighting the festival's occurrence at the end of the winter season marking the changing of the seasons. During Uttarayan, Gujarat residents spend the day outside flying kites and participating in citywide kite competitions and kite battles. Meals are also shared between families and friends, with the most popular dish, undhiyu, featuring Green garlic as the central flavoring. Undhiyu is a festive and seasonal curry slow-cooked with fresh winter ingredients, including Green garlic, yams, potatoes, bananas, legumes, and peas. There are many variations of undhiyu, depending on the region it is prepared in, but in Gujarati, the word "undhu" roughly translates to mean "upside down," which is in reference to the traditional cooking method of cooking in upside-down clay pots over a fire. Green garlic is one of the most prized ingredients in undhiyu, providing a fresh and savory flavor to the rustic dish, and acts as a warming element to protect the body against colds during the changing seasons.
Geography/History
Garlic is native to Central Asia and has been growing wild for over 5,000 years. In the early ages, the ancient crop spread along trade routes east into China and west into Eastern Europe and Northern Africa. Garlic was also brought to the New World with European settlers in the 17th and 18th centuries, where it was widely planted as a home garden crop. Despite garlic's ancient origins, the history of Green garlic is primarily undocumented. Many experts hypothesize that Green garlic has been used medicinally and in culinary preparations since the beginning of the crop's existence, and there are some written records of the early harvested garlic being used in the middle ages in Europe and India. In the United States, Green garlic was initially a secondary crop, plants pulled early from farms to make room for larger plants, but the milder greens increased in popularity at farmer's markets in the late 20th century and became a sought-after crop. Today Green garlic can be seasonally found at farmer's markets and specialty grocers worldwide. The plants are also frequently grown and harvested in home gardens.
Recipe Ideas
Recipes that include Green Garlic. One

is easiest, three is harder.
the other 37...
| | | |
| --- | --- | --- |
| My Heart Beets | | Green Garlic Alfredo Sauce |
| The Culinary Life | | Green Garlic Pesto Pasta |
| Kitchen Konfidence | | Grilled Tri-Tip with Green Garlic Salsa Verde |
| Salt and Pepper Skillet | | Green Garlic Risotto |
| Sippity Sup | | Pickled Green Garlic for Spring |
| E is for Eat | | Feta, Green Garlic, & Avocado Dip |
| Eat. Live. Travel. Write. | | Ramp, Green Garlic and Walnut Pesto |
| Blue Kitchen | | Pan-Grilled Crostini with Green Garlic and Chevre |
| Paleo Plan | | Green Garlic Soup |
| Bon Appetit | | Fermented Hot Green Garlic |
| Houston Cronicle | | Grilled Scallops with Green Garlic Butter |
| Cooks and Kid | | Yum Yum Shrimp with Green Garlic |
| A Thought for Food | | Spring Garlic Pancakes |
| The Bojon Gourmet | | Potato and Green Garlic Crustless Quiche with Goat Cheese, Gruyere, and Chives |
| Vermillion Roots | | Japanese-Style Green Garlic and Spring Onion Fried Farro |
| The Bojon Gourmet | | Asparagus, Leek and Green Garlic Soup |
| Edible Silicon Valley | | Beet Salad with Green Garlic Skordalia |
| Health Food Desivideshi | | Broccoli, Green Garlic Shoots, and Quark Cheese Dip |
| The Spruce Eats | | Roasted Green Garlic |
| Chez Us | | Spring Rolls with Green Garlic Soy Dipping Sauce |
| Letty's Kitchen | | Polenta Tart with Green Garlic and Spinach |
| Chez Us | | Grilled Cheese with Green Garlic Butter, Tomatoes and Avocado |
| Sun Basket | | Pea, Mint and Green Garlic Risotto |
| The Fruit Guys | | Sauteed Kale with Green Garlic |
| Emmy Cooks | | Broccoli and Green Garlic Soup |
| The Bossy Kitchen | | Roasted Potatoes with Green Garlic and Dill |
| What's Gaby Cooking | | Green Garlic and Leek Spring Risotto |
| Lucky 32 | | Confit Green Garlic |
| Chef In You | | Cheese & Green Garlic Paratha |
| West of the Loop | | Green Garlic and Basil Pesto |
| Love & Olive Oil | | Green Garlic Soup Redux |
| Munchie Musings | | Green and Black Garlic Shrimp Scampi with Zucchini Linguini |
| Tasting Table | | Green Garlic Puree |
| Wild Greens and Sardines | | Lovage and Green Garlic Pesto |
| James Beard Foundation | | Charred Broccoli with Green Garlic, Tomatoes, and Spicy Peanut Dukkah |
| Pinch and Swirl | | Homemade Garlic Salt |
| Teaspoon of Spice | | Green Garlic Asparagus Couscous |