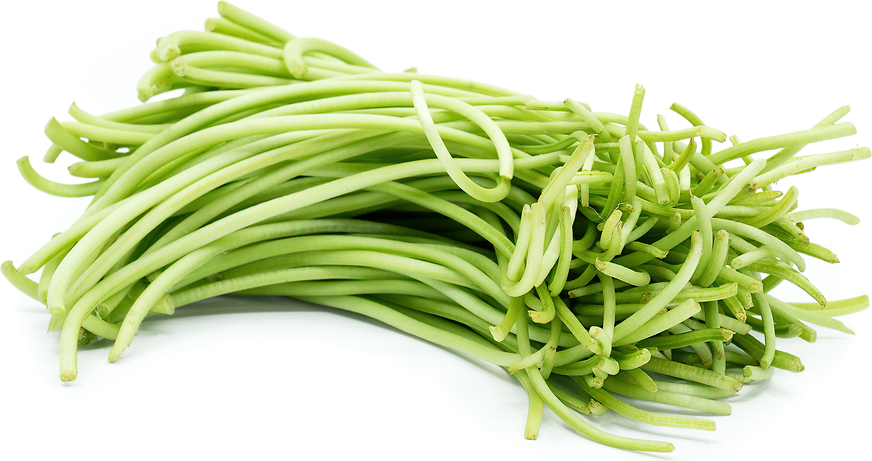 Sweet Potato Stems
Inventory, lb : 0
Description/Taste

Sweet Potato stems are slender stalks, averaging 30 to 35 centimeters in length and 0.5 to 0.75 centimeters in diameter, and have an elongated, thin, fairly straight, and cylindrical nature with curved ends. Each bundle of Sweet Potato stems will vary in size and appearance, depending on variety, harvest, and where the plants were grown. The stems feel lightweight and airy, and the skin will be pale green or dark purple, varying with variety. The skin is also thin, smooth, and taut, with faint ridging extending the length of the stalk, and the surface feels slightly rubbery with a delicate nature, snapping in half easily. The interior of the stalk is fleshy, fibrous, succulent, and moist, with a crisp and crunchy consistency. Sweet Potato stems can be consumed raw or cooked and have a mild, vegetal, green taste with subtle bitter, tangy, and semi-sweet undertones.


Seasons/Availability

Fresh Sweet Potato stems are available in the late summer through fall. The stems can also be dried and sold year-round.


Current Facts

Sweet Potato stems, botanically classified as Ipomoea batatas, are the upright, slender stalks of a perennial plant belonging to the Convolvulaceae family. The species is native to the Americas and has been growing wild since ancient times, but over time, it was planted in East Asia, where it became an integral famine and wartime crop to feed both humans and livestock. Sweet Potato stems are a secondary crop harvested from plants grown for their tubers. Only the fresh, young stems growing above ground are picked for culinary use, and the stems are primarily utilized as a lightly cooked vegetable. Sweet Potato stems are not a widespread commercial crop and are produced on a small scale in Sweet potato cultivation regions, especially in Japan, China, and Korea. In the modern day, Sweet Potato stems are sold in fresh markets and direct through growers, and the stems are utilized in fresh and cooked culinary preparations.


Nutritional Value

Sweet Potato stems are a source of fiber to regulate the digestive tract, vitamin C to strengthen the immune system, and potassium to balance fluid levels within the body. The stems also provide calcium to build strong bones and teeth, manganese to develop connective tissues, vitamin K to assist in faster wound healing, and B vitamins to maintain overall health.


Applications

Sweet Potato stems have a vegetal, green, and subtly bittersweet flavor suited for fresh and cooked preparations. The stems can be washed, sliced, and served raw in salads, dips, and herb-focused condiments or added to sauces. Young Sweet Potato stems will be sweeter and milder and will not need to be peeled. Older, more mature stems may need to be peeled and soaked in water to remove bitterness. Thicker stems may also need to be parboiled to develop a more pleasing texture. When cooked, Sweet Potato stems can be simmered into soups and stews, mixed into stir-fries, boiled and served with tofu, or fried into tempura. In Japan, Sweet Potato stems are popularly sauteed and simmered in kinipira, cooked in soy sauce in tsukudani, or dressed in a sauce as a side dish in aemono. In Korea, Sweet Potato stems are cooked and served as banchan, small side dishes offered during main meals. The stems are also used in kimchi or cooked with spices and meats as a flavorful dish. Sweet Potato stems pair well with aromatics such as garlic, scallions, ginger, and onions, sauces including oyster sauce, sesame, and soy, mushrooms, bell peppers, carrots, radish, shiso leaves, and meats such as pork, poultry, or fish. Fresh Sweet Potato stems should be prepped and immediately used for the best quality and flavor. The stems can also be stored in a sealed container for 2 to 3 days or dried for extended use into thin threads. These threads can be reconstituted for culinary purposes. Sweet Potato stems can also be pickled as a salty, tangy condiment.


Ethnic/Cultural Info

Sweet Potatoes have traditionally been utilized as a famine food throughout Japan, but the species was also one of the primary crops cultivated in World War II. During the war, Japanese residents were required to assist in war efforts, and schools were transformed into national programs where children would plant and harvest various crops. Sweet potatoes were a common species planted in fields around schoolhouses, and the leaves, stems, and tubers were typically harvested from the plants for culinary purposes. Sweet Potato stems were gathered in the late summer and fall, and children would wrap stems into neat, tied bundles for distribution among the public. The stems were also used to feed horses and cattle. World War II led Japan to implement the Food Control Law, greatly restricting rice and salt, and each family was allotted specific food rations each day. In the countryside, Sweet Potato stems were one of the few secondary crops consumed among families instead of typical vegetables and culinary ingredients. After the war, many families avoided eating Sweet Potato stems as they associated the stems with famine and wartime, but over time, Sweet Potato stems have reemerged in local markets as a secondary crop to tuber production.


Geography/History

Sweet potatoes are native to Central and South America and have been growing wild since ancient times. The species was widely used among indigenous populations in the Americas for culinary purposes, and some of the earliest cultivation records can be traced to 750 BCE in Peru. Historians are heavily debating the introduction of Sweet potatoes into Asia, as there are two leading theories. The first theory states that Polynesians may have had contact with populations along the western coast of South America, carrying Sweet potatoes back to the South Pacific. From there, Sweet potatoes were spread into Southeast Asia and China. The second theory states that Christopher Columbus introduced Sweet potatoes into Europe, and the species was brought to Asia through trade routes. Sweet potatoes were introduced to China in 1594 CE. From China, the species was planted in the Ryukyu Islands of Japan in the 1600s and were later brought to the Kagoshima Prefecture on Kyushu Island in the 1700s. During this time, the Kagoshima Prefecture was known as the Satsuma Province, and the name Satsumaimo was given to Sweet potatoes throughout Japan from the species' presence in the Satsuma Province. In 1735, a scholar known as Konyo Aoki obtained seed potatoes from the Satsuma Province and planted the species in Edo at the order of the Tokugawa Yoshimune or the Edo Shogunate. The Edo region was suffering from famine and crop failures due to weather, and Aoki recognized that Sweet potatoes had been used in other regions to feed residents. Aoki planted Sweet potatoes in many test fields, including the Koishikawa Medicinal Garden, and many attribute Aoki's studies and cultivation to the start of widespread Sweet potato production in Japan. Sweet potatoes were also planted in Korea in the 1800s, and the stems became a widely consumed portion of the plant. Today Sweet Potato stems are cultivated wherever the tubers are grown. Sweet Potato stems are mainly consumed in East Asia, specifically China, Korea, and Japan, and the stems are a secondary crop valued among growers for their fiber content, crisp nature, and ability to be sold for added income along with the tubers. In Japan, Sweet Potato stems are harvested from cultivated plants in Kochi, Kumamoto, Kagoshima, Ibaraki, Chiba, Tokushima, and Kumamoto Prefectures. The Sweet Potato stems featured in the photograph above were sourced through Ito Sai Sai Farmer's Market in Fukuoka, Japan.