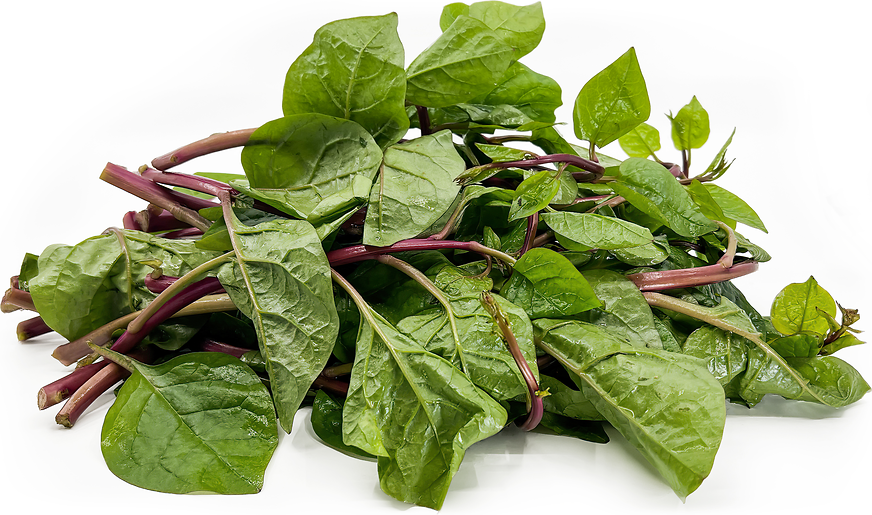 Red Malabar Spinach
Inventory, lb : 0
Description/Taste
Red Malabar spinach is comprised of climbing, twisting vines that produce fleshy leaves with seasonal berries and flowers. The stems are pliable, fibrous, and cylindrical in appearance, showcasing bright red-purple hues, and have a thick, sturdy nature. The cordate to oval leaves average 5 to 10 centimeters in length and are dark green, glossy, and succulent with a crisp, chewy, and slightly mucilaginous consistency. The leaves are also textured with prominent veining, sometimes blushed with pink hues. Red Malabar spinach has a fresh green, vegetal, and earthy flavor with subtle nuances of pepper and citrus. The vines also produce clusters of seasonal round berries, about the size of a pea, that have a dark purple, glossy surface. The berries are edible but have a bland, neutral flavor.
Seasons/Availability
Red Malabar spinach is available year-round in tropical climates. In subtropical to temperate climates, the greens have a peak season in the summer through fall.
Current Facts
Red Malabar spinach, botanically classified as Basella rubra, is a tropical climbing vine belonging to the Basellaceae family. The fast-growing plant is native to Asia and thrives in hot, humid climates, where it can grow up to three meters in length and width. Despite its spinach moniker, Red Malabar spinach is not a true spinach and is a much hardier plant, producing thick, succulent leaves that can be used raw or cooked. There are two types of Malabar spinach, one with green leaves and stems, known as Basella alba, and one with red stems and green leaves, classified as Basella rubra. Red Malabar spinach has been naturalized in tropical to subtropical regions worldwide and is favored as a home garden plant. The vines climb over fences, walls, baskets, and posts, and the leaves are heat tolerant, thriving in warm summer conditions where ordinary spinach would not typically survive. In the modern-day, Red Malabar spinach is a nutritious green valued in culinary and medicinal practices worldwide, especially in Asia. Red Malabar spinach is known by many regional names, including Jingga or Gendolak in Indonesia, Remayong in Malaysia, Paag Prang in Thailand, Mong Toi in Vietnam, Alogbati or Alugbati in the Philippines, Poi, Bachnali, Mayalu, or Vashala Cheera in India, Saan Choy, Lo Kwai, Luo Kai, or Shan Tsoi in China, Gambian Spinach in Nigeria, and Bethalha in Portugal.
Nutritional Value
Red Malabar spinach is a source of vitamin C to strengthen the immune system, reduce inflammation, and boost collagen production in the skin, while vitamin A helps to maintain healthy organ functioning. The greens also provide iron to develop the protein hemoglobin for oxygen transport through the bloodstream, calcium to build strong bones and teeth, and antioxidants to protect the cells against free radical damage. In Asia, Red Malabar spinach greens are crushed and topically applied to wounds, skin irritations, and sores as a soothing balm. The leaves are also chewed to relieve pain associated with mouth ulcers.
Applications
Red Malabar spinach has a mild, earthy, and subtly tangy flavor well suited for fresh and cooked preparations. Young leaves have a more tender consistency and are favored for salads, smoothies, and beds of greens for roasted meats. The colorful leaves are also selected for raw dishes to showcase their red and green hues. Mature greens have a sturdier nature that can withstand heat. Red Malabar spinach is popularly added to soups, stews, and curries, sauteed into gravies, or stir-fried with aromatics as a simple side dish. The greens can also be incorporated into egg-based recipes such as omelets, frittata, and quiche, cooked into casseroles, or mixed into fillings for pot pies. In India, Red Malabar spinach is a preferred green for curries, stir-fries, and soups and is typically flavored with mustard oil, chile peppers, and onions. In the Philippines, the greens are used in utan, a dish comprised of cooked vegetables served with rice. Red Malabar spinach pairs well with aromatics such as galangal, garlic, onions, shallots, scallions, and chile peppers, meats such as beef, pork, and poultry, seafood, tofu, mushrooms, cauliflower, carrots, and bell pepper. Whole, unwashed Red Malabar spinach will keep 2 to 5 days when stored in a sealed container in the refrigerator's crisper drawer. It is recommended to use the greens as soon as possible for the best quality and flavor.
Ethnic/Cultural Info
Red Malabar spinach produces intensely pigmented berries that are used in India as a natural food, clothing, and ink dye. The pea-sized berries release a dark purple to purple-red hue when crushed, and the coloring easily stains hands and other parts of the body that come into contact with the juice. Gardeners often comment on the berry's saturated coloring and a rich, dark purple hue, as it typically stains the hands of the pruning gardener if gloves are not worn. The berries were once used as a natural rouge for lips and cheeks, and the pigment was incorporated into fabric dyes to color clothing, accessories, and other textiles. Red Malabar spinach berries were also used to mark documents with ink stamps. In culinary preparations, the berries do not have much of a flavor, but they can be used to color fillings for pastries, pigment for agar-based dishes, or incorporated into candies. The berries are sometimes commercially harvested, dried, and ground into a powder in Asia and are sold as a dye and ink powder that can be mixed with water.
Geography/History
Red Malabar spinach is native to Asia and has been growing wild since ancient times. Much of the plant's history is unknown, but experts believe the variety may have originated in India and parts of Southeast Asia. Red Malabar spinach was spread worldwide over time through migrating peoples planting the species in home gardens. In some countries, the variety escaped cultivation and naturalized, becoming somewhat of an invasive species. Red Malabar spinach thrives in hot, moist, and humid regions and is found wild in lowlands, forests, along streams, and near cultivated land. The variety has also been planted in home gardens and small farms as a medicinal and culinary crop. Today Red Malabar spinach grows in tropical to subtropical regions worldwide and is found in parts of Asia, Oceania, tropical Africa, North America, the Caribbean, Central and South America, and Europe. Fresh Red Malabar spinach is sold through local markets, specialty retailers and direct from farms and home gardens.
Recipe Ideas
Recipes that include Red Malabar Spinach. One

is easiest, three is harder.