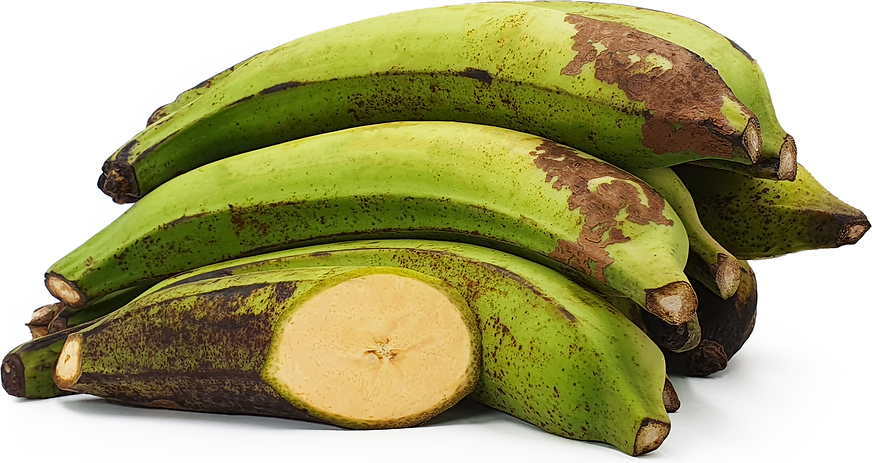 Pisang Tanduk Bananas
Inventory, lb : 0
Description/Taste
Pisang Tanduk is a large varietal, averaging 5 to 8 centimeters in diameter and 25 to 35 centimeters in length, and has a cylindrical, slightly curved appearance with defined, angular edges tapering to pointed tips. The angular ridges on the peel extend the length of the fruit, and the peel is smooth, thick, and tough. The peels showcase bright green hues when unripe, transitioning into shades of yellow with maturity. Dark brown spots may also develop on the surface, but these markings and discoloration are generally superficial. Underneath the peel, the flesh ranges in color from yellow, cream-colored, to yellow-brown and has a dense, starchy, semi-firm, and solid nature with a chewy, creamy, and fine-grained consistency when cooked. The flesh is also found seedless or contains a few tiny black seeds. Pisang Tanduk releases a distinctly sweet, vegetal, and fruity aroma and is not traditionally consumed raw. The fruits are typically cooked and have a sweet and sour taste when young, developing a sweeter flavor when ripe and cooked.
Seasons/Availability
Pisang Tanduk is available year-round.
Current Facts
Pisang Tanduk, botanically classified as Musa paradisiaca, is a plantain species native to Southeast Asia belonging to the Musaceae family. The large plantains grow in bunches on an herbaceous flowering plant reaching 3.5 to 4 meters in height, and each plant produces 10 to 12 fruits per bunch. Pisang Tanduk belongs to the AAB genome group, meaning the species has two sets of chromosomes from Musa balbisiana and Musa acuminata plants and is a type of plantain, a starchy fruit that tastes best when cooked. The name Pisang Tanduk translates from Indonesian and Malaysian to mean "Horn Banana," and the species received this name from its similarity in shape to a cow or ox horn. Pisang Tanduk is also known as a Cooking banana, Horn banana, Cow Horn banana, Tindok in the Philippines, and Kluai Nga Chang in Thailand. The species is one of the largest plantains commercially produced and grown in home gardens throughout Southeast Asia and is a favored cooking variety, traditionally fried or steamed for sweet and savory preparations.
Nutritional Value
Pisang Tanduk is a source of fiber to regulate the digestive tract, potassium to balance fluid levels within the body, and vitamin C to strengthen the immune system while reducing inflammation. The fruits also provide vitamin A to maintain healthy organs, magnesium to control optimal organ functioning, iron to develop the protein hemoglobin for oxygen transport through the bloodstream, and other nutrients, including vitamin K, zinc, phosphorus, folate, and B vitamins.
Applications
Pisang Tanduk has a sweet and tangy flavor suited for cooked preparations such as frying, boiling, and steaming. The fruits are popularly sliced, deep fried, and served with sauces, eggs, or stuffed with sweetened beans. Pisang Tanduk can also be battered and fried into an Indonesian fritter dish known as pisang goreng, simmered into compotes, cooked into pudding, or added to sponge cakes. In Malaysia, Pisang Tanduk is frequently steamed and served with grated coconut in a recipe called pengat pisang. The plantains are also steamed and consumed with a simple syrup, sliced and cooked into curries and stews, or thinly cut and fried into crunchy chips. Pisang Tanduk bananas are a staple in Malaysian and Indonesian cuisine because of their availability year-round. In Indonesia, the Javanese like to plant Pisang Tanduk trees in their home gardens and enjoy using bananas in fritters and rujak, which is a fruit salad. Pisang Tanduk bananas pair well with spices such as cinnamon, cloves, and nutmeg, pandan leaves, sugar, chocolate, maple syrup, and fruits such as coconuts, berries, pineapple, and mangoes. Whole, unpeeled Pisang Tanduk should be ripened at room temperature and can be kept for a few weeks in a cool, dry, and dark place. To increase ripening times, the bananas can be wrapped in newspaper and stored in a sealed plastic bag.
Ethnic/Cultural Info
Pisang Tanduk is a traditional ingredient incorporated into celebratory dishes served during Onam. The ancient festival has Indian origins and can be traced back to the state of Kerala, where the annual celebration is steeped in mythical folklore. Legend has it that Onam celebrates the homecoming of King Mahabali, an Asura, also known as a demon, who ruled over Kerala. Asuras are beings that typically oppose the gods in Hindu mythology, but despite his celestial resistance, King Mahabali was revered by his subjects for many years in Kerala. The kingdom lived in peace and fairness until one day when word spread among the gods that an Asura was ruling a people group, leading to unrest. In a simplified version, Lord Vishnu eventually had to destroy King Mahabali in the legend to restore peace among the gods and people, but King Mahabali was accepting of his fate and offered his head to be crushed. In a final act of goodwill, Lord Vishnu granted King Mahabali his wish of being allowed to return to Earth every year to visit his people. Over time, Onam has transformed into a holiday dedicated to the harvest season, with some devout Hindus still commemorating the return of King Mahabali. Outside of India, Onam is also celebrated throughout Malaysia and Indonesia as a harvest festival. During the celebrations, Pisang Tanduk is steamed and popularly served with breakfast dishes such as papadams, which are deep-fried dough puffs typically slathered or drizzled with ghee.
Geography/History
Pisang Tanduk is native to Southeast Asia and has been developed from species growing wild since ancient times. Scientists believe Southeast Asia is the center of origin for many wild and cultivated banana and plantain species, and the fruits can be traced back to 8,000 to 5,000 BCE in this region. Bananas and plantains spread outside of Southeast Asia through migrating peoples and trade routes, eventually arriving in India and East Africa as early as 3000 BCE. Within Southeast Asia, Sukabumi in West Java has been noted in some research as the native site of origin for Pisang Tanduk. Much of the history of Pisang Tanduk is unknown, but the species is prevalent in fresh markets throughout Malaysia, Indonesia, the Philippines, and Thailand. In Malaysia, the species is frequently produced in Selangor, Johor, Pahang, and Malacca. Today Pisang Tanduk is sold through street vendors and local markets in Indonesia and Malaysia and is grown in home gardens. Beyond fresh sales, Pisang Tanduk has recently been utilized to make crunchy plantain chips, sold as a popular packaged snack.
Recipe Ideas
Recipes that include Pisang Tanduk Bananas. One

is easiest, three is harder.
Podcast