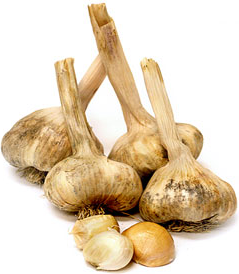 Rancho Grande Garlic
Inventory, lb : 0
Description/Taste

Rancho Grande garlic produces large bulbs which carry an average of eight to ten cloves that grow in a circular order around the garlic's central scape. The bulbs and individual cloves are wrapped in thin papery layers that protect the garlic from the elements through maturity. The cloves are a warm translucent white in color. The garlic's aroma is an attractive, savory and mellow essence of allium, while the flavor is robust, peppery and yet sweet.


Seasons/Availability

Rancho Grande garlic are available at some farmers markets in summer.


Current Facts

Rancho Grande garlic is a heritage Italian Red garlic variety and a softneck type of garlic. Softneck types of garlic are classified as artichoke varieties or silverskin. Rancho Grande garlic is an artichoke variety. Artichoke varieties are the easiest to grow, prolific in production and tend to have fewer but larger cloves. Rancho Grande garlic is infertile and thus must be propogated by seed. Cloves saved from prior harvest acts as the seed for future crops. Planting one clove will produce one bulb.


Applications

Rancho Grande garlic is inherently stronger when raw versus cooked. Crushing, chopping, pressing or pureeing Rancho Grande garlic releases more of its oils providing a sharper, more assertive flavor than slicing or leaving it whole. Rancho Grande garlic does especially well as the central flavor in compound butters, dressings, sauces and salts. Roasting Rancho Grande will enhance its depth of flavor. Pair Rancho Grande garlic with rich ingredients and those that can readily absorb its flavor. Acidic fruits and vegetables are also enhanced by Inchelium garlic's presence.


Geography/History

Rancho Grande garlic is a garlic which received its name due to its specific growing region versus the actual cultivar. Its specific points of origin are unknown, though it is Italian in descent. All garlic cultivars are derived from ten specific hardneck varieties of garlic that evolved in the Caucasus Mountains between the Black Sea and the Caspian Sea. Garlic has been altered over time by natural and intentional selection, ever changing growing conditions, such as soil fertility, rainfall, temperature, altitude, length and severity of winter. As trade routes were evolved and extended garlic would become naturalized in often unnatural climates. Rancho Grande garlic thrives in a variety of climates, even tolerating cold winters which contributes to its adaptability and longevity as a cultivar.