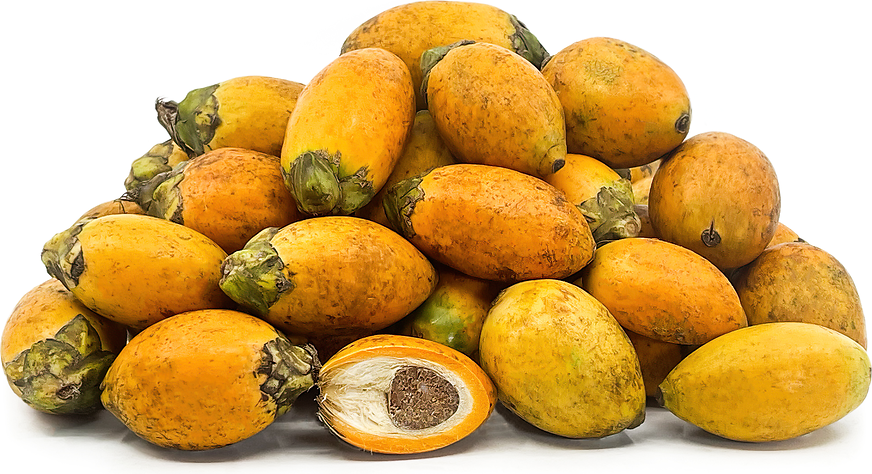 Betel Nut
Inventory, lb : 0
Description/Taste
Betel nuts are small in size, averaging 5 to 10 centimeters in length and 3 to 5 centimeters in diameter, and have an elongated, oval shape with a broad center tapering slightly to pointed ends. The fruit's skin is semi-thick, hard, smooth, and taut, ripening from green to yellow, orange, or red with maturity, depending on the variety. Some fresh fruits may also bear a small green cap at one end of the fruit. Underneath the surface, there is a thin layer of flesh with a firm and crisp consistency, encasing many layers of fibrous, woody, and coarse husk. Betel nuts, also known as the fruit's seeds, are embedded within this tan to ivory husk, and the seed can be soft or hard, varying with maturity. Young green Betel nuts are soft, succulent, and spongy to the touch, while mature yellow, orange, or red fruits contain a large, hard seed. Betel nuts typically have a chewy texture and are served raw or dried. Raw nuts are said to offer a somewhat astringent, vegetal, and woody taste with subtle spice-like undertones reminiscent of cinnamon and nutmeg. It is important to note that green Betel nut fruits will taste more vegetal than ripe yellow-orange fruits. Dried Betel nuts have a woody, bland taste and are often combined with other stronger flavored ingredients in culinary dishes.
Seasons/Availability
Betel nuts are available year-round in tropical and subtropical climates.
Current Facts
Betel nuts, botanically classified as Areca catechu, are the seeds of a tropical to subtropical fruit belonging to the Arecaceae family. The ancient species has been utilized in medicinal and culinary preparations since ancient times and is embedded into the traditions of cultures worldwide. Betel nuts are the fruits of the Areca Palm. Despite their nutty moniker, the nuts are not true nuts and are botanically a seed, and the seeds are enveloped in several protective woody and fleshy layers to form an oval fruit. The fruits grow on palms reaching 12 to 15 meters in height and are nestled in bunches between spreading green fronds. There are many varieties of Betel nuts, and some types are used when young, while others are preferred when they are mature. Betel nuts are also known as Areca nuts, Areca seeds, and many locally specific names, and the fruits and seeds are not typically consumed for their flavor. The nuts are instead gathered, mixed with other ingredients, and chewed as a natural stimulant. Chewing Betel nut is said to induce effects similar to consuming a cup of coffee, other caffeine-based beverages, or chewing tobacco. Betel nut chewing has traditionally played an important role in social customs, religious practices, and cultural rituals among communities worldwide, and the nets can be used dried, cured, or fresh.
Nutritional Value
Betel nuts contain some fiber to regulate the digestive tract, calcium to build strong bones and teeth, and iron to develop the protein hemoglobin for oxygen transport through the bloodstream. One of the most notable ingredients within the nuts is arecoline, a natural stimulant that acts as a vasoconstrictor to constrict blood vessels in the body. This stimulant may cause the heart to race, increase saliva production, raise alertness, and provide a sense of euphoria. The stimulating nature of Betel nut chewing has led over ten percent of the world's population to consume Betel nuts, and it is the fourth most commonly used psychoactive substance behind alcohol, nicotine, and caffeine. In Asia, Betel nuts are used in natural medicines to increase digestion, relieve dry mouth, act as an appetite suppressant, and treat intestinal parasites. Despite the Betel nut's widespread consumption, the World Health Organization has classified the nuts as a carcinogen, and there may be health risks associated with chewing the seeds. Research and speaking with a medical professional are advised before consuming Betel nuts.
Applications
Betel nuts have a neutral, woody flavor suited for raw or dried preparations, and the seeds are not commonly consumed on their own. The seeds are customarily combined with other more robust flavored ingredients to create a more pleasant chewing experience. Betel nuts can be roasted, cured, boiled, or baked and are said to encompass astringent, salty, pungent, bitter, sweet, and spicy nuances. The most famous preparation involving Betel nuts is known as Betel quid or Betel paan. Betel nuts are thinly sliced or grated and are placed in the betel leaf or Piper betle. Calcium hydroxide, also known as slacked lime, is also added to the nuts on the leaf, and this mixture is folded or rolled into a small packet and placed whole in the mouth the chew. This recipe has many variations, with additional ingredients added for improved flavor. Betel quid has a peppery, warm, woody, and vegetal taste, and the seeds are fresh or dried in the mixture, depending on preference. One of the unusual side effects of chewing Betel nuts is that the fruits release a red or purple pigment into the saliva, staining the teeth and mouth. Excess saliva often causes Betel nut chewers to spit, leaving red-hued spots on the ground. Betel nuts are considered an ancient breath freshener, and when not rolled into betel leaf, the nuts are sometimes added to jellies, chutneys, and pastes. Betel nuts pair well with spices such as nutmeg, cinnamon, cardamom, cloves, ginger, aniseed, and turmeric, mint, fennel, sugar, coconut, cherries, and tobacco. Fresh Betel nuts should be immediately consumed for the best quality and flavor. The nuts are also dried and stored for several months in a cool, dry, and dark location.
Ethnic/Cultural Info
In India, Betel nuts are traditionally used as an offering in the worship practices of Hinduism. Betel nuts are known as Supari in Hindi and are viewed as an ideal offering in pujas, a time of prayer, worship, and offering to a specific deity in Hinduism. Betel nuts are valued for their wholeness, and the fruits are used unopened to ensure the offering stays pure. Whole Betel nuts are believed to draw the worshipper closer to the gods, and the species is primarily offered in rituals dedicated to Shiva or Ganesh. Betel nuts are placed with flowers, incense, coconuts, and other fruits as offerings on altars. In addition to religious offerings, Betel nuts are used as a social offering of hospitality. The nuts are wrapped in Betel leaves with spices and other ingredients and are served as a sign of loyalty, friendship, and good energy at celebrations and house parties. Betel nuts are also stored in specialty boxes with detailed motifs on the side, and these boxes are customarily made out of silver or brass. In the modern day, Betel nut boxes are somewhat of a collector's item in India.
Geography/History
Betel nuts are thought to be native to Southeast Asia and have been growing wild since ancient times. Much of the history of Betel nuts is unknown, but the oldest archaeological evidence of the species was discovered at a cave in Thailand, dating to over 10,000 years ago. Teeth were also discovered in the Philippines in 3000 BCE that were stained by Betel nuts. In ancient times, Betel nuts were hypothesized to have spread across Asia into southern India sometime around 1500 BCE, and later on, they were transported to the Pacific Islands. Areca palms thrive in tropical to subtropical climates and generally grow at low altitudes, living to be 60 to 100 years old. Over time, Areca palms and chewing Betel nuts expanded across Southern Asia, East Asia, and the South Pacific, eventually spreading to Pakistan and Western Africa. Betel nuts are customarily offered to houseguests in Malaysia and India, and they are also served during wedding ceremonies in India, Nepal, and Vietnam. Today Betel nuts are a common street-sold stimulant and are present in fresh markets throughout Asia and Africa. Dried versions are also sold through select retailers in Europe, North America, and Asia.
Recipe Ideas
Recipes that include Betel Nut. One

is easiest, three is harder.