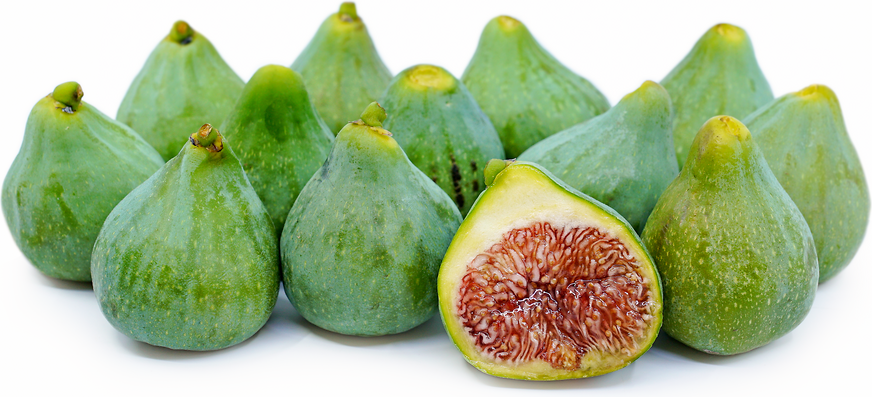 Green Figs
Inventory, lb : 0
Description/Taste
Green figs vary in size and appearance, depending on the specific variety. The plump, bulbous fruits are a type of syconia, meaning they are fleshy vessels encasing tiny, inverted flowers that each have a single seed. Green figs have a curved, slightly flattened base that tapers to a slender, short to long neck. The skin can be thin or thick and typically has a smooth, velvety, and delicate nature, ripping, bruising, or damaging easily. The skin also appears in shades of light green, dark green, striped, green-white, to yellow-green and can be speckled with spots and markings. Underneath the surface, the flesh is white, ivory, to yellow-cream, encasing a red, pink, white, to red-pink interior. Green fig flesh is moist, sticky, tender, jammy, and succulent with a crunchy consistency. Ripe Green figs will be soft to the touch and feel heavy for their size. They may also be slightly wrinkled and plump and relatively blemish-free. Green figs can be eaten raw or cooked and have a mild, sweet, earthy, and honeyed taste with nuances of raspberries, citrus, butterscotch, nectar, berry, and nuts, depending on the variety.
Seasons/Availability
Green figs are available in the summer through fall.
Current Facts
Green figs, botanically classified as Ficus carica, are a category of several fig varieties belonging to the Moraceae family. The name Green fig is a generic label used in commercial markets to simplify the buying process. The specific variety of Green fig sold under this name varies, depending on availability, time in season, and region, and each cultivar will exhibit its own texture, flavor, and appearance. Some of the most common commercially produced Green fig varieties include Kadota, Sierra, Adriatic, Tiger, and Calimyrna, also known as Smyrna. Calimyrna is said by fig enthusiasts to be one of the sweetest types of Green fig, but the variety's flavor will change with growing region and climate. There are also several other regional Green fig varieties such as Conadria, Lattarula or White Marseille, Ischia, Genoa, San Pietro, Tena, and Strawberry figs. Historically, Green figs are favored for their sweet, nutty, and fruity flavors and complex textures, comprised of soft, crunchy, sticky, velvety, chewy, and creamy consistencies. Growers also favor Green figs as their coloring blends in with the leaves of the tree, making it difficult for animals and pests to eat the figs. In the modern day, Green figs are primarily localized to their growing regions and can be eaten raw or cooked, complementing a wide array of sweet or savory culinary dishes worldwide.
Nutritional Value
Green figs are a source of fiber to regulate the digestive tract, copper to develop connective tissues, and vitamin C to boost the immune system. Figs also provide potassium to balance fluid levels within the body, vitamin A to maintain healthy organ functioning, calcium to build strong bones and teeth, and other nutrients, including vitamin K, magnesium, iron, and manganese.
Applications
Green figs vary in flavor with fruity, sweet, and nutty nuances suited for fresh and cooked preparations. Fresh Green figs can be washed and consumed straight out of hand, drizzled with honey and served with cheeses, or tossed into salads. Green figs can also be used as an edible topping over yogurt, pancakes, and oatmeal, wrapped in prosciutto as an appetizer, or stuffed with nuts and cheese. In addition to fresh preparations, Green figs can be broiled, roasted, seared, or grilled to create decadent savory and sweet cooked dishes. Green figs are popularly simmered into sauces and jams, and when heating, the entire fig, including the skin and flesh, can be used in the process. Figs can also be cooked with roasted meats or incorporated into scones, muffins, and sticky buns. Some varieties of Green figs are used in their early stage and are preserved in syrup or tossed into pasta coated in white wine and parmesan. Ripe Green figs are also muddled into drinks or dried and candied as a sweet, chewy snack. Worldwide, Green figs are utilized in many different cuisines and recipes. Green figs pair well with meat such as poultry, pork, and lamb, herbs including rosemary, mint, and thyme, cheeses such as manchego, parmesan, ricotta, and blue, spices including ginger, cloves, and cinnamon, chocolate, honey, and nuts such as pistachios, almonds, and pine. Whole, unwashed Green figs should be immediately consumed when ripe for the best quality and flavor. Figs typically have a short shelf life and should be stored in a cool place such as the refrigerator for 1 to 3 days.
Ethnic/Cultural Info
Green figs were used in the original recipe for the famous Fig Newton cookie, marking the first time figs were used in an American commercial product. Variations of fig-rolled desserts can be traced back to ancient times, but the most probable influence of the cookie is connected to the fig pastries that were popular in 19th-century Victorian England. Figs were used for their fiber to increase digestion, and the fig-centric dessert became established as a favorite homemade dish. Over time, fig pastries were introduced to the New World, and Henry Mitchell patented the recipe for Fig Newtons in 1892. Fig Newtons were initially owned by the Kennedy Biscuit Company, which named their products after various suburbs in Boston. The fig-filled cookies were named after Newton, Massachusetts, and it is said the name was chosen as the suburb had an air of being charming and sophisticated. At the time of their release, Fig Newtons were labeled as cakes and were later changed to cookies. The Kennedy Biscuit Company was eventually bought out by the New York Biscuit Company. In 1890, this company merged with the American Biscuit Company and became the National Biscuit Company, later renamed Nabisco in 1941, a name still known today. Fig Newtons were the first commercial product made in the United States that contained figs. The cookies were the third-best-selling cookie in the United States in 1991 and 1992, and one of the cookie's biggest fans is the Newton, Massachusetts, Mayor, who keeps a package of Fig Newtons to hand out to visitors to make them smile.
Geography/History
Green figs are native to Asia Minor and have been growing wild since ancient times. Experts believe figs may be one of the oldest plants cultivated by humans, and several archeological sites have found remnants dating back to 5000 BCE. Figs were mentioned in the Bible and were thought to have been grown in Ancient Egypt and Mesopotamia. Figs were also cultivated by the Romans and Greeks, and cultivation in these regions led figs to be spread throughout the Mediterranean along roads and various trade routes. Figs were introduced to England and Western Europe around the early 16th century, and during this time, Spanish missionaries carried the fig to the New World for planting in monastery gardens. The exact origins of Green figs are unknown, as there are many varieties generally categorized under the name. Green figs have been domesticated, cultivated, and bred over time, and new varieties are continually being released to create cultivars with improved growth characteristics. Today Green figs thrive in warm, mild climates and are widely cultivated in the Middle East and the Mediterranean, including Egypt, Iran, Syria, Turkey, Greece, Spain, and Morocco. Green figs are also produced in Asia, Australia, Africa, and the United States. Within the United States, over 98% of the Green figs found in commercial markets are grown in California. The state's most popular Green fig varieties are Tiger, Sierra, and Kadota. When in season, Green figs are typically found near their growing regions and are sold through fresh markets, select grocers, and distributors.
Recipe Ideas
Recipes that include Green Figs. One

is easiest, three is harder.
the other 1...
Podcasts