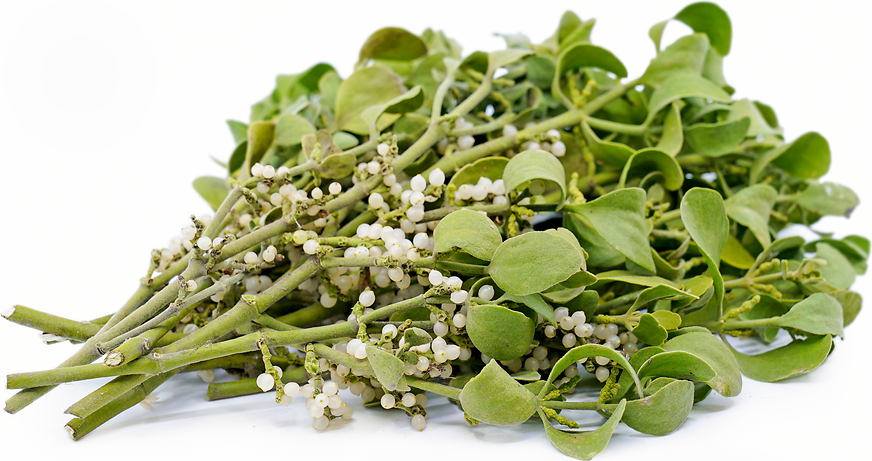 Mistletoe
Inventory, bunch : 0
Description/Taste

Mistletoe can range from small to large in size and typically appears as a dense ball of foliage or twigs that occurs high in the treetops where sunlight is plentiful. Depending on the variety, Mistletoe can have intertwined branches that form a misshapen mass up to a meter wide. The American and European Mistletoes have mossy-green leaves that average five centimeters in length and have a teardrop or rounded, oval shape, and the Dwarf Mistletoe has small, scaly gold-orange, needle-like leaves. The berries are round and white and are known for their sticky secretions which help the seeds cling to the branches of their hosts. Mistletoe is poisonous and should not be consumed, and the leaves contain a higher concentration of toxins than the berries.


Seasons/Availability

Mistletoe is available in the late fall through winter.


Current Facts

There are over 1,300 species of Mistletoe worldwide, and these species belong to the Santalaceae, Misodendraceae, and Loranthaceae families. Also known as Birdlime, All-Heal, Golden Bough, Drudenfuss, Devil's Fuge, and Iscador, Mistletoe is a poisonous parasitic evergreen that propagates itself by tapping into the bark of other trees and shrubs to absorb water and nutrients. Considered a hemi-parasite, Mistletoe has the ability to survive off of its own photosynthesis production in addition to absorbing nutrients from its host tree. The word Mistletoe is derived from the English word for dung, or "mistel" and twig, or "tan" which translates to "dung on a twig." Mistletoe gets this name because the seeds in the berries are often spread to branches and trees via bird droppings. They are also spread by falling from bird's beaks, and specific varieties will even have ripe berries explode into the air, flinging seeds as far as fifteen meters. There are three well-known varieties, the European Mistletoe or Viscum album, the North American Mistletoe or Phoradendron leucarpum, and the variety that is usually seen around the holidays, Phoradendron flavescens.


Nutritional Value

Mistletoe should not be ingested as it contains poisonous chemicals known as phoratoxin, lectin, and tyramine, which can cause blurred vision, diarrhea, nausea, stomach pain, vomiting, weakness, and drowsiness.


Applications

Mistletoe should not be consumed by humans and is best used as a holiday decoration. Some varieties of Mistletoe have been used by specialized medical professionals to reduce symptoms of headaches and seizures, but the use of Mistletoe as medicine is controversial and more research and help from a professional is required prior to use. While Mistletoe is poisonous to humans, it is an important food source for birds, deer, and porcupines.


Ethnic/Cultural Info

Mistletoe has a rich history in the pagan holidays of ancient Greek, Druid, Celtic, and Nordic societies. Revered for its mid-winter bloom, Mistletoe was thought to symbolize fertility, marriage, and the hope of coming spring. In Scandinavia, Mistletoe was thought to be able to bring enemies to a truce or quarreling spouses to come to an agreement. Throughout many cultures, there was a belief that a kiss under the evergreen plant would bring good life and fortune. Using this belief in the 1800s, Mistletoe was fitted into the shape of a "kissing ball," and was advertised as a festive holiday greenery in England.


Geography/History

Mistletoe varieties are found in regions all over the world, and fossilized evidence of Mistletoe pollen show it to be millions of years old. Originally, the term Mistletoe referred to the European species, Viscum album, but over time as new species have been discovered the term has broadened to include species like the North American Phoradendron leucarpum. Today Mistletoe can be found growing on a diverse number of trees in the wild in Europe, Asia, Australia, Africa, America, Central America, and South America.