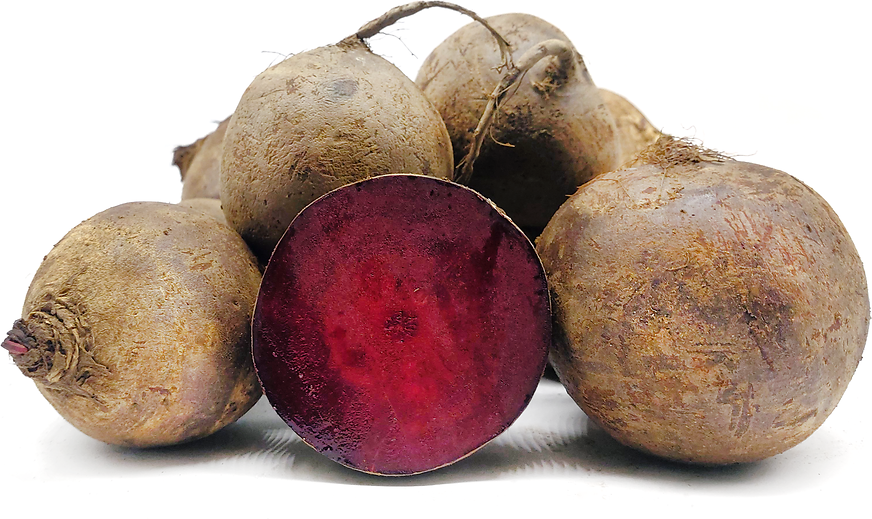 Bordeaux Beets
Inventory, 1 Lb : 0
Description/Taste

Bordeaux beets are small to medium roots, averaging 12 to 15 centimeters in diameter, and have a round to slightly flattened appearance with a single taproot. When mature, the shoulders of the beet emerge above the soil and are connected to fibrous, red stalks with broad and flat, green leaves ranging 35 to 40 centimeters in length. The beet's surface is rough, textured, firm, and dark red, often covered in a layer of dried, light brown dirt. Underneath the skin, the flesh is dense, aqueous, and crisp with a solid crimson to maroon hue, lacking the typical banding or striping associated with many beet varieties. Bordeaux beets can be consumed raw, emitting a sweet, earthy flavor, and once cooked, the flesh softens into a tender texture with mellow savory nuances. The leaves are also edible and contain a vegetal, green, and earthy flavor.


Seasons/Availability

Bordeaux beets are available year-round.


Current Facts

Bordeaux beets, botanically classified as Beta vulgaris, are a common Russian table beet belonging to the Amaranthaceae family. The crimson root is a mid-season cultivar created in the mid 20th century in Russia as a variety with improved growth characteristics for Russian gardens. Bordeaux beets are resistant to drought, diseases, and temperature changes and are fast-growing, maturing in 62 to 115 days. There are two main types of Bordeaux beets generally labeled in Russian markets, Bordeaux 237 and Bordeaux single-seeded beets. Bordeaux 237 is the original cultivar created in 1943 and was selected as a new variety for its high yields and ability to be grown year-round. Consumers favor Bordeaux beets for their sweet, earthy flavor, vibrant coloring, nutritional content, and tender nature once cooked.


Nutritional Value

Bordeaux beets are an excellent source of fiber to stimulate the digestive tract and folate to produce red blood cells. The roots also contain vitamin C to strengthen the immune system, potassium to balance fluid levels within the body, and lower amounts of manganese, vitamin A, and iron. In addition to vitamins and minerals, beets also contain geosmin, a compound that gives the roots their earthy, sometimes soil-like flavor.


Applications

Bordeaux beets have a sweet, earthy flavor well suited for both raw and cooked preparations. When raw, the beets should be washed and the skin peeled, grated fresh into salads, coleslaws, and grain bowls. Raw peeled beets can also be grated as a topping over soups. Bordeaux beets are more popularly cooked and can be roasted, baked, steamed, or boiled. Once cooked, Bordeaux beets develop a soft, tender consistency that can be sliced for salads, chopped for soups, or roasted as a savory-sweet side dish. In Russia, Bordeaux beets are favored for borscht, a soup traditionally served with sour cream. The beets hold their dark red hues even when cooked, contributing vibrant, natural colors to any dish they are prepared in. Bordeaux beets can also be sliced thin and roasted into chips, cooked into risotto, layered onto sandwiches, blended into dips, or chopped into a variation of salsa. Beyond fresh and cooked preparations, Bordeaux beets can be canned or pickled for extended use. Bordeaux beets pair well with hard-boiled eggs, potatoes, carrots, radishes, cucumbers, spinach, celery, citrus, meats such as beef, pork, and poultry, fish, sour cream, and cheeses such as feta, goat, and blue. Whole, unpeeled Bordeaux beets will keep 5 to 6 months when stored in a cool, dry, and dark place.


Ethnic/Cultural Info

Bordeaux beets are popularly used in the Soviet salad dish known as dressed herring. The hearty salad is comprised of pickled herring covered in several layers of root vegetables such as beets, potatoes, and carrots. The layers are bound together with mayonnaise and onions for added flavor, and depending on the recipe, the dish is sometimes topped with apples or boiled eggs. Dressed herring is also known as seledka pod shuboy, meaning herring under a fur coat, and shuba, a political acronym used throughout Russia to promote nationwide unity. Shuba became associated with the dish due to the salad's ingredients. Pickled herring often represented the working class of Russia as it was a commonly consumed protein, the potatoes symbolized farmers, and the beets showcased vibrant red hues, a similar hue to Russia's revolutionary red. Mayonnaise was also an ingredient widely consumed in Russia during times of food shortages. Dressed herring is a favorite holiday dish served during New Year's celebrations in post-Soviet countries. Local folklore says the dish was created by a bar owner in 1918. The filling salad was meant to soak up the alcohol being served during New Year's celebrations to keep the bar patrons from becoming unruly. While many Russian enjoy retelling the whimsical tale over New Year's as a form of entertainment, in reality, the dish was adapted from a Swedish recipe first created in 1864. In the modern-day, dressed herring is a favored celebratory dish served in Russia, Latvia, Ukraine, and Belarus.


Geography/History

Beets are believed by experts to be descendants of wild beet varieties native to coastal Mediterranean regions. In ancient times, only the leafy green tops were consumed, but eventually, civilizations began utilizing the roots as a culinary and medicinal ingredient. Beets were cultivated throughout Ancient Greece and Rome and became widely grown in Europe and Western Asia, especially in Italy and Germany, by the 15th and 16th centuries. Over time, beets were spread into Northeastern Europe and Russia, where they became a staple source of nutrients. In the 18th century, the All-Union Scientific Research Institute of Plant Growing in Russia, also known as VNIIR, began researching, breeding, and releasing new beet varieties with improved growth characteristics. Bordeaux beets were selected and registered in Russia as a new variety in 1943. While the cultivar was initially intended for the warmer southern regions of Russia and Europe, Bordeaux beets exhibited frost and cold tolerance, allowing the beets to be grown in Siberia and more northern areas. Later in 2003, another Bordeaux beet variety was created, labeled as Bordeaux single-seeded, and was released to consumer markets as an improved Bordeaux cultivar. Today Bordeaux beets are cultivated in home and commercial gardens throughout Europe and Asia. The variety is also grown on a smaller scale in the United States and is sold through farmer's markets and specialty distributors.