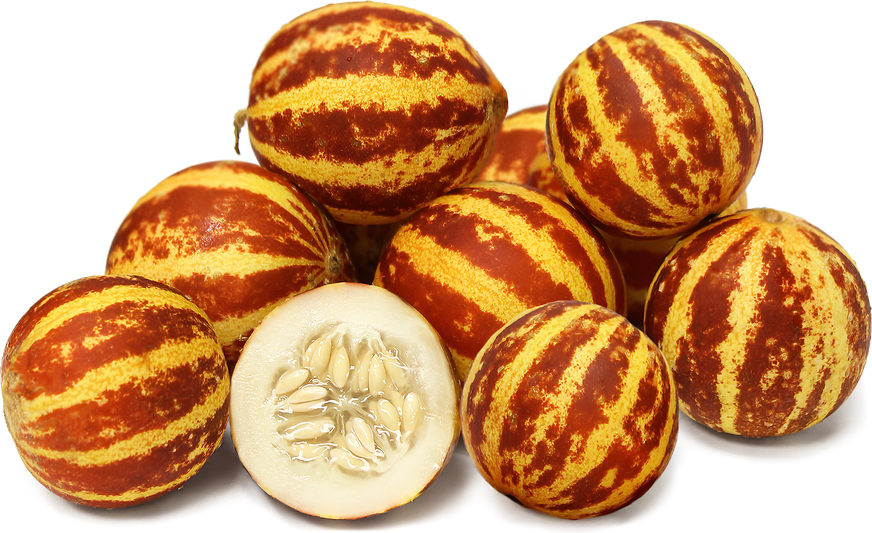 Rich Sweetness Melon
Inventory, lb : 0
Description/Taste

Rich Sweetness melons are a small varietal, averaging 7 to 10 centimeters in diameter, and have a round to oval shape with broad, curved edges. The melons typically reach no larger than the size of a tennis or baseball, and the rinds are smooth, hard, and taut. The rind also ripens from dark and light green striping to a vibrant crimson and golden striping, displaying some variegation and spotting. Each melon will bear its own distinct pattern, and underneath the thin rind, the flesh is ivory to cream-colored. The flesh is soft, tender, and aqueous with a tender, succulent consistency. It also encases a central cavity filled with oval ivory seeds suspended in a gelatinous liquid mixed with white fibers. It is important to note that the gelatinous liquid can sometimes be sour and astringent. It is recommended to scoop out the cavity and discard the seeds and liquid before consumption. Rich Sweetness melons have a tropical, sweet, and aromatic scent with pineapple and coconut nuances. The flesh is milder than the aroma and bears a neutral, refreshing, and sweet flavor with musky undertones of cucumbers and honeydew.


Seasons/Availability

Rich Sweetness melons are available in the summer.


Current Facts

Rich Sweetness melons, botanically classified as Cucumis melo, are an heirloom variety belonging to the Cucurbitaceae family. The small melons are descendants of types once grown in the Soviet Union and were introduced to the United States as a unique home garden cultivar. Rich Sweetness melons are also known as Rich Sweetness 132 melons and Sweet Russian Striped melons, a type of individually sized melon sometimes referred to as a personal or mini melon. The melons grow on prolific climbing vines that creep along the ground or twist up trellises, and each plant is highly productive, producing a large harvest approximately 75 to 80 days after sowing. Rich Sweetness melons are not commercially cultivated and are mainly grown as a novelty. The melons are favored for their tropical, sweet aroma and are sometimes valued more for their scent rather than mild, sweet flavor. Rich Sweetness melons are typically consumed fresh and are a colorful, brightly striped cultivar seasonally incorporated into sweet and savory preparations.


Nutritional Value

Rich Sweetness melons are a source of fiber to regulate the digestive tract, potassium to balance fluid levels within the body, and vitamin C to strengthen the immune system while reducing inflammation. The melons also provide some calcium to build strong bones and teeth, magnesium to control optimal muscle functioning, folate to produce red blood cells, and other nutrients, including vitamins A and K, zinc, phosphorus, and copper. Beyond ingesting melons, the water-rich juice is sometimes used in cosmetics in face lotions, body lotions, tonics, and masks.


Applications

Rich Sweetness melons have a neutral, mild, and subtly sweet taste suited for fresh and cooked preparations. The small melons are traditionally consumed straight out of hand, and their size is used as individual portions. Rich Sweetness melons can be sliced and served on charcuterie boards, showcasing their striped rinds, chopped and added to fruit bowls, tossed into green salads, or halved and filled with yogurt, cottage cheese, or a mixture of other fruits and nuts. Rich Sweetness melons can also be sprinkled with salt or sugar for enhanced flavoring or wrapped in salty meats such as prosciutto or salami as an appetizer. In addition to slicing, Rich Sweetness melons can be blended into smoothies, shakes, and cocktails, used as a base for chilled soups, combined into sauces, or pureed and frozen into popsicles, sorbet, and other desserts. The melons can also be used to flavor fillings for cakes, pastries, and other baked goods or pickled for extended use. Rich Sweetness melons pair well with cheeses such as feta, parmesan, and goat, nuts including pine, almonds, and pistachios, vanilla, chocolate, and herbs such as mint, cilantro, and basil. Rich Sweetness melons will ripen on the counter at room temperature for a couple of days, depending on the melon's maturity. Once ripe, the melons should be stored in the refrigerator and will keep for 5 to 7 days. Sliced Rich Sweetness melons can be wrapped in plastic or kept in a sealed container and consumed within 1 to 3 days for the best quality and flavor.


Ethnic/Cultural Info

Melons are an anticipated summer treat throughout Russia. During the season, spanning from July to August, hundreds of varieties of watermelons and muskmelons are cultivated across Russia, especially in the Astrakhan region, and are also imported from Uzbekistan. The melons are sold along roadside stands, at convenience stores, in local markets, and beside the fields, and most of the melons purchased are consumed fresh out of hand. Melons are savored for their high-water content and are viewed as a natural method to cleanse the body. The fiber, water, and nutritional content within the flesh are believed to help remove impurities in the digestive tract and vital organs. Melons are popularly served with tea as a digestive aid or eaten with bread as an afternoon snack. While Rich Sweetness melons are small in size and may not be viewed as a variety that provides a lot of consumable flesh, the petite melons are favored as an individually portioned, healthy snack. The melons are eaten as a dessert substitute and are grown as a specialty variety in family dachas or garden plots.


Geography/History

Rich Sweetness melons are believed by experts to have originated in the former Soviet Union, an area that spanned Eastern Europe through Central Asia. Much of the variety's history is unknown. Rich Sweetness melons are a small cultivar, primarily grown as a novelty in home gardens. One unique feature of the variety is the ability to save the seeds for the next growing season. The variety is not commercially cultivated and is offered through select local markets in Europe, Central Asia, and the United States. In the United States, Rich Sweetness melons are primarily sold through online seed catalogs for home garden use.