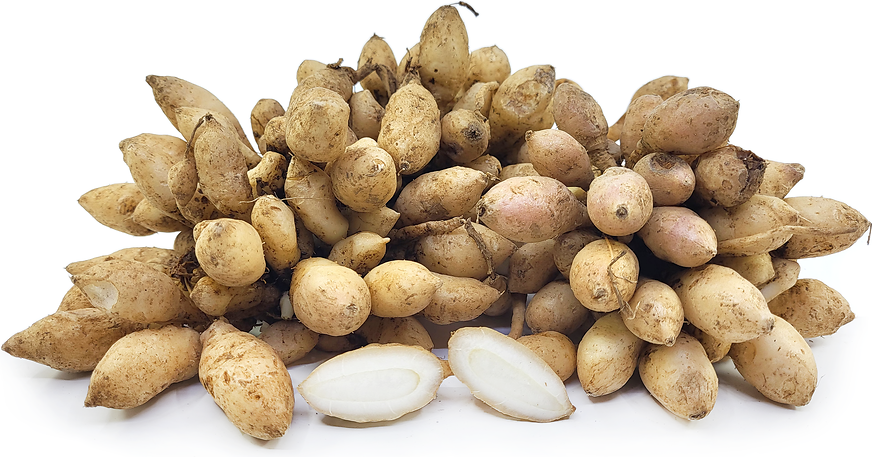 Kunyit Putih Turmeric
Inventory, lb : 0
Description/Taste

Kunyit Putih is an herbaceous plant comprised of leafy shoots, yellow flowers with colorful red and green bracts, and large underground clusters of short and stubby rhizomes. The small rhizomes have an oval to oblong appearance, tapering slightly to a point on each end, and generally average 1 to 3 centimeters in diameter. The rhizome's skin is thin, rough, firm, and light tan, often covered in dark brown spots, specks, and scratches. Underneath the surface, the flesh is dense, white, moist, and crisp with a slightly softer consistency compared to common ginger. Kunyit Putih releases a medicinal, bitter aroma with musky, camphorous nuances. Despite their scientific classification as a turmeric, the rhizomes are more similar in flavor to ginger and carry a slightly warm and bitter aftertaste.


Seasons/Availability

Kunyit Putih is available year-round.


Current Facts

Kunyit Putih, botanically classified as Curcuma Zedoaria, is a perennial plant that grows a little over one meter in height, belonging to the Zingiberaceae family. The name Kunyit Putih translates from Indonesian to mean "White Turmeric" and is one of two types of White Turmeric found in Asia. Kunyit Putih is a smaller, rounder, and thicker kind of White Turmeric, while Curcuma zerumbet is more elongated, slender, and cylindrical, similar to yellow turmeric. Kunyit Putih is also known as Zedoary or Zedoaria and has many regional names throughout Asia, including Kunyit Biten and Temu Putih in Malaysian, Kentjur in Indonesia, Gandamatsi in Hindi, Sutha in Bengali, and Amba Haldi, Kachur, and Gajutsu in other areas of India. The fleshy rhizomes are the most used portion of the plant, revered as a powerful ingredient in natural medicines, and they can be utilized fresh, dried, ground into a powder, or extracted for essential oils. Kunyit Putih is not a common culinary flavoring as it has largely been replaced by ginger, but the rhizomes are sometimes used in specific dishes in Indian, Thai, and Indonesian cuisines.


Nutritional Value

Kunyit Putih is a source of vitamin C to strengthen the immune system and contains other antioxidants to protect the cells against free radical damage. The rhizomes have also been used in natural medicines throughout Asia as an antifungal and anti-inflammatory ingredient. Kunyit Putih is ingested for a number of ailments, from respiratory problems, digestive issues, to relieving gas pains, and is typically steeped into tea or consumed in tonics. Beyond consumption, Kunyit Putih can be topically applied to the skin when mixed with coconut oil to relieve burns. The rhizome's juice can also be used as a face mask, mixed with olive oil and lemon juice to brighten and rejuvenate the skin.


Applications

Kunyit Putih has a mildly bitter taste well suited as a flavoring for savory dishes and drinks. The rhizomes are traditionally sold in wet markets as a medicinal ingredient and are peeled, grated, and pressed to extract the juice, consumed as a stand-alone drink, or mixed into other beverages. The rhizomes can also be peeled, sliced, and steeped into a tea, often combined with honey or ginger for a more palatable flavor. In addition to drinks, Kunyit Putih can be cut and pickled, a popular fermented ingredient in Indian cuisine, or they can be thinly sliced and tossed into leafy greens as seen in Thai salads. The rhizomes are also dried and ground into a powder, used as a thickener and subtle flavoring in curries, seafood dishes, and roasted meats. Kunyit Putih pairs well with other aromatics such as yellow turmeric, ginger, garlic, and chile peppers, meats including lamb, poultry, and beef, and spices such as cardamom, mustard, coriander, and cumin. Whole, unpeeled Kunyit Putih will keep for several weeks when stored in a plastic bag in the refrigerator's crisper drawer.


Ethnic/Cultural Info

Kunyit Putih has appeared in several famous historical works from the Middle Ages. During this time, the rhizomes were often known as Zedoary and were being introduced to Europe through merchants traveling along trade routes from India. Zedoary was mentioned as a spice in Roman de la Rose or the Romance of the Rose, a poem written by French poet Guillaume de Lorris in the 1230s. The author spent many years writing the poem, finishing approximately 4,058 lines, but the poem went unfinished at his death in 1278. Later on, writer Jean de Meun eventually finished the work, composing 18,000 lines. Zedoary was listed in the work as a unique and rare spice, and the aromatic rhizomes were also referenced in the Tale of Sir Thopas in The Canterbury Tales, written by Geoffrey Chaucer in 1387. Chaucer mentioned the spice in his tale as he was also influenced by the Roman de la Rose, a poem largely considered to be one of the most important literary pieces that shaped the English author's work. This inspiration was established when Chaucer translated the first 1,705 lines of the French poem into English. Later in 1621, Robert Burton published a book known as The Anatomy of Melancholy, a 900-page book describing remedies to help cure feelings of depression or sadness. Zedoary is listed as a remedy for windy or hypochondriacal melancholy and is recommended to be ingested by itself or mixed with wine and consumed.


Geography/History

Kunyit Putih is native to tropical and subtropical regions of Asia and has been growing wild since ancient times. Experts believe the plants may have been first discovered in India, Bangladesh, and Sri Lanka and were introduced to regions of Southeast Asia, China, and Japan in the early ages. The rhizomes were also carried and planted in Sumatra and Java, becoming a widespread medicinal plant throughout Indonesia. Kunyit Putih was later taken to Europe through the Arabs in the 6th century and was viewed as a rare medicinal ingredient and spice throughout the Middle Ages. Despite their popularity, Kunyit Putih faded from commercial production over time and was replaced by ginger. Today Kunyit Putih is grown on a small scale commercially and in home gardens in Malaysia, Indonesia, Thailand, China, Japan, India, Sri Lanka, and Bangladesh. The rhizomes are also exported from Malaysia and are sold in wet markets in Singapore. Outside of Asia, the roots are produced in Europe and the United States. The Kunyit Putih featured in the photograph above was sourced from the Geylang Serai Market and Food Court in Singapore.