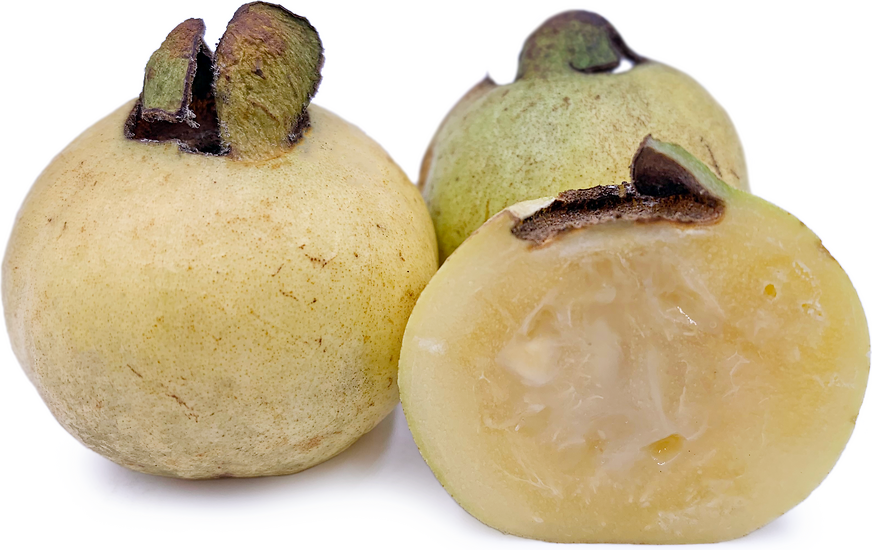 Cas Fruit
Inventory, lb : 0
Description/Taste

Cas fruits are small, averaging 3 to 5 centimeters in diameter, and have a round, oval, to ovate shape. The skin is semi-smooth, taut, and thin, ripening from pale green to yellow. There may also be some brown spots, specks, and scratches across the surface, but these external markings show no indication of the flavor of the fruit. Underneath the skin, the cream-colored to yellow, acidic flesh is firm, dense, and crisp when young, developing a softer consistency when ripe. The flesh also contains a few small, edible seeds. Cas fruits have an astringent, tart, and sour flavor mixed with a subtle sweetness, reminiscent of a grapefruit crossed with lemon.


Seasons/Availability

Cas fruits are available year-round, with peak seasons in the winter through early spring and in the late summer through early fall.


Current Facts

Cas, botanically classified as Psidium friedrichsthalianum, is a wild, Central American fruit belonging to the Myrtaceae or guava family. The small, sour fruits grow on wide-spreading trees found naturally throughout Central America, especially in Costa Rica, and are known by many names, including Sour guavas, Costa Rican guavas, Guayaba de Fresco, and Acid guavas. The name Cas stems from the fruit's indigenous name "kas-kra," taken from the Brunka dialect of the Brunka or Boruca peoples of Costa Rica. In the modern-day, Cas fruits are not commercially cultivated and are primarily found wild or in home gardens. The Cas tree is favored for its easy-to-grow nature and low maintenance, while the sour fruits are commonly used in beverages.


Nutritional Value

Cas fruits are an excellent source of dietary fiber to stimulate the digestive tract and are a good source of vitamin C, which is an antioxidant that helps to strengthen the immune system. The fruits are also seen as a source of hydration, other antioxidants, phosphorus, copper, and potassium.


Applications

Mature Cas fruits are not commonly consumed fresh due to their sour, unpalatable flavor, but the green, immature fruits can be sliced, sprinkled with salt, and sold raw as a snack through street vendors throughout Central America. Cas fruits are most popularly blended into beverages. The acidic nature of the fruit is balanced when mixed with other fruits, sugar, and water, and the flavor of Cas is considered to be refreshing when drunk on warm days. Cas fruits are also pureed into sorbets, simmered into jellies and jams, or used as a filling for baked goods as the flesh contains a high pectin content, acting as a natural thickening agent. Beyond fresh and cooked applications, Cas fruits can be pureed and frozen into ice cube trays for extended use. Cas fruits pair well with ginger, mint, pineapple, strawberries, coconut, dragon fruit, and mangoes. The fruits should be used immediately when ripe for the best quality and flavor, but it may also be able to keep for a couple of days when stored in the refrigerator.


Ethnic/Cultural Info

Cas fruits are famous for flavoring frescos, also known as frescos de Cas, which are refreshing beverages of fruit juice mixed with sugar and water or milk. Fresco de Cas showcases the fruit's tart flavor and balances it with sugar to create an aromatic, tropical juice similar to the taste of guava and pink lemonade. In Costa Rica, flavored fruit juices are primarily sold at "sodas," which is the slang term for local mom and pop eateries. The name "soda" evolved from the soda fountain diners found in the United States and are considered to be some of the most traditional eateries in Costa Rica, preparing an assortment of local dishes and fresh-squeezed juices. Costa Ricans believe a sweet beverage should accompany meals, and the refreshing flavor of Cas fruit can be paired with culinary dishes served at any mealtime throughout the day. Cas fruits are also seen as an additional source of seasonal income in Costa Rica as the fruits can be harvested from nearby trees and gardens, allowing the restaurant owners a free, fresh ingredient to make a profit.


Geography/History

Cas fruit has been growing wild since ancient times and is found throughout Central America, especially in Costa Rica. In the modern-day, the fruits are not commercially cultivated on a large scale and are typically harvested from trees established in small orchards, gardens, and backyards. Outside of Costa Rica, Cas fruit can be found in Nicaragua, Guatemala, El Salvador, and in regions of South America and Southern Mexico. It can also be found in the Philippines and select areas of California.