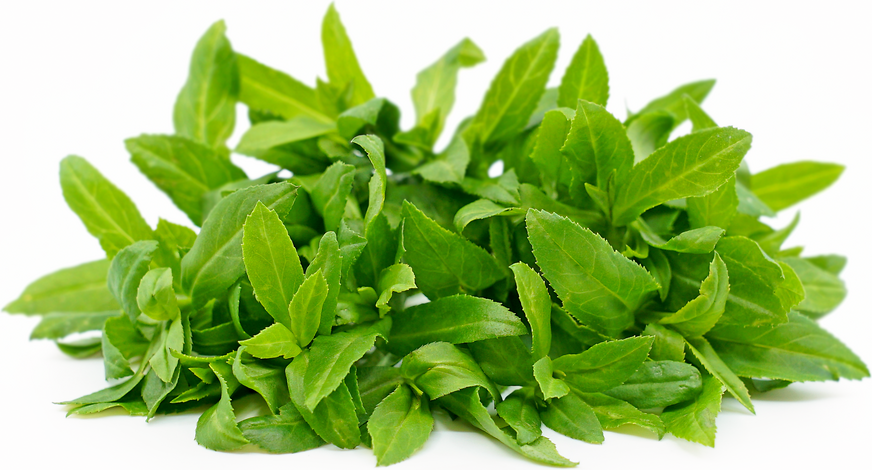 Petite® Tarragon Spanish™
Inventory, 4 oz : 0
This item was last sold on : 09/08/22
Description/Taste

Petite® Tarragon Spanish™ is comprised of groupings of 2 to 4 small, elongated, and lanceolate-shaped leaves with serrated edges. The leaves have prominent veining, including a distinct central vein and parallel thinner veins spreading across the surface, attached to slender, straight stems. The Petite® Greens have a crisp and slightly crunchy consistency and a tender and succulent texture provided by the stems. Petite® Tarragon Spanish™ has a pleasant aroma with notes of pine and citrus, containing a complex mix of anise and mint nuances with warm sweet tones.


Seasons/Availability

Petite® Tarragon Spanish™ is available year-round.


Current Facts

Petite® Tarragon Spanish™ is a part of a boutique line of specialty greens produced by Fresh Origins Farm in San Marcos, California, known as Petite® Greens. These greens are more mature than microgreens, harvested approximately 4 to 6 weeks after sowing, but they are gathered before the greens are fully grown, resulting in small, tender leaves with a robust flavor. Spanish tarragon, botanically classified as Tagetes lucida, is an aromatic, perennial herb commonly known as Texas tarragon, Mexican tarragon, and Mexican Mint marigold. The herb does have a flavor similar to French tarragon, but it is not a true tarragon. The herb is closely related to marigolds and is traditionally grown in warmer climates where French tarragon would not survive and is used as a substitute for the delicate, anise-flavored herb. Fresh Origins currently grows over 125 varieties of Petite® Greens year-round in sprawling, sustainably-minded greenhouses. The individually harvested, tender leaves of Petite® Tarragon Spanish™ are a popular choice with chefs due to their beautiful appearance, enticing aroma, and sweet-anise flavor.


Nutritional Value

Petite® Tarragon Spanish™ is a source of vitamins A and C, which can help to reduce inflammation and strengthen the immune system. The greens also contain antioxidants to protect cells against free radical damage. The volatile oils and compounds in Petite® Tarragon Spanish™ give the herb antioxidant, sedative, anti-inflammatory, and antibacterial properties. In Central America and Mexico, Spanish Tarragon was used among indigenous peoples as a remedy for stomachaches, digestive issues, colds, coughs, and fevers. The nutritional value of the herb is contained primarily within the leaves and is significantly impacted by growing conditions.


Applications

The bright, sweet-anise flavor and stunning presentation of Petite® Tarragon Spanish™ make it ideal as a garnish, fresh bed for grilled meats or vegetables, or mixed into salads for added flavor and texture. The delicate greens cannot withstand high heat and should be added at the end of the cooking process or during plating to prevent the leaves from wilting. The greens can be lightly dressed and served in salads or layered into wraps, sandwiches, and burgers. They can also be sprinkled over pasta and pizza, floated on top of soups and curries, stirred into grain dishes, or served with cured meats like smoked salmon and charcuterie. Spanish tarragon is most famously known for its similar flavor to French tarragon and is used as a substitute in recipes when French tarragon isn't available. The delicate greens can be used to garnish decorated cakes, cookies, shortbread, and scones or used to top gelatos, sorbet, and tarts. Petite® Tarragon Spanish™ pairs well with meats such as poultry, veal, turkey, and fish, eggs, tomatoes, peppers, potatoes, squash, mushrooms, asparagus, citrus, mint, and white wine vinegar. Petite® Greens will generally keep up to seven days when stored unwashed, dry, and in a container in the refrigerator. It is recommended to use Petite® Tarragon Spanish™ immediately for the best quality and flavor.


Ethnic/Cultural Info

Spanish tarragon, also known as Texas tarragon and Mexican Mint marigolds, thrives in the warm and dry climates of the southern and central United States. The sweet-anise flavor and aroma of the herb is reminiscent of French tarragon, an herb highly used in French, Italian, and other European cuisines that wilts and dies in arid climates. Europeans were impressed by the Mexican flowering plant's similarity to French tarragon and quickly planted it in their gardens to add to their traditional recipes. Today, chefs can use Petite® Tarragon Spanish™ to put a modern twist on European recipes that usually call for French tarragon, or they can add a sweet-anise flavor to Guatemalan and Mexican entrees and desserts, recalling the herb's links to ancient cultures and traditions.


Geography/History

Spanish tarragon is native to Central America, specifically Guatemala and parts of Mexico. The herb has grown wild for thousands of years and was used by ancient civilizations for medicinal and ceremonial purposes. The herb spread to the Southwestern United States, flourishing in the hot and arid climate. Today, the herb can still be found growing wild in temperate regions throughout Mexico, the United States, and Central America. Petite® Spanish Tarragon™ was developed at Fresh Origins, a farm located in San Marcos, California, the leading producer of naturally grown microgreens since the mid-1990s. Fresh Origins also has the highest level third-party audited food safety program and is a certified member of the California Leafy Greens Marketing Agreement, which follows science-based food safety practices to promote transparency and honesty in production. The temperate climate of southern California allows Fresh Origins to produce their high-quality greens year-round, supplying produce suppliers and chefs directly throughout the United States and Canada.