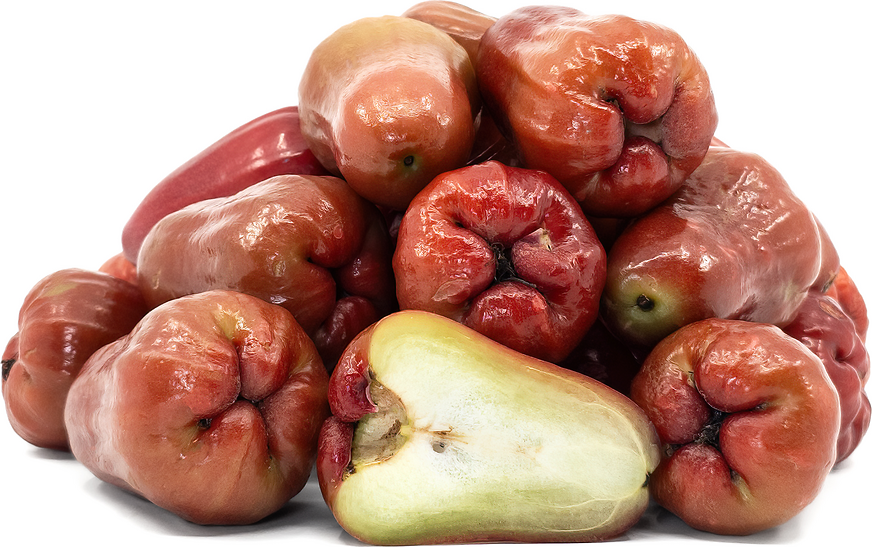 Jambu Citra
Inventory, lb : 0
Description/Taste

Jambu Citra is one of the largest water apple varieties, reaching up to 200 grams in weight, and has a bulbous and curved, bell-shape. The skin is dark red, waxy, glossy, and smooth with a taut but delicate feel as the surface can be easily punctured. Underneath the skin, the flesh is thick, pale yellow to ivory and seedless with a spongy, watery, and crisp consistency. Jambu Citra contains a mild, sweet, and neutral flavor with a refreshing, crunchy, and aqueous nature.


Seasons/Availability

Jambu Citra is generally available in the summer, also known as the dry season, in Indonesia.


Current Facts

Jambu Citra, botanically a part of the Syzygium genus, is a refreshing, tropical fruit belonging to the Myrtaceae family. The large, crimson fruits are classified as fleshy berries and are native to Indonesia, where they grow on a small shrub or tree. Jambu Citra is considered a superior variety throughout Indonesia, highly favored for its large size, sweet, juicy flesh, and crisp nature. When in season, the fruits can be found delicately stacked in piles in local markets, or they are sold as a thirst-quenching snack through food vendors, skewered into bamboo sticks for on-the-go consumption. Jambu Citra is also valued as a home garden fruit. The compact shrubs can be grown in containers, requiring little space to develop, and the fruits are eaten fresh to savor their mild, subtly sweet flavor.


Nutritional Value

Jambu Citra is a good source of vitamins A and C to strengthen the immune system, reduce inflammation, and boost collagen production. The fruits also provide fiber to regulate the digestive tract, potassium to balance fluid levels within the body, and lower amounts of magnesium and calcium. In addition to vitamins and minerals, the fruits are comprised of over ninety percent water, contributing a source of natural hydration.


Applications

Jambu Citra has a mild, sweet, and neutral taste well suited as a fresh table variety. The fruits can be consumed straight, out of hand, sometimes sprinkled with salt or sugar, and are favored for their seedless flesh. Jambu Citra can also be sliced into sections and served with dipping sauces. In Indonesia, Jambu Citra is incorporated into rujak buah; a mixed fruit salad served with a sweet and spicy sauce. Jambu Citra is a favored fruit for the mix as it provides a refreshing, crisp, and airy texture to the salad, a welcomed contrast to the warmth of the chile sauce. The fruits can also be chopped and mixed into other fruit and side salads, blended into smoothies, juices, and cocktails, lightly sauteed with main dishes for a subtle sweetness or cooked into jams and jellies. In addition to using the fresh fruits, Jambu Citra can be pickled for extended use as a tangy condiment or dried into chewy snack chips. Jambu Citra pairs well with fruits such as pomegranates, apples, papaya, pomelo, and starfruit, peanuts, chiles, mint, lemon, and honey. Jambu Citra will keep up to five days when stored at room temperature and for a couple of weeks when kept in the refrigerator.


Ethnic/Cultural Info

Jambu Citra is grown in the Mekasari Fruit and Recreation Park, also known as Taman Wisata Mekarsari, in Bogor, Indonesia. The 652-acre park features over 1,470 varieties of fruits and is considered one of the largest tropical fruit centers in the world. The park's focus is a combination of plant conservation, preservation, and breeding, with an emphasis on tropical fruits that can be found in Indonesia and neighboring countries. In the fruit garden, there are several types of water guavas and water apples belonging to the Syzygium genus, and Jambu Citra is one of the main varieties cultivated in the park. Beyond conservation, the Mekasari Fruit and Recreation Park also features tourist attractions such as bicycle rentals, walking tours, and boat rides.


Geography/History

Jambu Citra is native to Indonesia and thrives in humid and warm, tropical climates. The variety was believed to have been discovered by Dr. Ir Moh Reza Tirtawinata in 1990 and was registered as a superior variety for cultivation through the Indonesian government. Jambu Citra was introduced to other countries throughout Southeast Asia in the late 20th and early 21st centuries. Today Jambu Citra is commercially cultivated, especially in Indonesia, for local sale and is also grown in home gardens.