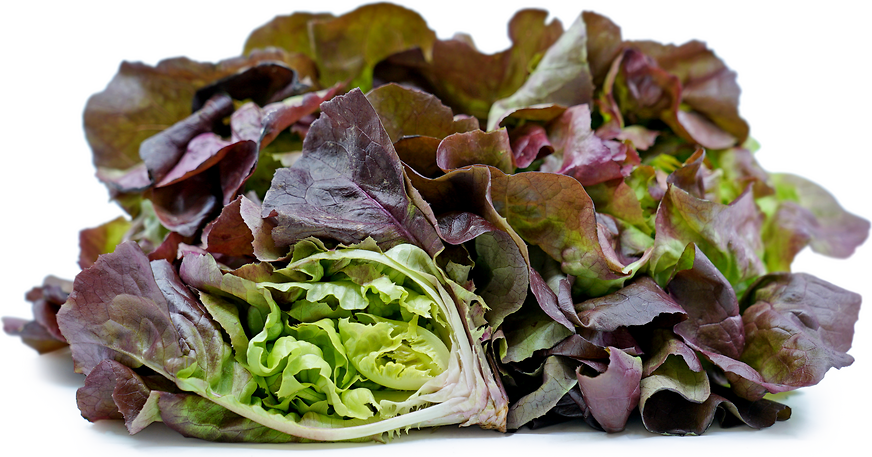 Red Boston Hydroponic Lettuce
Inventory, 6 ct : 0
Description/Taste

Red Boston lettuce is a medium to large varietal and round in shape with loose, wavy, cupped leaves and an open center, similar in appearance to a rose. The broad, soft, outer leaves are thick and frilled at the edges with swirls of red, purple, and burgundy, and these leaves encompass more tightly bound, yellow-green leaves in the center of the head. Together they form a rosette pattern of leaves that are wide and have a smooth, silky consistency with a uniform crunch. Red Boston lettuce is tender and crisp with a nutty, mild, and sweet flavor.


Seasons/Availability

Red Boston lettuce is available year-round.


Current Facts

Red Boston lettuce, botanically classified as Lactuca sativa, is an annual variety belonging to the Asteraceae family. The lettuce is also known more generally as Red Butter lettuce and is one of dozens of butterhead lettuce varieties. Besides its general moniker, Red Boston lettuce is sometimes known as a Limestone lettuce, a type of lettuce successfully cultivated in limestone-rich soils. Red Boston lettuce is recognized by its compact rosette-shaped head and large, easily separated, buttery leaves. The variety is also favored by commercial growers and home gardeners for its tolerance to heat, adaptability to different soils, smooth, crisp texture, and mild, vegetal flavor for use in wraps, soups, and salads.


Nutritional Value

Red Boston lettuce contains calcium, iron, vitamins A and C, magnesium, phosphorus, and potassium. It also contains anthocyanins, which are antioxidants responsible for the lettuce's red pigments.


Applications

Red Boston lettuce is best suited for both raw and cooked applications such as braising or boiling. Predominately used as the principle ingredient in salad, its textures and subtle flavors are perfect for savory and bold, or bright, fruity companion ingredients. Red Boston lettuce is commonly layered in sandwiches or used as a wrap for tuna or chicken. In addition to fresh preparations, Red Boston lettuce can be cooked and transformed into an earthy and sultry ingredient when slowly braised or added to simmering soup, achieving a level of caramelization when paired with the right ingredients such as butter, rich meats, and chicken stock. It can also be used in stir-fries or mixed into cooked peas. Red Boston lettuce pairs well with bright herbs including dill, basil, and mint, lemon juice, mustard, vinaigrettes, citrus-based dressings, blue cheese, feta cheese, cottage cheese, ricotta cheese, bacon, anchovies, shallots, leeks, nuts such as pistachios, walnuts, hazelnuts, and Marcona almonds, apples, pears, seedless grapes, persimmons, and sliced grapefruit. It will keep 3-4 days in a loosely closed container when stored in the crisper drawer of the refrigerator.


Ethnic/Cultural Info

Bibb lettuce has increased in popularity in the commercial marketplace since the early 1900s, and in the 1980s it became a favored lettuce to be hydroponically grown. The benefits of hydroponically grown lettuce are cleanliness and shelf life. When the roots are attached and kept in water, bibb lettuce can last for over a month and will stay crisp and fresh. In the market today, bibb lettuce is often labeled when it is hydroponically grown and is sought after for its ability to be used a little at a time without the worry of the leaves wilting.


Geography/History

Red Boston lettuce is named for its original cultivator, John Bibb. In 1865 he grew his special bibb lettuce in Kentucky's alkaline soil and this variety, also called limestone, would become the very first American gourmet lettuce. Red Boston lettuce may be a descendant of the first ever cultivated red butterleaf lettuce known as mervielle des quatre saisons, a French heirloom introduced before 1885. Today Red Boston lettuce is widely found at supermarkets, specialty grocers, and farmers markets in North America, Europe, Asia, Australia, and select regions in South America.