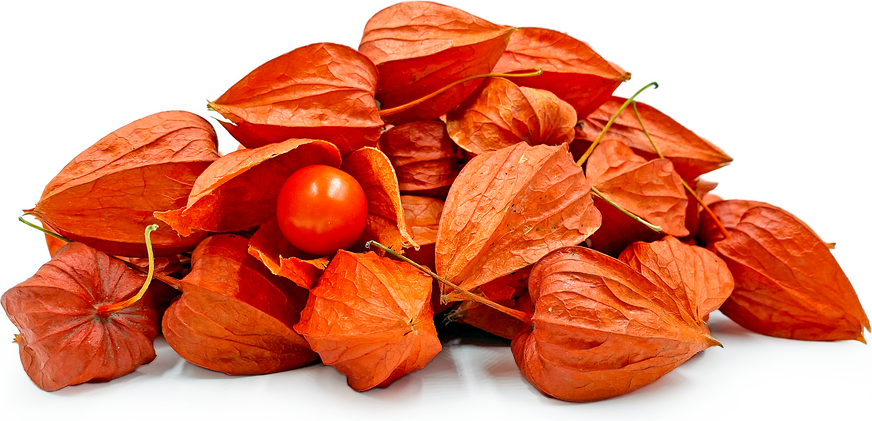 Husk Tomato Berries
Inventory, lb : 0
Description/Taste

Husk Tomato berries are small, globular fruits that are fully or partially encased in a bulbous, angular, and papery, tapered casing. The berries have smooth, taut, and glossy skin, ripening from green to orange-red when ripe, and the paper-like husk is thin, slightly wrinkled, and also transitions in color to a red-orange with maturity. Underneath the surface of the berries, the flesh is aqueous, soft, and pale orange, encasing very small seeds. Husk Tomato berries have a mild, sweet-tart flavor with notes of pineapple, vanilla, and tomato.


Seasons/Availability

Husk Tomato berries are available in the fall in Europe and Asia.


Current Facts

Husk Tomato berries, botanically a member of the Physalis genus, grow on an herbaceous, vining or trailing perennial and belongs to the Solanaceae or nightshade family. There are over one hundred species that belong to the Physalis genus around the world that share very similar characteristics, and many of the species exhibit berries encased in a papery husk. Globally known by many different names depending on the region of the world, in local markets in Europe and Asia, many Physalis varieties are often generally labeled as Husk tomatoes or Ground cherries, and the plants that bear orange-red berries are also sometimes labeled as Chinese Lantern berries, Husk cherries, Winter cherries, and Strawberry groundcherries. Husk Tomato berries earned their name from their similarity in appearance to a miniature tomato, and when ripe, the berries fall to the soil, giving them their "ground" moniker. Husk Tomato berries are especially valued in Europe and Asia for their unusual flavor, nutritional properties, and distinct appearance, and have been used for hundreds of years in ornamental, culinary, and medicinal applications.


Nutritional Value

Husk Tomato berries are an excellent source of vitamin C, which is an antioxidant that can help protect and boost the immune system. The berries also contain some calcium, vitamin A, fiber, phosphorus, and iron.


Applications

Husk Tomato berries are best suited for both raw and cooked applications such as boiling, stewing, and baking. The berries, with the husk discarded, can be consumed fresh, out-of-hand, sliced and tossed into salads, chopped into salsas, or they can be dipped in chocolate and eaten as a dessert or snack. Husk Tomato berries can also be boiled and cooked into preserves, jams, and spreads, pureed into sauces, or baked into tarts, pies, and cakes. The berries have a unique sweet-tart flavor, making them suitable for both sweet and savory dishes. Husk Tomato berries pair well with herbs such as cilantro, basil, mint, dill, and parsley, cheeses such as goat, gouda, and brie, potatoes, jicama, carrots, celery, corn, citrus, and pumpkin seeds. Husk Tomato berries will keep 1-3 months when saved in their husks and stored in a cool, dry, and dark place away from direct sunlight.


Ethnic/Cultural Info

In Asia, Husk Tomato berries are often referred to as Chinese Lantern berries and have been used in natural medicines as an anti-inflammatory and as an ingredient to help reduce fevers. The berries are commonly consumed fresh, juiced, or steeped with other herbal ingredients, and are used to help relax the body and act as a diuretic to cleanse the digestive tract. In addition to medicinal uses, the papery husks are a highly favored decoration for their long shelf life and vibrant colors. Resembling a Chinese paper lantern, the brightly colored husks are left on their branches and are placed in vases as table centerpieces. The fiery hues of the husks normally occur in fall and are also seen as a symbol of the changing season.


Geography/History

Husk Tomato berries are believed to be native to Europe and Asia and have been growing wild since ancient times. Today the plants are popularly grown in home gardens for their ornamental and medicinal value, and they can also be found through local markets across Europe and Asia.