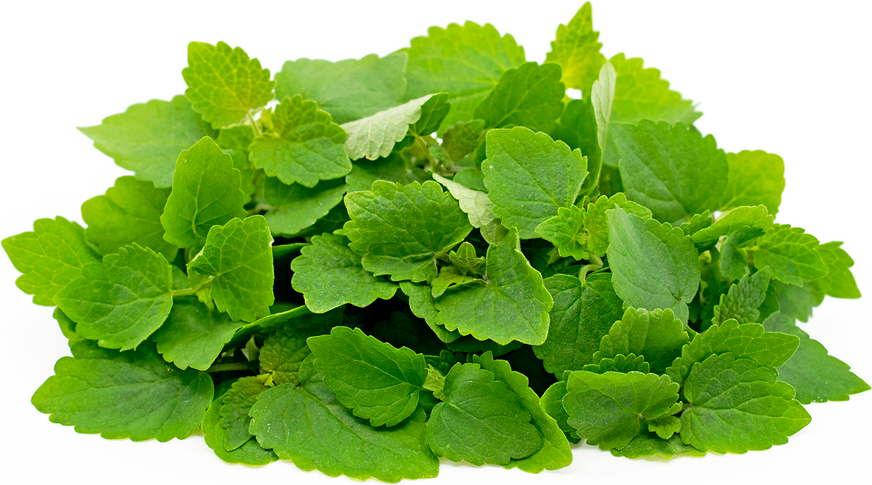 Licorice Mint
Inventory, lb : 0
Description/Taste
Licorice mint plants are hardy perennial herbs with upright, bushy growth habits that can reach between 60 to 120 centimeters in height and 30 to 90 centimeters wide. The pointed, ovate to spear-shaped leaves grow opposite along square stems, a characteristic of the plant family, reaching up to 10 centimeters in length. The stalks produce unscented, lilac, purple to violet-blue flowers in dense, cylindrical spikes about 7 to 15 centimeters long. Depending on the species and variety, the green leaves may appear more glossy or dull, the toothed edges may be sharper or more scalloped, and the underside may have a grayish-green tint due to the presence of fine hairs. Licorice mint leaves offer a sweet, minty, licorice-like fragrance and flavor, often compared to tarragon or anise, but with a sweet rather than spicy finish.
Seasons/Availability
Licorice mint is available in the summer through early fall.
Current Facts
Licorice mint is a common name given to more than one species in the plant genus, Agastache. The best-known species, most commonly found as Licorice mint, is botanically classified as Agastache foeniculum, also known as Anise Hyssop or Blue Giant Hyssop. Despite its other nicknames, this species is not in the same plant family as anise or hyssop and is actually a member of the mint family. The botanical name "Agastache" is derived from Greek and can be translated as "very large ear of grain," a reference to the plant's flower spikes, while the species name "foeniculum" comes from the Latin name for fennel, an herb with a similar anise-like fragrance. A related, look-alike species that shares the Licorice mint moniker is botanically classified as Agastache rugosa, also known as Korean Licorice mint or Superior Licorice mint. This species often boasts larger leaves with a more heart-shaped base compared to the rounded base of Agastache foeniculum. There are several cultivars of Agastache foeniculum, including a few hybrids with Agastache rugosa, notably Agastache 'Blue Fortune.' A third, less common species to sometimes share the Licorice mint name is botanically called Agastache repestris, a plant with very narrow leaves and orange flowers.
Nutritional Value
Licorice mint contains antioxidant-rich essential oils with chemical compounds that not only give the plant its unique aroma but also provide antifungal, antibacterial, antiviral, and anti-inflammatory properties that have historically been used to promote respiratory, digestive, and circulatory health. Tea made from Licorice mint leaves is said to calm symptoms of colds and flu, and salves made from crushed leaves can be applied to treat skin irritations, from sunburns to minor wounds, or even fungal infections. The oils are most well-known for a compound called methyl chavicol, which is commonly used to impart fragrance in perfumes or flavor beverages, like root beer and liqueurs. They also contain a compound called limonene, which promotes healthy digestion and neutralizes stomach acid.
Applications
Licorice mint is most often used fresh or dried, and both the leaves and flowers are used as a garnish or for scenting potpourri. Fresh leaves can be added to salads, crushed as a seasoning, or used to impart a sweet licorice flavor to oil, vinegar, dressing, honey, simple syrup, and jam. They can also make a flavorful jelly to serve alongside fatty meats, like pork, to help with digestion. Steep fresh or dried leaves in hot water on their own, or mix with other herbs to make an herbal tea with a strong licorice flavor. Muddled fresh leaves can be added to any drink with fruity or floral notes, such as gin and tonic. The minty, sweet rather than spicy anise-like flavor also works well in desserts, and fresh leaves can be used in baked goods, such as cookies or scones, or steeped in milk for making ice creams, custards, or panna cotta. Licorice mint has been said to work well as a substitute for tarragon or sage, like in bread stuffing, and pairs well with chocolate, melon, fennel, bitter leafy greens, lamb, pork, poultry, fish, squash, carrots, and other vegetables. Store fresh Licorice mint leaves wrapped loosely in a sealed bag in the refrigerator for up to about five days. Dried leaves can be stored in an airtight container for several months.
Ethnic/Cultural Info
Licorice mint has been used in herbal remedies for centuries in both North America and Asia. Native Americans employed native species like Agastache foeniculum, or Anise Hyssop, to treat stomach pain, digestive issues, coughs, fever, and even chest pains or heart issues. The Cheyenne tribe burned the leaves to alleviate depression, while the Haudenosaunee used leaves to make a wash for treating poison ivy. On the other side of the world, the Licorice mint species native to East Asia has some of the same traditional uses for colds, fever, digestion, heart problems, and abdominal pain. Agastache rugosa, or Korean Licorice mint, is known in Chinese medicine as one of the 50 fundamental healing herbs and is most commonly used to combat nausea or stimulate appetite. It is used throughout East Asia in both medicine and food, notably in Korea, where it is called Banga and is used most often in fish stews or pancakes.
Geography/History
The most common species of Licorice mint, Agastache foeniculum, is native to the upper Midwest and Great Plains of the United States and southern Canada. It can be found in prairies, dry forested areas, and fields from northern Colorado to Wisconsin and from southern Ontario westward through British Columbia, though it is rarely found growing wild in the United States west of the Rocky Mountains. Licorice mint is easy to grow and will self-seed in optimum growing conditions; however, it is not invasive like many mint cousins. The flowers of Licorice mint plants are legendary for being rich in sweet nectar, and it is common for beekeepers to plant Licorice mint near their hives to increase honey production and ultimately yield lightly fragranced honey with a subtle minty taste. Fresh Licorice mint can be found at specialty stores or farmer's markets in its native regions.
Podcast