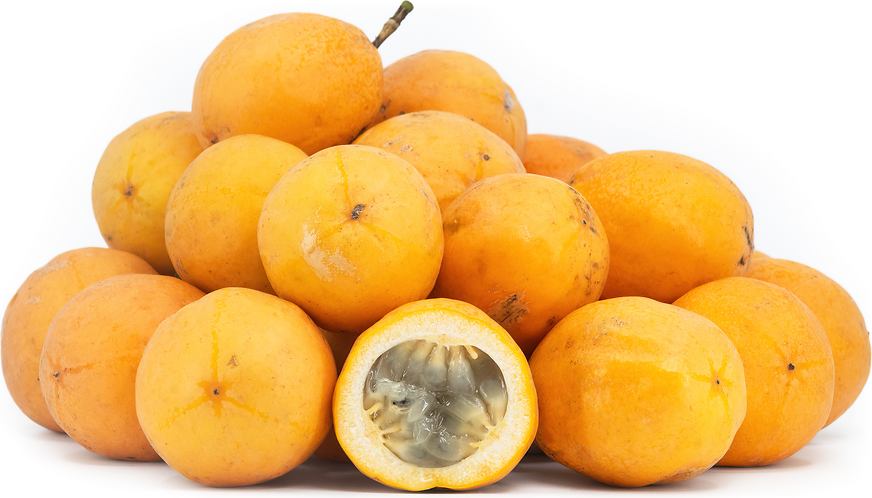 Quijos Granadilla
Inventory, 1 Lb : 0
Description/Taste

Quijos granadilla is a small fruit, averaging 7 to 8 centimeters in diameter and 5 to 6 centimeters in length, and has an oval to cylindrical shape with blunt, curved ends. The fruit's rind is semi-smooth, leathery, and thick with a yellow, golden-orange hue. The spongy rind also has a soft give to the surface when pressed. Underneath the rind, the milky white-grey pulp is slippery, aqueous, and textured, encasing many small and round black seeds, creating a crunchy, smooth consistency. Quijos granadilla is aromatic with a sweet, tropical scent and contains a mild, very sweet, and slightly tangy, fruity flavor.


Seasons/Availability

Quijos granadilla is available in the spring, typically March through May. There is also a second season in August.


Current Facts

Quijos granadilla, botanically classified as Passiflora popenovii Killip, is a rare passionfruit variety belonging to the Passifloraceae family. The small fruits grow on a tropical, evergreen climbing vine that can reach over six meters in length and are localized to regions of Colombia and Ecuador. Quijos granadilla is also known as granadilla Caucana and granadilla Curubejo in South America and is a wild species only available for a short season in the spring. The fruits are not commercially cultivated and are grown on a small-scale in home gardens as a seasonal secondary source of income and food source.


Nutritional Value

Quijos granadilla is a source of fiber to regulate the digestive tract and vitamin A to maintain healthy organ functioning. Like other passionfruit varieties, Quijos granadilla also contains vitamin C to strengthen the immune system, calcium to protect bones and teeth, potassium to balance fluid levels, and lower amounts of iron and magnesium.


Applications

Quijos granadilla has a sweet, subtly tart flavor well suited for fresh preparations and preserves. The fruits are less acidic than other passionfruit varieties allowing them to be eaten straight, out of hand, or the flesh can be removed with a spoon and mixed into yogurt, fresh fruit bowls, or poured over ice cream. Quijos granadilla can also be blended into juices and smoothies, or it is incorporated into salad dressings, vinaigrettes, and sauces. In addition to fresh preparations, Quijos granadilla can be simmered into jams, jellies, and preserves, cooked into custards, or used to flavor various desserts. The fruit's shell can also be used as a serving bowl. Quijos granadilla pairs well with honey, cream, vanilla, fruits such as mango, oranges, coconut, banana, and pineapple, and chocolate. Whole, unopened fruits will keep for 1 to 2 weeks at room temperature and 2 to 4 weeks when stored in a plastic bag in the refrigerator. Once opened, the fruits should be stored in a sealed container for up to one week.


Ethnic/Cultural Info

In Popayán, the capital city in the Cauca department of Colombia, Quijos granadilla is also known as granadilla de Semana Santa or Holy Week passionfruit. The aromatic fruits earned this moniker as they are in season each year during the holy week leading up to Easter. Popayán is an ancient city with roots deeply intertwined with the Catholic church. There are several churches in the city center, and each year during holy week, the buildings surrounding the churches are covered in plaster or whitewashed to symbolically purify the city. The churches also hold large processions through the streets, retelling stories from the Bible related to the crucifixion and life of Jesus Christ. These processions date back the at least the mid-16th century, and in 2009, the United Nations Educational, Scientific, and Cultural Organization, UNESCO, declared the processions to be a "masterpiece of the oral and intangible patrimony of humanity." During holy week, Quijos granadilla is sold in local markets as a seasonal delicacy, and the fruits often sell out quickly due to their rarity. Some Popayán residents also consume the fruits in remembrance as they say the seeds within the fruit's flesh symbolize the crown of thorns that Jesus wore during the crucifixion.


Geography/History

Quijos granadilla is native to Colombia and Ecuador and has been growing wild since ancient times. The fruits were first documented in north-central Ecuador and are primarily found within the departments of Nariño and Cauca in Colombia. Today Quijos granadilla has remained localized to its native region and is not commercially produced. When in season, the fruits are harvested from wild and select home garden plants and are sold in local markets.