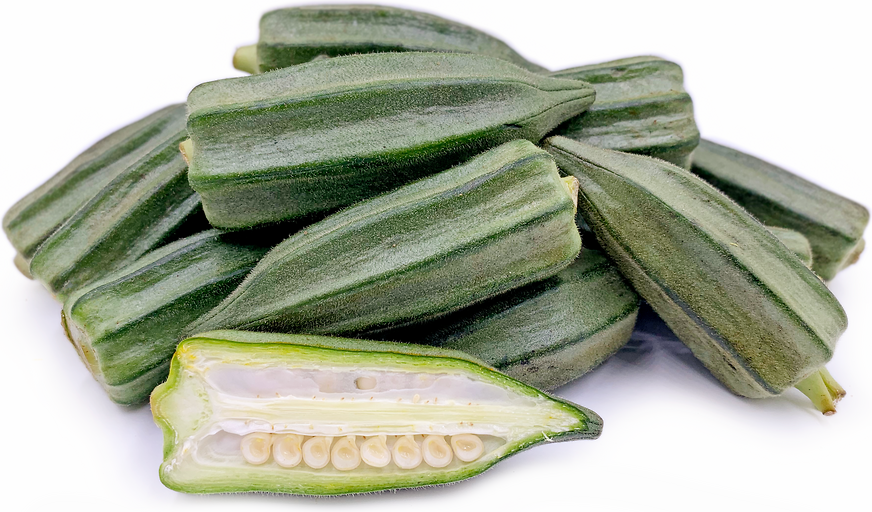 Ewe Okra
Inventory, lb : 0
Description/Taste

Ewe okra is small in size, averaging 7-10 centimeters in length, and has a short, angular, and compact shape with slight tapering toward the non-stem end. The semi-smooth, firm skin has many pronounced ribs running lengthwise and is dark green, coated in a light green velvety fuzz. Underneath the skin, the pale green to white flesh is mucilaginous, tender, and contains many cream-colored, oval seeds in a central cavity. Ewe okra has a crisp texture with a sweet, green flavor reminiscent of eggplant and asparagus.


Seasons/Availability

Ewe okra is available year-round in select regions in Africa, with a peak season in the summer.


Current Facts

Ewe okras belong to the Malvaceae family and are edible seed pods that grow on a leafy shrub or bush that can reach up to two meters in height. Also known as Anlo Fetri, Ewe okra is a short, stouter variety found in Africa that is named after the Anlo-Ewe people in Southeastern Ghana who cultivate the variety for selling in fresh markets and utilize the nutritious pods as a daily part of their diet. Ewe okras grow in warm, tropical climates and are easy-to-grow, adaptable to many different types of soils, and are a cut-and-come-again variety providing a fresh, abundant harvest for prolonged seasons.


Nutritional Value

Ewe okra contains vitamins A, B, and C, fiber, calcium, potassium, and iron.


Applications

Ewe okra can be consumed raw, sprinkled with salt and pepper or sliced in salads, but it is most commonly consumed in cooked applications such as steaming, boiling, baking, frying, grilling, and stewing. Used in its young, immature stage, Ewe okras can be sliced, dipped, breaded, and fried, pickled for extended use, chopped, blanched and frozen, canned, or sautéed with other vegetables. The green pods also act as a thickening agent and are used in stews, soups, and gravies, or they can be used as a substitute for eggplant which is also a common ingredient seen in African cooking. In addition to fresh cooking, the pods can be dried, ground into a flour, and used as an all-purpose ingredient to help thicken recipes and increase flavor. Ewe okra pairs well with spinach, pumpkin seeds, corn, tomatoes, onions, sweet pepper, scotch bonnet peppers, mushrooms, garlic ginger, beef, crabs, prawns, crayfish, and dried or smoked fish. The pods should be harvested and used immediately for best flavor, but they will also keep 2-3 days when stored in a paper bag in the refrigerator.


Ethnic/Cultural Info

Ewe okra, also known as Okro in Africa, is the staple ingredient in the traditional okro soup of the Anlo-Ewe people located in Southeastern Ghana. Ewe is a broad term used for many local groups across Benin, Nigeria, and Ghana, all with diverse traditions and customs such as the Anlo-Ewe group in Ghana, and many of these groups cultivate the Ewe okra plant as a source of income and consume the pods as a nutritious dietary staple. Known as fetri detsi in Ewe, Okro soup is typically made with seafood or smoky meats and is mixed with okra and cooked vegetables such as mushrooms, eggplant, and corn. The soup is also served over baku of fufu, which are white paste-like doughs that absorb the soup's flavors and provide a filling, starchy accompaniment.


Geography/History

Ewe okra is native to select regions in Western Africa, specifically Southeastern Ghana. While the exact origins are unknown, Ewe okras are primarily localized to Western Africa and are found growing wild and are cultivated on a small scale for resale at fresh markets.