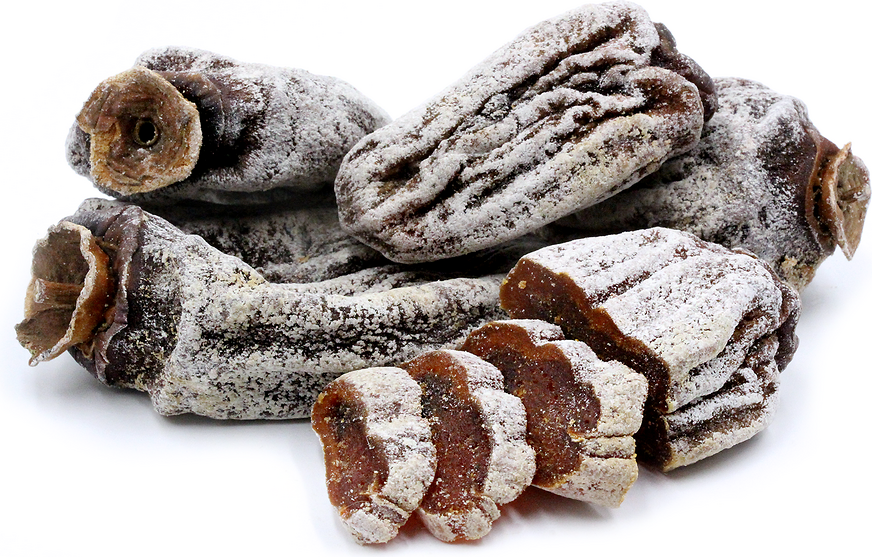 Hoshigaki (Dried Persimmons)
Inventory, lb : 0
Description/Taste
Hoshigaki is created from an intricate, artisanal process, dehydrating fresh persimmons into a concentrated, preserved state. The dried persimmons appear deeply creased with linear, wrinkled grooves, and the fruits can be found slightly curved or straight in shape, tapering from the shoulders to a curved, flat tip. The fruit's skin is thin, dry, textured, and dark brown in color, often covered in a powdery, crystallized white coating of sugar. This coating is edible and is believed to add to the textural experience of eating Hoshigaki. Underneath the surface, the flesh is dense, thick, chewy, and sticky, typically found in red-brown shades. Hoshigaki has a warm floral nose and a complex taste comprised of sugary-sweet flavors combined with hints of spices such as cinnamon, cloves, or allspice.
Seasons/Availability
Hoshigaki is prepared in the late fall through early winter.
Current Facts
Hoshigaki, botanically classified as Diospyros kaki, is a dehydrated persimmon belonging to the Ebenaceae family. The dried fruits are an ancient delicacy in Japan that have been traditionally prepared using a labor-intensive process for thousands of years. Hoshigaki is only made with astringent persimmons, as the drying process concentrates the sugar in the flesh, and astringent persimmons contain more sugar than non-astringent persimmons. In Japan, Hoshigaki is typically made with hachiya persimmons, and the fruits are peeled, strung into the air, and allowed to dry out through natural air circulation. Once the fruits have developed tougher skin, after about a week, they are hand-massaged every couple of days to concentrate the sugars into the flesh. This process of making Hoshigaki has historically allowed Japanese households to utilize astringent persimmons in a way where they become palatable relatively quickly. The dried fruits were also kept for approximately one month after drying, allowing the persimmons to be stored and consumed as a sweet treat over the bleak winter months. In the modern-day, Hoshigaki has faded from seasonal fall practices in Japan due to its laborious nature, but there has been a slight resurgence among chefs worldwide to preserve the waning tradition.
Nutritional Value
Hoshigaki is a good source of fiber to regulate the digestive tract and potassium to balance fluid levels within the body. The dried fruits also provide low levels of beta-carotene, which is converted into vitamin A in the body to maintain optimal organ functioning and contains manganese to stabilize metabolism. In Japan, the crystals of sugar that coat the surface of the dried fruits are believed to provide energy and help combat fatigue.
Applications
Hoshigaki has a sweet, sugary flavor and sticky, chewy consistency well suited for fresh and cooked preparations. The entire dried persimmon is edible, including the skin and flesh, and the white, powdery coating on the surface is tiny sugar crystals that have come out of the fruit. This coating is safe to eat and signifies the dried fruit is ready for consumption. Hoshigaki is most commonly consumed fresh in sliced pieces. The slices can be eaten as a sweet afternoon snack or after-dinner dessert, sometimes served with green tea. Hoshigaki also complements other dried fruits, including strawberries and cherries, and can be displayed on charcuterie boards as a chewy addition. In addition to serving the dried fruits in pieces, Hoshigaki is sometimes incorporated into desserts such as tarts, pies, and cakes or infused into ice cream. The dried fruits also flavor savory dishes and can be chopped and added to salads, soaked in a liquid and cooked into a sauce or compote for roasted meats, stuffed with nuts, or simmered into braises. In Japan, Hoshigaki is combined with dashi, sesame seeds, sugar, and vinegar to create a turnip and dried persimmon side salad. The fruits are also prepared with poultry in a ram sauce. Hoshigaki pairs well with other fruits such as pomegranates, oranges, apples, pears, and pineapple, brown sugar, maple syrup, miso, ginger, nuts including pistachios, chestnuts, and walnuts, cheeses such as aged manchego, chevre, and port salut, and meats including prosciutto, duck, and poultry. Whole, dried persimmons will keep up to one month when stored wrapped in plastic in the refrigerator or kept in a sealed container at room temperature away from direct sunlight.
Ethnic/Cultural Info
Hoshigaki is a traditional element displayed during New Year celebrations in the Kansai region of Japan. Slices of dried persimmons are skewered onto a wooden stick and are placed between two mochi cakes, known as kagami mochi, and a small citrus fruit is placed on top of the mochi. Kagami mochi is a treasured decoration and symbolic practice that can be traced back to the Heian Era, 794 CE to 1185 CE. The name kagami is derived from the name of a sacred, ancient bronze mirror. This mirror is a part of the Imperial Regalia of the Emperor of Japan and is paired with a sword and jewel to represent wisdom, benevolence, and valor. Kagami mochi embodies these three traits as the sword is represented by the skewer of dried persimmons, while the jewel is the small citrus on top of the mochi. The two mochis are also symbolic of the past and new year, overlapping to bring good luck. Kagami mochi is an offering to the gods, customarily displayed on altars or main living areas in Japanese households the day after Christmas. The mochis are left on display until January 11th, a day known as kagami biraki, and are consumed as a wish for good luck, health, and safety in the year to come. By the time the mochi is consumed, the rice cakes have somewhat dried out and are broken into pieces by hand, typically added to cooked preparations to enhance flavor and texture. The two most traditional dishes, including the mochi, are oshiruko, a mixture of red bean paste, toasted mochi, and water, or ozone, a soup-like dish of mitsuba, mochi, yuzu, and komatsuna.
Geography/History
Hoshigaki was developed in Japan and can be traced back to the Heian Era, a period spanning 794 CE to 1185 CE. The dried fruits were initially created as a method to preserve food during the winter season, and astringent persimmons often took too long to ripen naturally to eat fresh and were able to be consumed faster when dehydrated. Hoshigaki quickly became a treasured and respected practice throughout Japan, and the dried fruits were eaten as a seasonal delicacy. Later in the 19th century, Japanese immigrants brought persimmons and the preserved craft of Hoshigaki to the Sierra foothills and San Joaquin Valley of California. Today Hoshigaki is prepared across Japan, with a concentrated production in the Nagano and Fukushima prefectures. Persimmons are also dried and massaged on a small scale in other parts of Asia, and in the United States, dried persimmons are created through small farms, growers, and in chef's kitchens. Historically, the process of making Hoshigaki has decreased over time, but there has been a revival in the 21st century to preserve and continue the tradition.
Recipe Ideas
Recipes that include Hoshigaki (Dried Persimmons). One

is easiest, three is harder.